Vision
http://www.2ndchancealliance.com/about-us/
"Keep your dreams alive. Understand to achieve anything requires faith and belief in yourself, vision, hard work, determination, and dedication. Remember all things are possible for those who believe." – Gail Devers
An American businessman took a vacation to a small coastal Mexican village on doctor's orders. Unable to sleep after an urgent phone call from the office the first morning, he walked out to the pier to clear his head. A small boat with just one fisherman had docked, and inside the boat were several large yellowfin tuna. The American complimented the Mexican on the quality of his fish.
"How long did it take you to catch them?" the American asked.
"Only a little while," the Mexican replied in surprisingly good English.
"Why don't you stay out longer and catch more fish?" the American then asked.
"I have enough to support my family and give a few to friends," the Mexican said as he unloaded them into a basket.
"But … What do you do with the rest of your time?"
The Mexican looked up and smiled. "I sleep late, fish a little, play with my children, take a siesta with my wife, Julia, and stroll into the village each evening, where I sip wine and play guitar with my amigos. I have a full and busy life, señor."
The American laughed and stood tall. "Sir, I'm a Harvard M.B.A. and can help you. You should spend more time fishing, and with the proceeds, buy a bigger boat. In no time, you could buy several boats with the increased haul. Eventually, you would have a fleet of fishing boats."

He continued, "Instead of selling your catch to a middleman, you would sell directly to the consumers, eventually opening your own cannery. You would control the product, processing, and distribution. You would need to leave this small coastal fishing village, of course, and move to Mexico City, then to Los Angeles, and eventually New York City, where you could run your expanding enterprise with proper management."

The Mexican fisherman asked, "But, señor, how long will all this take?"

To which the American replied, "15–20 years. 25 tops."

"But what then, señor?"

The American laughed and said, "That's the best part. When the time is right, you would announce an IPO and sell your company stock to the public and become very rich. You would make millions."

"Millions, señor? Then what?"

"Then you would retire and move to a small coastal fishing village, where you would sleep late, fish a little, play with your kids, take a siesta with your wife, and stroll to the village in the evenings where you could sip wine and play your guitar with your amigos …"
The only thing worse than drifting without a plan is having your plans hijacked by someone else.
You can avoid this unfortunate end and make sure you are fulfilling your unique, God-given calling by answering these three questions:
Am I living my own dream or someone else's? If we are not careful, we can unconsciously be following someone else's agenda for our lives. This usually happens because we are unwilling to take responsibility for our own lives.
What is my dream? This can get lost in the complexity of life. As a result, we need to pause and remember our own agenda. What is it that we believe God is calling us to be and to do? What is our passion? What would we do if we were brave?
What can I do now to move in the direction of my dream? The only way to reclaim our dream is to reject all substitutes and begin moving in the direction of our dreams. We don't have to do anything heroic. We can start small and take baby steps. The issue is to make sure we are making progress toward our goals.
Don't spend your life fulfilling someone else's agenda. Accept responsibility for your own life. Pursue your goals and live your dream. Live an intentional life.
Gearing up for outreach and evangelism.
"Don't be pushed by your problems; be led by your dreams."
Many people drift through life without a plan. For some, things work out fine. For most, they end up far from their intended destination. Others, end up living someone else's dream, the victim of another agenda. May & I are moving with one purpose to Kingdom build and contribute to our communities. This is a huge endeavor for us. We have nothing but a seed of hope and faith infused within from our Father in heaven. Wednesday meeting with the coalition of 6 pastors and some of Riverside County public officials was intense. We ran into a wall because everyone is dubious about our vision, but we aren't. We will diligently work As long as it is day, we must do the works of him who sent me. Night is coming, when no one can work.(John 9:4). We are going to perform this outreach with or without the partners we are seeking. Look out for our attempt to market these items to raise money  towards God's  evangelistic outreach for http://www.2ndchancealliance.com/about-us/, coming to a park our city near you soon.
It is not the beauty of a building you should look at; its the construction of the foundation that will stand the test of time.
In my desire to help further the gospel of Jesus Christ to a dyeing world I have taken the liberty of starting this blog. There are so many challenges associated with ministry and one can be compelled to stall his or her efforts if not for the help of the holy spirit. It is our work to give to the whole world–to every nation, kindred, tongue, and people–the saving truths of the gospel of reconciliation and to herald the third angels message. But it has been a difficult problem to know how to reach the people in the great centers of population. We are not allowed entrance to the churches. In the cities the large halls are expensive, and in most cases but few will come out to the best halls. We have been spoken against by those who were not acquainted with us. The reasons of our faith are not understood by the people, and we have been regarded as fanatics who are ignorantly looking to the heavens and Jesus Christ for salvation. In this work I have been perplexed to know how to break through the barriers of worldliness and prejudice, and bring before the people the precious truth which means so much to them. The Lord has instructed us that the innovation and culturally sound presentation of His word is one of the most important instrumentalities for the accomplishment of this work.
This outline is for May and I to use to build a culturally sound church community within our vision of Second Chance Alliance. We believe that as much as possible we should infuse our community with the core beliefs of our existence as it is wholesomely apart of the gospel of Jesus Christ.
Some church leaders find planning a formidable exercise. In reality, the planning process is simple —conceptually. It can be described as answering seven key questions:
Spiritual Needs Assessment: What are the greatest spiritual needs of our church and community?
Strengths and Weaknesses: What are the greatest strengths and weaknesses of our church?
Opportunities and Threats or Barriers: What are the most significant ministry opportunities for and potential threats (or barriers) to our church, given the answers to the first two questions?
Ministry Options: What appear to be the most viable options for strengthening the ministry of our church?
Ministry Platform: What is the primary ministry platform on which our specific ministries should be built? Included in the ministry platform are our statement of faith, vision statement, mission statement, philosophy of ministry, and listing of ministries.
Ministry Goals: What goals is the Holy Spirit leading us to strive for to enhance our church's ministry over the next year? The next two to three years?
Action Steps: What action steps must we accomplish to achieve these goals?
Getting your team to agree on the answers to these questions (under the guidance of the Holy Spirit) may or may not be simple, depending on the circumstances and the relationships of leaders in your church. We feel strongly about fellowship with our leaders to gain leverage in togetherness and creating a 360 degree circumference around our team to solidify our ranks.  We are compelled to this undertaking by the need to fulfill the Scriptural model of Titus 1:5; to set churches in order through the appointment of godly leadership.
What not to do
In Hemet Ca, where we live, potholes are in abundance on most side roads. Some can be avoided, while others come upon you so quickly they are difficult to miss. On the avenue called planning, it's important to know the potholes to avoid:
Making Planning Too Complex: There are usually two or three key issues that will be discovered, and, if acted on, will lead to enhanced health and vitality. One church in Covina Ca. narrowed their planning to: (1) revising the organization chart, (2) enhancing community life, and (3) streamlining priorities. When these three issues were named, each ministry team could set goals for day-to-day ministry, based on them.
Not Reaching Conclusions and Making an Action Plan: Tie up loose ends along the way, and outline appropriate action steps.
Not Keeping the Action Plan Simple: One church I worked with had such a long document, with dozens of goals and action steps, that it felt overwhelming and didn't win approval. The objective is to create a plan that every member can articulate without having to refer to any documentation.
Not Revisiting the Plan: Your plan should be adjustable along the way, revised and renewed according to the needs and resources available to you. Keep your planning documents alive. Don't shelve them, file them, or formalize them in pretty documents. At Second Chance Alliance, we hold our plans loosely, in a "white paper" format, with lots of room for give and take each step of the way. May and I are learning as we go how to build and implement viable concepts that will help us with the trajectory we desire to get our model off the ground and receive excitement and commitment with buy-in to our visions.
Taking Too Long: Don't let your planning team tire and begin to complain about the value of doing this. Keep the group moving forward toward conclusion and celebration.
Trusting Your Instincts apart from Prayer: As a team, lean fully in God's direction to hear his voice, feel his heart, understand his will, and trust his empowering presence to lead you. Strategic planning in a local church or business is a process that God through his Holy Spirit must direct. Become a people of prayer as you trust him for his design for your church!
The Third Command–"and stay there." Next, he heard "and stay (yashab, "live, dwell") there." He might have thought, "This really takes the cake." And, as if these were not enough, he then heard something even more strange that had to be a tremendous challenge to his commitment, trust and vision as a man of God who was seeking to serve the Lord.
The Promise–"behold, I have commanded a widow there to provide for you." Note the very next word, "behold." This is the Hebrew hinneh, a demonstrative particle used to arrest the attention or to focus the reader's (or hearer's) attention on something important. The Lord was dramatically pointing out the reason for going to Zarephath. "I have commanded a widow there to provide for you." Elijah's provision would come by human hands, but they were the most unlikely hands he could have imagined. Everything about this was a test for Elijah. Please note the following:
"I have commanded a widow" is an interesting statement. Had the Lord spoken to this Gentile widow? Was she waiting for Elijah to come? I think the content of the text suggests this was not the case. I don't think she was aware at all of her role in God's plan. Rather, I believe this expresses the divine will of God. It shows that God commands or wills things to take place and they do. He uses the conditions and dispositions of men and women and brings things to pass.
Let's say you need a job. When you find a job, it will be because God commanded it. Your new employer may not be aware of it unless he or she is a believer, but it will be because God willed it so. "He sits in the heavens, He does what He pleases" (cf. Isa. 10:5-6 with vs. 7, and Gen. 50:19-21).
"Provide" is the Hebrew word, kul. In Aramaic and Arabic this word means "measure, measure out." The basic meaning is "calculate," or "contain" as does a vessel. For instance in Isaiah 40:12 the prophet writes, "who hath calculated or contained the dust of the earth by a measure?" Mainly this verb is used in a causative stem and means "to cause to contain, supply." It came to be used in the sense of "support, sustain, provide for" (cf. Ps. 55:22; Gen. 50:21; Neh. 9:21). While the Hebrew word used is different, I am reminded of one of the Names of the Lord, "Jehovah Jireh" or "Yahweh Yireh," meaning "the Lord will provide" (Gen. 22:8 and 14). It comes from the Hebrew ra`ah, "to see" as the Lord foresees and thus provides.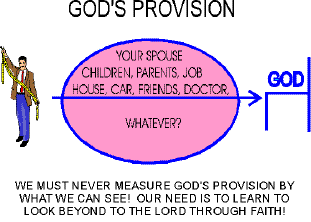 THE LORD'S SUPPLY–PROVISION
First, God would provide for Elijah through a woman. While women in Israel had a higher position and status than among their Gentile neighbors, this was highly irregular, for it was the man's place to provide for women. Second, this was a Gentile woman, a woman outside the circle of God's own people. In fact, she was from the pagan nation of the Sidonians (or Phoenicians) who, at that time, represented the forces arrayed against God's kingdom. Third, she was a poor, destitute, depressed widow facing starvation. She wasn't exactly the kind of person you would go to for support, but she was the person whom God had chosen to be Elijah's support and the instrument of God's glory. He didn't know her plight as yet, but he would soon find out and his response is remarkable.
Note several principles of application:
(1) Remember what God said through Isaiah (Isa. 55:8f, God's ways are not ours)? We might also remember 1 Corinthians 1:27-29, "but God has chosen the foolish things of the world to shame the wise, and God has chosen the weak things of the world to shame the things which are strong, and the base things of the world and the despised, God has chosen, the things that are not, that He might nullify the things that are, that no man should boast before God." God uses sources and instruments we would never choose, but in His wisdom He chooses them to accomplish His own purposes and to do exceeding abundantly beyond all we could ask or think (Eph. 3:20). We should not be surprised then with the tools God sometimes uses. What would we choose? We would choose a hero kind of figure, a well-known athlete, a rich man or a king, but the Lord chose a destitute widow. We would choose someone brilliant, powerful, perhaps someone in the king's palace. But God chose a woman from Zarephath of the land of Jezebel. Sure, sometimes God uses the powerful and wealthy as he did with Nehemiah (Neh. 2), or Joseph in the latter chapters of Genesis. The question is, what is our response when He chooses to use the poor and the weak in our lives? Do we despise them? Are we disappointed? Or do we thank Him for what He is doing?
(2) The sources God chooses to use often test our submission and faith. How could God possibly supply through this destitute woman? The how is not important. God would show that in time. God only wants us to trust Him regardless of how things look to us. I remember a story my grandfather used to tell about a dear old lady who truly believed God. One day he said to her, "Mary, I believe if God told you to jump through the wall, you would jump." She replied, "Yes sir, I would. If God told me to jump, it would be my job to jump and His to make a hole." How can we rest in God's supply in situations like this? We need to remember a simple but profound concept. Who would supply Elijah's need, the woman or the Lord? The Lord, of course! The woman was only an instrument.
Never get your eyes on the instrument or the conditions. Look beyond the instrument to the real source of supply–the Lord. Read again the story of Abraham in Genesis 22. He saw beyond the immediate problem to the Lord's supply.
Often God either chooses the despised and the small, or He reduces our resources to teach us He is really the One who supplies. See Judges 7 for the illustration of Gideon and God's instruction to him. Lest Israel boast and trust in their own power, the number of men to go up against the Midianites was reduced from 32,000 to 10,000 and finally to 300.
(3) The Lord uses His sources of supply to humble us. Doesn't He really know how to take the starch of self-dependence and pride totally out of our spiritual shirts in order to bring us to a place where we will really trust Him? Here Elijah was receiving aid at the hands of a destitute widow of the enemies of Israel. How humbling! But also, what an opportunity for the manifestation of God's grace, love, and power.
(4) Finally, this teaches us God can use any of us. He can take whatever we have and multiply it many times over just as He did with the meager resources of the widow or as the Savior did when feeding the five thousand.
What was Elijah's response in verse 10? We read, "So he arose and went . . ." No questions, no arguments, no complaints–just obedience. Undoubtedly, it was in the joy and expectation of not only what the Lord would do for him, but through him. Elijah realized he would be there not simply to be ministered to, but to minister.
By way of application:
Are you in a spiritual condition where you can hear God's instructions? (Mark 6:30f.)
What are you facing in your life right now that needs God's supply? Are you resting in Him for your needs?
Where is your focus? Are you focused on the problem rather than the Lord? Are you seeing the agents of supply in your life as totally inadequate with the result you are questioning what God can do?
Does your present condition look impossible? Does it look like there is no way God can meet your needs through what He has brought about into your life?
Have you considered that before God meets your need, or that in meeting your need, He wants to use you to meet the need of someone else?
Now we turn to another scene in the life of Elijah. Again, God is preparing him for what is to come. But the story also involves what God is doing in the life of His people, the nation of Israel. Let's not lose sight of the nationalistic interest here. The story deals with more than simply Elijah or his destiny. It also deals with what God was seeking to do in the northern kingdom. It deals with what the northern kingdom was experiencing because of its idolatry. The nation had turned away from the Lord and His Word to the substitutes of the world.
Elijah forms a model for us. We can learn from Elijah about God and about ourselves–our needs, responsibilities in society, and our tendencies under the pressure of the conflict. On the other hand, Israel forms an example of what happens in a society when it ignores God–it goes down hill fast and becomes morally corrupt.
With this in mind, let's ask a question. Why did God send the Prophet into the land of the Sidonians and to this widow as His source of supply when there were many widows in Israel with just as great a need? Apart from God's mercy, His use of this in the life of Elijah and the lessons it has for us in that way, there is another very important lesson here that I would like to address. The answer is found for us in the remarks made by the Lord in Luke 4:23-27. Not only was the nation facing drought and famine in the land, but they were also facing a famine of the Word of God. Because of their indifference, idolatry, and unbelief, God sent Elijah out of the land and to a Gentile widow. This was a form of judgment and has a two-fold significance for us:
This was somewhat prophetic of the church age when, because of Israel's unbelief, God would turn from Israel as a nation and offer the gospel to the Gentile world. Remnants of Israel would still come to Christ, but from the standpoint of the nation and her promised blessings, she would be temporarily set aside (cf. Rom. 11:6-32). Sending Elijah to the widow reminds us of our responsibility to carry the gospel to all men.
This also teaches us we should never take our blessings for granted. Privilege never guarantees success (1 Cor. 10:1-13). It provides the basis for success, but we need to take heed how we use those blessings. When a nation or individuals ignore the Word and turn to the substitutes of the world, they eventually experience the judgment of God. God may finally turn them over to the futility of their own solutions or strategies for life (Rom. 1:18f; Amos 8:11; 2 Tim. 4:3; 2 Thess. 2:10-11).
The Response of Elijah
(17:10a)
Both in 1 Kings 17:5 and 17:10, we see how the prophet moved only when he had a word from the Lord. Even though the brook was drying up, he remained by the brook until word came from God. Isaiah 28:16 says, "he that believeth will not make haste" (KJV). The RSV has, "he who believes will not make haste," and the NASB has "he who believes in it (the cornerstone) will not be disturbed."
Interestingly, this statement of Isaiah 28:16 is made following a reference to lsrael's deceptive trusts–her dependence on her own human solutions. Rather than waiting on the Lord, Israel was running ahead to solve her problems and fears through her own strategies. But Elijah waited on the Lord and help arrived. But in what manner? He was commanded to go on a long and toilsome journey through wild and barren country. Further, with so many widows in the land, how was he to find the right one? Isn't this a natural question? It appears he didn't know who the widow was, but he knew the Lord who did and that was more than ample.
Elijah was operating by the principle of Proverbs 4:18, "But the path of the righteous is like the light of dawn that shines brighter and brighter until the full day." While this verse refers primarily to the moral rectitude of those who walk with the Lord, it may also illustrate how the Lord directs our paths making His will plain as we walk in His righteousness by faith. The righteous live by faith. Day-by-day, step-by-step as we walk in fellowship with the Lord, He leads and directs the path of the righteous (Hab. 2:4; Rom. 1:17).
Again, being consistent in faith, Elijah did not argue with the Lord, whine, complain, nor run away. Instead, we read, "So he arose and went." No questions, no arguments, no complaints, just obedience and undoubtedly, in the joy and expectation of what the Lord would do not only in him and for him, but through him. Why? Because, like the Lord Jesus, he would be there not simply to be ministered to, but to minister. I expect also he understood why he was not being sent to the widows of Israel. Also, it was God's way of removing Elijah from Jezebel's reach.
The Relief to the Widow
(17:10b-16)
When you and I measure what God is doing, we tend to measure it by what we see and think according to the natural man. We tend to measure God's supply, or our confidence and hope in God's supply, by what we see. When we do this, we are walking by sight rather than by faith. The question we need to ask ourselves is: "Do I tend to look at human conditions as a basis for my confidence or do I see through them to the Savior?"
Obviously, we need to know human conditions. We need to know the facts. For this reason, God allowed the spies to go into the land, but what they saw was not to become the basis of their confidence in what God could do nor for what they should do. That was to be found in God's person, promises, and commands to go in.
Let's note Elijah's response: Our text tells us, "and when he came to the gate of the city, behold, a widow was there gathering sticks." Again, we have the word "behold," that little demonstrative particle, hinneh, which is designed to arrest attention. We find Elijah at the gate of the city of Zarephath, but the Lord, who was there before him, had arranged it all. The widow was by the gate gathering sticks by the providence of God. Remember, He leads us step-by-step. He never leaves us, indeed, He goes before us.
If Elijah was looking for something to encourage him from the human standpoint of the widow, like a well-dressed woman living in a luxurious house with a well-stocked pantry, his hopes were soon dispelled. "Gathering sticks," was a sign of poverty. This woman was so poor she had no fuel, and in order to cook even a meager meal, she had to get out and round up a few sticks. Until now Elijah knew only that his source of supply was a widow. Now he knew she was a poor widow.
By human measurement, how reasonable was it that the man of God could expect sustenance under her roof? It was no more reasonable than Noah should build an ark before he had ever seen rain, much less a flood, or for Joshua to command the people to walk around Jericho and expect the walls to fall down. But the path of obedience is the path of faith that looks to God and not to circumstances both before and after the will of God is clear.
Elijah's response is the issue. Remember that the brook was a preparation for him. The God who commanded the ravens and supplied through them, was the same God who had commanded the widow and would supply through her. The principle is the Lord is the same yesterday, today, and tomorrow. Circumstances change, but the Lord never changes. Our circumstances do not diminish the character and power of God. They can in no way change His faithfulness or omnipotence.
Elijah responded in faith. But how did faith manifest itself? Like Abraham on Mount Moriah who looked to God for the supply of a lamb, so Elijah saw beyond the woman's condition to Yahweh Yireh–Lord who provides. He did not judge according to sight, but according to God's character and divine essence. Elijah trusted in the promises of God. He didn't throw up his hands and say, "I don't believe this! You mean this poor soul is my supply for food? How in thunder can she help me?" He responded to God rather than reacting. Elijah acted in faith with his eyes on the Lord. In verses 10 and 11, he asked the widow for a jar of water and a piece of bread. Was he believing the promise of God and acting on it, or was he looking for confirmation by her response that she had been expecting him and had plenty to eat? I think he was believing the promise of God because Elijah knew she was poor by the fact she was gathering sticks.
In verse 12 we see the widow's response. Elijah's request opened afresh the wounds and pain of her heart. She could conceal her pain no longer. Her words showed she was not only poor but severely depressed. She had given up and was ready to die. This was their last meal and after that they would simply starve. It also appears she was without any real knowledge of the Lord and without faith. Still her heart was ready and had been prepared for God's Word and the ministry of Elijah.
Note her words in verse 12, "as the Lord your God lives." This suggests she must have recognized Elijah as a prophet of Israel, perhaps by his dress (cf. 2 Kings 1:8). But Yahweh was not her God and she wasn't all that sure about the honesty of Elijah or the reality of his God (cf. vs. 17:24). She needed to see the testimony of Elijah's life as well as the power of God.
What was Elijah to do now? Was he mistaken? What gave Elijah the courage to act like he did instead of throwing in the towel? Remember, as a man thinketh, so is he! Elijah's response in verses 13 and 14 were words of faith, compassion, and vision.
As a man of God, he undoubtedly felt compassion for this poor woman but he knew his solutions or strategies for meeting his or her needs were not sufficient. He knew she was poor, yet God's source of supply was no accident or mistake. Elijah knew God was faithful, powerful, and purposeful and that his needs were God's concern and that they were met in the Lord. He also knew God was aware of his longings to preach in Israel and this would need to be tabled for now and turned over to the Lord and His timing. This meant he must be available to serve others and trust the Lord for his needs.
For us today, Elijah's words to the woman in verses 13 and 14 are equivalent to two things: (a) Giving others the promises of God's love, concern, and care such as the promises of Philippians 4:19; 1 Peter 5:7; Psalm 55:22; and John 10:10. Please note the first half of John 10:10. We often fail to connect the two. (b) Acting as the Good Samaritan; sharing our blessings with others, knowing that our giving will not be our lack (Phil 4:19).
The woman listened to Elijah's instruction and it was just as he had promised according to the Word of the Lord. She saw the power of God–the widow, her son, and Elijah were all sustained.
What lessons can we learn from this passage?
(1) Look beyond the circumstances to the Lord as Yahweh Yireh–the Lord who supplies.
(2) Never judge or measure God's supply by what you can see. He is the One who does exceeding abundantly beyond all we can ask or think.
(3) Ask God for the vision needed to see the opportunity for ministry lying, perhaps, right under your nose.
(4) Ask God for the compassion and love needed to reach out to others with His power and love.
(5) Know that the Lord is aware of your longings and turn them over to Him.
(6) Know also that your basic needs have been met in Christ. Knowing that, commit yourself to fulfilling God's purposes in your life.
God sent Elijah out of the land because the people were indifferent–indeed, rebellious to the Word of God. No man or nation can neglect God's truth without dire consequences. It can mean a famine, not just for bread and water, but for hearing the Word. This is not just a matter of what God does to us, but what we do to ourselves, of what happens within mankind that hardens us and causes us to ignore and turn away from God.
Far too often today when people look for a church they choose one like they would a country club or a shopping mall, on the basis of consumerism rather than on the teaching of the Word of God and the ministry of its people to one another. Many times the basis of their choice is not the solid teaching of the Word, but programs, music, the number of youth, the activities, and other similar consumer-like issues. Our nation is filled with steeples, but there is a famine in our land. Not a famine of food and water but of the proclamation of the Word of the Lord.
"A man without a vision is a man without a future. A man without a future will always return to his past." (P.K. Bernard)
"A knife cuts because it has a narrow focus" (Cleddie Keith)
"A coward dies a thousand deaths, but a brave man dies only once"(Roman soldiers)
"When God predetermined our destiny, He factored in our stupidity. Therefore there's always enough time to finish?" (Larry Randolph)
 The level of sacrifice that an environment requires will determine the size of people that will follow" (Kris Vallotton)
A progressive revelation of an ageless revival for our generation is growing in our hearts. It is for those who went before us and for those who are yet to be born. Yet, the question of how the vision is to be implemented remains.
One famous Proverb says:
Where there is no vision, the people are unrestrained, but happy is he who keeps the law – Proverbs 29:18
Vision is the bridge between the present and the future. Without it we perish or go "unrestrained," as the New American Standard Bible puts it. Vision gives pain a purpose. Those without vision spend their lives taking the path of least resistance as they try to avoid discomfort. The level of sacrifice that a vision requires will determine the size of people who follow. Sacrifice separates the small from the great.
Consider the example of a young man who has just graduated from high school and joins the military. As soon as he steps off the boot camp bus, the sergeant starts yelling at him. He has to march over to the barbershop and get his head shaved. Then he is up early in the morning to exercise with someone screaming at him and talking about his mother. Just a month before, he was in high school. He would have never put up with any of this nonsense from his teachers or classmates. But somehow his whole mindset has changed. Why? He is enduring the "cross" so to speak, because of the joy on the other side of it. He realizes that boot camp is preparing him for a greater destiny. His vision of the future is giving his present physical discomfort meaning and purpose.
So many of us go through life not understanding the purposes of our trials. We spend our days walking a crooked path, believing that every obstacle in the road is a problem and something to be avoided.
The second part of this Proverb says, "But happy is he who keeps the Law." The law isn't just something God gave to Moses. It is also the restraint, boundaries and disciplines we develop around our life to direct us through obstacles instead of around them. These obstacles become baptisms of fire that forge our character so we can attain and maintain a life of greatness.
WHAT IS VISION?
Vision is what we see, but it is also the way in which we see. Vision is the lens that interprets the events of our life, the way we view people and our concept of God. If we have a scratch on our glasses, it may seem like everybody around us has scratches too, but the problem actually lies with us because our vision is impaired. Jesus said that our eyes are the windows of our heart. Paul prayed that the eyes of our heart would be enlightened. In other words, we perceive with our eyes but we see with our hearts. Our minds receive images from our eyes but our heart interprets these images. If our heart becomes bitter, jealous, hurt or in someway infected, the lens of our heart is distorted. What we perceive is happening and what is really going on could be two completely different things. Jesus said, "You will know the truth and the truth will make you free" (John 8:32). The word truth used here is not referring to the Bible itself, (although all truth is rooted in the Bible) but here the word truth means reality. Jesus is saying, you will understand what is real and that will free you. So many of us live in a virtual reality. The way we view life can feel and look real, or make perfect sense, but still not be real at all. Have you ever watched a good movie and gotten totally into it? You experience all the emotions of real life. You may even leave the theater still "feeling" the movie, but it was just a movie? it was never real. The truth is: we see what we believe to be true. Another way to put it is, if you have the wrong pretext you will misunderstand the context. Having a revelation of what is real will deliver us from a life of torment that virtual reality often causes.
ESTABLISHING CORE VALUES
Therefore, the things we believe to be true determine the way in which we interpret life. These "things" are called "core values." Core values are the lens or eyes of our heart. It is important for us to realize the incongruence between what our core values presently are and what we really want them to be. Often, the things we say we believe and the things we actually believe are not the same. We must understand that it is not the truths that we believe in our head that are our core values, but rather the ones we believe in our heart. The things we perceive to be true determine the way we respond to the world around us and to God who lives within us.
These core values also help define the part of the flock that we find ourselves called and attracted to. The children of Israel experienced this principle when they came into the Promised Land. Joshua assigned land to them according to their tribes and divisions (Joshua 18:10). In other words, they received land according to their diverse visions. For instance, if they had a vision for farming, they probably did not go with Caleb to the mountain country but instead were given land that best facilitated their vision. Therefore the land they were given and their vision was congruent. From this perspective, it is not very hard to see how some church splits happen. Sometimes pastors, in their zeal to build their churches, attract people that have a vision for things that their churches or "land" (metaphorically speaking) will not sustain. This dual vision eventually ends up in di-vision.
FORESIGHT, INSIGHT & OVERSIGHT
True Godly vision consists of foresight, insight and oversight that come from His sight. Foresight is like looking at life through a telescope. This outlook allows us to know what is ahead as it connects us to our future. Foresight is the element of vision that helps life make sense and gives us the motivation that we described earlier.
Insight is like viewing life through a microscope. This perception gives us an understanding of why things happen in life. It also helps determine the underlying motivations of the heart.
Oversight puts life into context. It is like flying over our house in a helicopter. There is a perspective that we can only receive from this vista that helps us understand where we are with respect to where everything else is. The sons of Issachar are great examples of this kind of vision. The book of I Chronicles says that these men understood the times and had knowledge of what Israel should do (12:32). People that are blessed with this type of vision often have great wisdom concerning the seasons of life.
His sight assures us that the vision we have is from God. A vision from the Lord creates a mission from heaven. This is illustrated in the life of Moses when he went up on the mountain, received a vision of the tabernacle, and was told to construct it according to the pattern that he had received. (Exodus 24:16-28:43) Visions like this are just "pipe dreams" without some sort of administrative plan to complete them. A lot of people have lofty ideas about things they would like to accomplish for God but they seem to have no sense of how to see the dream fulfilled. There are entire books dedicated to this subject, therefore, I will just give an overview of how to accomplish a vision.
PRACTICAL IMPLEMENTATION
The first part of accomplishing any vision is to take it from the unseen world and bring it into the natural realm. This can be accomplished by simply writing down the vision. Articulating the vision on paper pulls the dream that is in your spirit (that no one can see but you) into the visible world so that others can capture it in their own hearts. Tools that help to visualize the mission such as architectural drawings, models, testimonies of others who have accomplished similar dreams, or visits to places that have a common purpose are all helpful in capturing and defining the vision for both yourself and others who will come alongside and help.
Then the LORD answered me and said, 'Record the vision and inscribe it on tablets, that the one who reads it may run. For the vision is yet for the appointed time; it hastens toward the goal and it will not fail. Though it tarries, wait for it; for it will certainly come, it will not delay – Habakkuk 2:2-3
There is an old story about three bricklayers that helps illustrate what it looks like when people receive motivation from taking ownership of a vision:
There were three bricklayers working beside each other on a wall. Someone came up to the first one and said, "What are you doing" "What;'s it look like I am doing?" he replied sarcastically, "I am laying bricks!" The man asked the next guy on the wall what he was doing. He said,"Can't you see what I am doing? I am building a wall." Then the last man was asked what he was doing. He exclaimed, "I am building a great cathedral for God!"
Who do you think will do the best quality work and be the hardest worker? Vision causes people to love their work because they can see the big picture. Someone once said, "If you want to build a great ship, you can go out and find some talented craftsman or you can find a person who loves the sea." Imparting God's vision to the team around us is the single most important factor in seeing the mission accomplished.
The next step is to create a plan to accomplish the mission. The Bible says:
Without consultation, plans are frustrated, but with many counselors they succeed; the plans of the heart belong to man, but the answer of the tongue is from the LORD – Proverbs 15:22 & 16:1
From these two verses we see that although the vision must be from God Himself, men are to help develop the plan that brings about the fulfillment of the vision. Notice how Solomon highlights the fact that developing plans in a vacuum, (without the expertise and insight of others who have different gifts and perspectives than we do), will ultimately end in frustration.
It's important for administrative people to understand that they are there to administrate the mission. The word administrate means, "add-to-the-mission," not change the mission. Visionaries often do not like to work with administrators because by nature administrators are refiners and finishers. Sometimes administrators do not understand that they are being brought in to help visionaries determine how something should be accomplished, not what should be accomplished. If the vision is so large that it requires the help of Heaven (which it often does when it really is from God), it will be important that the visionary impart the vision and the faith to see it accomplished to the team. First Timothy 1:4 says that the administration of God is "by faith."
FEAR COUNTERACTS FAITH
People often disguise their fear as wisdom when they enter into a supernatural mission that can only be accomplished with the help of God. Moses had this problem when he sent the twelve spies in to the Promised Land to determine where they should enter. Ten of the spies misunderstood their mission and somehow thought they were being asked whether or not they should take the land at all.
This type of misunderstanding of the roles people are invited to play in the mission has caused the demise of so many would-be miracles, paralyzing the church of the living God. For years, the people of God have often settled for what can be accomplished by human effort and ability, because we have allowed the opinion of faithless people to determine what we will achieve, instead of being faithful (faith-filled) to the vision we saw "on the mountain". This is a perversion of the gospel of the kingdom. We should never settle for anything less than what God told us to do.
SETTING GOALS
After the plan is established, goals must be set. The Bible says:
I press on toward the goal for the prize of the upward call of God in Christ Jesus – Philippians 3:14
Goals are simply the vision broken down into smaller pieces that are measurable in time and space. In other words, they are specified parts of the mission that we will accomplish by a predetermined date. Many people don't like to set goals because they think that if they are not able to accomplish them on time, they have failed. The truth of the matter is that, "If you fail to plan you plan to fail." Great leaders know that setting goals is what gives the mission a sense of urgency. Urgency is a friend to managers as it sets the pace for those who are carrying out the mission. If wisdom is used in goal setting, very little management is needed to motivate the workers since urgency manages them. However, be careful not to give your workers more to do than they have the faith to accomplish in a given time period. If it is too much, they will not even try, just like trying to catch a bus when it is already a block ahead. You probably won't even run after it, as there is so little possibility of you catching up to it. On the other hand, if the bus just starts to pull away from the curb when you get there, you will probably move out of your comfort zone to try to catch it. Yet, setting goals too low will not create a sense of urgency at all. People will not be very motivated and it will result in a lot more work for the managers.
When your vision is honestly birthed by God Himself, He will be delighted to direct your steps
tweet this
The final stage of seeing the mission accomplished is establishing your steps. Proverbs says, "The mind of man plans his way, but the Lord directs his steps" (16:9). Psalms says, "The steps of a man are established by the Lord, and He delights in his way. When he falls, he will not be hurled headlong, because the Lord is the one who holds his hand" (37:23-24). Steps are your day-in, day-out walk with God: the step-by-step, moment-by-moment, hour-by-hour decisions you make and the things you do that take up your time and use up your life. When your vision is honestly birthed by God Himself, He will be delighted to direct your steps. The most important thing to remember about your steps is that they should be found somewhere in your mission. Go back through your planner from the previous month and retrace your steps. Does it look like they are directly attached to your mission? If not, either redefine your mission or redirect your steps. Remember, history is at stake.
Please check out our vision God's gift to us. We feel like Noah sometimes, people are laughing and this is non-sense but I know It's real and it will come to pass though it tarries we will wait.
Remember…..    The secret to learning as an entrepreneur is to mix equal parts of inspiration and perspiration. Hard work without a vision is futile, while a great idea without execution is similarly worthless.
What makes you so special? Seth Godin's talk is all about why people just ignore the ordinary. In order to stand out, Godin says, you must be either bad or bizarre. Boring will not bring you success.
In my quest to find traction for my vision to empower a specific species of human beings today I've searched several libraries of knowledge and truth. Having a vision means you sometimes stand alone.
Any successful endeavor requires a vision...
   a. The word "vision":
      1) Literally means the ability to see things that are visible
      2) But it also used to mean the ability to see other things
         a) "unusual competence in discernment or perception;
            intelligent foresight" (American Heritage Dictionary)
         b) "Vision is the art of seeing things invisible" (Jonathan
            Swift)
   b. Such ventures as business or politics require "men of vision"
      1) Companies require CEOs with vision, countries require leaders
         with vision
      2) Without the ability to visualize worthy goals and how these
         can be realized, very little of importance is achieved

2. In the Lord's work, we desperately need an elevated vision of what
   it is all about...
   a. We need greater goals (what can be done) and greater objectives
      (how it can be done)
   b. Jesus certainly had a great vision:  the saving of souls! - cf.
      Mt 9:36-38; Jn 4:35
   c. We need to have visions that are worthy of the "King of kings and
      Lord of lords"

[What can help us to elevate and enlarge our vision in the Lord's work?
Let's first notice how an inadequate vision can actually stifle our
work...]

I. 

TWO WAYS OUR VISION CAN BE INADEQUATE



   A. AN ILLUSTRATION OF AN INADEQUATE VISION...
      1. Suppose a man is driven by the "vision" of "making as much
         money as possible"
      2. Two things may keep him from making as much money as he should
         a. He may be limited in his idea of what is "a lot of money"
         b. He may never make any specific plans other than have the
            vague notion of "making as much as possible"
      3. His problem?  His vision:
         a. May be too small concerning what can be done
         b. May be too general without any plan for what he can be
            doing now to make his vision a reality

   B. OUR VISION OF THE LORD'S WORK MAY LIKEWISE BE INADEQUATE...
      1. We may have the vision of "teaching as many people the gospel
         as possible"
      2. A noble vision on the surface, but we might by afflicted by
         the same shortcomings:
         a. We may think too small concerning what can be done
         b. We may think too generally about what we should be doing

   C. THE PROBLEM OF A VISION THAT IS TOO GENERAL...
      1. No dream has ever been achieved except by someone who dared to
         flesh it out in terms of the specifics necessary to make the
         dream a reality
      2. For example, it is fine to plan:
         a. To go to heaven
         b. To serve the Lord faithfully
         c. To do the work of evangelism
      3. But how do we do such things?
         a. By what means do we get those results?
         b. What specific, measurable actions will take us where we
            want to be?
         c. How much time, effort, and money will it take?
            We need to see our vision of the Lord's work in concrete terms
            of things we can actually do...and plan specifically how much
            of them we are going to do!

   D. THE PROBLEM OF A VISION THAT IS TOO LITTLE...
      1. When we do think specifically about the Lord's work, we often
         fail to set our sights high enough
         a. Perhaps we are hindered by our past experience
            1) Personal efforts made in the past may have not born
               fruit
            2) Congregational efforts did not seem to go anywhere
         b. Perhaps we have been fed a steady diet of defeatism
            1) Told by others that people are not interested in
               spiritual matters anymore
            2) Telling ourselves that people are not interested
      2. With small visions, many churches and individuals seem content
         with:
         a. Just "keeping house for the Lord"
         b. Just an occasional conversion, usually involving our
            children or spousesWith the limited vision of many churches, little is done and accomplished [I believe the Lord intends greater things for His church, especially for those servants with a willingness to work (cf. Mt 13:31-33; 1Co 16:8-9; Rev 3:8). What does a vision worthy of our Lord's work require? Perhaps the following thoughts might be a step in the right direction...] II. 

WHAT OUR VISION NEEDS

 A. OUR VISION NEEDS TO BE GREAT... 1. E.g., to double in attendance every year 2. E.g., to spread the gospel to thousands in our community each year B. OUR VISION NEEDS SPECIFIC ACTION-STEPS... 1. To double in attendance every year: a. Invite two people a week; by the end of the year you will likely have a least one attending regularly b. Provide transportation to people who can't drive; is the value of a soul not worth what time or effort might be involved? - cf. Mt 16:26 -- If each person succeeded is just getting one person to come regularly, the attendance would easily double 2. To spread the gospel to thousands in our community each year: a. Give a tract to one person per week b. A congregation of 50 would share the gospel with more than 2500 people per year -- How does that compare to the past year, where no vision was present? C. OUR VISION NEEDS FAITH... 1. Faith in the power of the gospel a. To save souls - Rom 1:16-17 b. To produce souls that have been born again - 1Pet 1:22-25 2. Faith in the power of the Lord a. To open doors for His prepared servants - 1Cor 16:8-9; Rev 3:8 b. To impower His servants wanting to do His will - Phil 4:13; Eph 3:16,20 D. OUR VISION NEEDS BOLDNESS... 1. A virtue displayed often by the early Christians - Acts 4:13; 9:27; 13:46; 14:3; 19:8; 28:31 2. For which they prayed and solicited prayers - Acts 4:29,30; Eph 6:19-20 3. A boldness based upon our hope in Christ - 2Co 3:12 4. To say what needs to be said, when it needs to be said, despite the circumstances - 1Thes 2:2 E. OUR VISION NEEDS PERSISTENCE... 1. Not losing heart, for we shall reap in due time - Gal 6:9 2. Always abounding, knowing that our labor is not in vain 1Cor.15:58 Many visions are never realized because people give up too soon!  1. Not all "vision" is good... a. Some have "tunnel vision" - focusing on small and often insignificant problems in the church b. Some have "visions of despair" - seeing only the negative, never the positive 2. But a vision that has... a. A grand scope worthy of its mission (saving souls) b. Specific steps to accomplishing its goal (teaching others) c. Faith in the Lord and in His word d. Boldness and perseverance in carrying it out ...such a vision is what the people of God need today! Is this your vision? Or have you allowed yourself to have "tunnel vision" or a "vision of despair"? How much better to heed the words of Jesus: "Behold, I say to you, lift up your eyes and look at the fields, for they are already white for harvest!" (Jn 4:35)
As I watched this movie last night I was struck with innovative thoughts on how to become a philanthropist myself in-order to get Second Chance Alliance off the ground. Visualization is a technique used by winners in all walks of life. If you really want something to come to fruition, then you have to put your imaginative mind to work. See the result in front of you, play the game you are going to play in your mind or watch yourself accepting your success. The only limit is your own mind. I watched another video that showed the brand I desire for my dream and man what a experience of rejuvenation I experienced from "Home Boy" Industries.
Nothing is going to improve when you feel lousy about yourself and your chances in life. A positive mindset will reset an erring period of bad luck. It will turn that half-empty glass into the half-full glass; the rainy day into the silver-lined cloud. Seize opportunities to change and move on. You're about to create them!
Visualization is sort of like hypnosis: if you don't think it'll work, it won't. Thinking positively is the first step to making sure this visualization is actually effective. It's the first step to making these desires a part of real life. Visualization and faith are powerful ingredients. I was feeling bad that I can not seem to find anyone to buy into my dream to bring this sought of program to Riverside County, but I am connected to all the power one needs and that is The God of the universe.
My passion is the reason God woke me up this morning, and just the thought of it can keep you up late with excitement. But not everyone knows exactly what his passion is right away. Don't worry — whether you're looking for your passion to find a new career, or if you're looking to get completely immersed in a new hobby or activity, there are a number of things you can do to find your passion. My past has fueled this passion and God has poured this same vision of hope for helping others into my spirit.
The prison looms today as a central feature of American society. Since 1976, we have been building on average one prison every week. More than two million Americans are now crammed into the nation's still overcrowded jails and prisons. In fact, there are now about as many prisoners in America as there are farmers. Over half of those incarcerated are people of color. More than four million Americans, again mainly people of color, have been permanently disenfranchised because of felony convictions, many under laws enacted explicitly to prevent African-Americans from voting. (1) Studies have shown that this disenfranchisement has had a significant impact on the outcome of presidential and senate elections prior to 2000. (2) We need no detailed studies to show the direct impact of this disenfranchisement on the most recent national election. Prior to November 2000, one third of the African-American men in Florida were convicted as felons and then stripped of their right to vote, while thousands more were purged from the voting rolls as alleged felons by fiat of a corporation hired by Governor Jeb Bush. If only a small percentage of Florida's 204,000 disenfranchised male African-American citizens (not to mention the other 200,000 disenfranchised ex-felons in Florida) had been allowed to vote in 2000, even the U.S. Supreme Court could not have installed George W. Bush as President of the United States.
As the prison has become ever more central to American society, oral and written literature created by American prisoners and ex-prisoners has become ever more vital to understanding its wider significance. One central theme unifies the entire body of American prison literature, a theme that emerged from African-American experience: Who are the real criminals? As Frederick Douglass wrote in 1845 about the law-abiding citizens of America: "I could regard them in no other light than a band of successful robbers, who had left their homes, and gone to Africa, and stolen us from our homes, and in a strange land reduced us to slavery." A hundred and twenty five years later, George Drumgold, writing from Comstock Prison, expressed a similar idea in this couplet:
They say we're the criminals, a threat to society
But in truth they stole us, so how can that be?
But there's a difference. Unlike Drumgold, Douglass did not have to be convicted of a crime to be enslaved.
Prior to the Civil War, African-American slavery was not legitimized or rationalized by any claim that the slaves were being punished for crimes. That was to come next. The necessary legal transformation was effected in 1865 by the very Amendment to the Constitution–Article 13–that abolished the old form of slavery:
Neither slavery nor involuntary servitude, except as a punishment for crime whereof the party shall have been duly convicted, shall exist within the United States . . . .
Article 13 actually wrote slavery into the Constitution of the United States, but only for those people legally defined as criminals. So America now had to transform the freed slaves into criminals–by law and through culture.
Why? Because massive slave labor was needed for the plantations, coal mines, lumber camps, railroad and road construction, and prison factories, where during the Civil War white slaves produced equipment for the Union army.
The former slave states immediately devised legislation–the Black Codes–branding almost every former slave as a criminal. These laws specified that many vaguely defined acts–such as "mischief" and "insulting gestures"–were crimes, but only if committed by a "free negro." Mississippi's Vagrancy Act defined "all free negroes and mulattoes over the age of eighteen" as criminals unless they could furnish written proof of a job at the beginning of every year. (3) "Having no visible means of support" was a crime being committed by almost all the freed slaves. So was "loitering" (staying in the same place) and "vagrancy" (wandering).
Many of the new convicts were leased. The convict lease system had a big advantage for the enslavers: since they did not own the convicts, they lost nothing by working them to death. For example, the death rate among leased Alabama black convicts during just one year (1869) was 41 percent. (4) Much of the railroad system throughout the South was built by leased convicts, often packed in rolling iron cages moved from job to job, working in such hellish conditions that their life expectancy rarely exceeded two years. (5)
Besides leasing convicts, states expanded their own prison slavery. The infrastructure of many southern states was built and maintained by convicts. For example, aged African-American women convicts dug the campus of Georgia State College, and prisoners as young as twelve worked in chain gangs to maintain the streets of Atlanta. (6) Some states went into big business, selling products of convict labor. Hence the vast state prison plantations established in Arkansas, Tennessee, Louisiana, Mississippi, and Texas, where cotton picked by prisoners was manufactured into cloth by other prisoners in prison cotton mills. These plantations dwarfed the largest cotton plantations of the slave South in size, brutality–and profitability.
The stigma associated with being an ex-felon in America is unlike anything a person can comprehend unless they walk in the shoes of ex-felons. People get ill everyday but they somehow recover and are able to seek opportunity and they are made whole. Ex-felons on the other hand suffer for a lifetime for decisions that they made in the spur of the moment. Some people understand the dynamics associated with persons who struggle daily to regain their respect and dignity in their communities because they were previously convicted of a felony. Then there are those who believe that once a person has been convicted of a felony they should be treated as felons and denied opportunities for the rest of their lives. We have programs in every state that offers assistance to ex-felons being released from prison, yet, every time ex-felons complete applications for employment, they are constantly reminded that some things never change.
In America ex-felons carry the stigma of being convicted for life. A conviction is like the metaphorical scarlet letter. When people see you they see your conviction because many folks in America will never let you forget that you committed a crime.
Today we are beginning to witness a paradigm shift in how ex-felons are treated. Unfortunately it is not because of the reasons that we would think. Ex-felons are treated different now because of the economy. Many states, counties and cities are receiving fewer funds for housing prisoners and have released prisoners who in times past they deemed posed threats to society. Decisions such as these makes rational people think about whether these people actually ever posed a threat to society in the first place.
According to the research, there are approximately 2.8 million ex-felons currently locked up in jails and prisons in the U.S. African American make up approximately 47% of the inmate population in the U.S. yet they account for only 12.7 % of the population in the U. S. African Americans are disproportionately represented in every state in the U.S. This means that their percentage in the prison population is greater than their percentage in the state's general population. Sixty (60%) of the one million people who are released from prison return to prison within 3 years many of them much quicker!
Today Ex-felons are visible in every facet of life. America and Americans are becoming more tolerant of ex-felons in sports, media, education, military and areas in which felons benefit organizations but corporate America and political entities continue to maintain a strict stance against ex-felons. However, there are states such as Louisiana who allow ex-felons to run for public office after being released from probation or parole for fifteen years.
Ex-felons have a much lower rate of recidivating when they are released to stable living environment and caring families. Without these two safety nets most ex-felons are DOA-Doomed on Arrival. Ex-felons who are released from prison and acquire gainful employment, have the support of their love ones, and are connected to a higher power are much more likely to stay out of prison longer and in many cases never return.
No ex-felon should be punished for life. Once ex-felons are released from prison they should be treated like any other citizen. Corporations who do not hire ex-felons based on their criminal records only, in my opinion should not be supported by the ex-felons or their families. In some recent research in which I surveyed 100 of the largest corporations in Texas, many of the HR Departments responded to the questions of Do your corporation hire ex-felons by saying that each decision is made on a case by case basis. That was a common response from employers. In my book "Why Are So Many Black Folks In Jail", I constantly remind readers that if corporations refuse to hire qualified ex-felons solely based on the fact that they committed a crime in their past not taking into account that they have paid their debt to society, then "if they don't hire we don't buy". The best way to get people's attention is to affect their wallets and pocketbooks! Ex-felons have much more power than they think, if they harness and organize their power!