sin
It is erroneous to think that all Orthodox are in reality not sectarians and that all sectarians are in reality not Orthodox. Not every Orthodox in name is so in spirit, and not every sectarian in name is so in spirit, and, especially at the present time, it is possible to meet "Orthodox" who are in fact sectarians at heart: fanatic, unloving, narrow minded, persistent in human precision, not hungering or thirsting after God's truth, but gorged with their own presumptuous truth, strictly judging others from the summit of this their imaginary truth dogmatically correct from the outside, but lacking origin in the Spirit. And, conversely, it is possible to meet a sectarian who apparently does not understand the meaning of the Orthodox worship of God in Spirit and in Truth, who doesn't "recognize" this or that expression of ecclesiastical truth, but who in fact conceals within himself much that is truly divine, who is truly filled with love in Christ, truly a brother to his fellow man.
And the existence of such variety in Christian society does not allow a shallow approach to the problem of interfaith relations. Sectarians sin in their failure to understand Orthodoxy, but we Orthodox also do not follow our own Orthodox teachings in not understanding sectarians who are at times surprisingly fervent and pure in their persistent pursuit of the Lord towards a life in Him alone.
The narrow, arrogant, ailing reason of mankind, not transfigured in the Spirit of God, aspires identically to division and seeks a cause for it, whoever this reason might belong to – Orthodox or sectarian.
The love of Christ for us in his dying was as conscious as his suffering was intentional. "By this we know love, that he laid down his life for us" (1 John 3:16). If he was intentional in laying down his life, it was for us. It was love. "When Jesus knew that his hour had come to depart out of this world to the Father, having loved his own who were in the world, he loved them to the end" (John 13:1). Every step on the Calvary road meant, "I love you."
Therefore, to feel the love of Christ in the laying down of his life, it helps to see how utterly intentional it was. Consider these five ways of seeing Christ's intentionality in dying for us.
First, look at what Jesus said just after that violent moment when Peter tried to cleave the skull of the servant, but only cut off his ear.
Then Jesus said to him, "Put your sword back into its place. For all who take the sword will perish by the sword. Do you think that I cannot appeal to my Father, and he will at once send me more than twelve legions of angels? But how then should the Scriptures be fulfilled, that it must be so?" (Matthew 26:52-54)
It is one thing to say that the details of Jesus' death were predicted in the Old Testament. But it is much more to say that Jesus himself was making his choices precisely to see to it that the Scriptures would be fulfilled.
That is what Jesus said he was doing in Matthew 26:54. "I could escape this misery, but how then should the Scriptures be fulfilled, that it must be so?" I am not choosing to take the way out that I could take because I know the Scriptures. I know what must take place. It is my choice to fulfill all that is predicted of me in the Word of God.
A second way this intentionality is seen is in the repeated expressions to go to Jerusalem–into the very jaws of the lion.
Taking the twelve again, he began to tell them what was to happen to him, saying, "See, we are going up to Jerusalem, and the Son of Man will be delivered over to the chief priests and the scribes, and they will condemn him to death and deliver him over to the Gentiles. And they will mock him and spit on him, and flog him and kill him. And after three days he will rise." (Mark 10:32-34)
Jesus had one all-controlling goal: to die according the Scriptures. He knew when the time was near and set his face like flint: "When the days drew near for him to be taken up, he set his face to go to Jerusalem" (Luke 9:51).
A third way that we see the intentionality of Jesus to suffer for us is in the words he spoke in the mouth of Isaiah the prophet:
I gave my back to those who strike, and my cheeks to those who pull out the beard;
I hid not my face from disgrace and spitting. (Isaiah 50:6)
I have to work hard in my imagination to keep before me what iron will this required. Humans recoil from suffering. We recoil a hundred times more from suffering that is caused by unjust, ugly, sniveling, low-down, arrogant people. At every moment of pain and indignity, Jesus chose not to do what would have been immediately just. He gave his back to the smiter. He gave his cheek to slapping. He gave his beard to plucking. He offered his face to spitting. And he was doing it for the very ones causing the pain.
A fourth way we see the intentionality of Jesus' suffering is in the way Peter explains how this was possible. He said, "When he was reviled, he did not revile in return; when he suffered, he did not threaten, but continued entrusting himself to him who judges justly" (1 Peter 2:23).
The way Jesus handled the injustice of it all was not by saying, "Injustice doesn't matter," but by entrusting his cause to "him who judges justly." God would see that justice is done. That was not Jesus' calling at Calvary. (Nor is it our highest calling now. "Vengeance is mine, I will repay," says the Lord, Romans 12:19.)
The fifth and perhaps the clearest statement that Jesus makes about his own intentionality to die is in John 10:17-18:
For this reason the Father loves me, because I lay down my life that I may take it up again. No one takes it from me, but I lay it down of my own accord. I have authority to lay it down, and I have authority to take it up again. This charge I have received from my Father.
Jesus' point in these words is that he is acting completely voluntarily. He is under no constraint from any mere human. Circumstances have not overtaken him. He is not being swept along in the injustice of the moment. He is in control.
Therefore, when John says, "By this we know love, that he laid down his life for us" (1 John 3:16), we should feel the intensity of his love for us to the degree that we see his intentionality to suffer and die. I pray that you will feel it profoundly. And may that profound experience of being loved by Christ have this effect on you:
The love of Christ controls us . . . . He died for all, that those who live might no longer live for themselves but for him who for their sake died and was raised. (2 Corinthians 5:14-15

Why is context so important in studying the Bible? What is wrong with looking at verses out of context?
The main reason it is important to study the Bible in context is in order to obtain a correct understanding of the passage. Misunderstanding a portion of the Bible can lead to misapplying it in our lives as well as teaching something wrong to others. These are quite the opposite of God's desire for our lives, which includes knowing His Word accurately, applying it in our own lives, and teaching it to others, following the example of Ezra, "For Ezra had set his heart to study the Law of the LORD, and to do it and to teach his statutes and rules in Israel" (Ezra 7:10).
Another concern with taking the Bible out of context is the temptation to make the Bible say what we want rather than what it originally meant. Those who have taken this misguided approach have used Scripture to "prove" a wide variety of practices as "biblical." However, a practice is only biblical if it is based on an accurate understanding of Scripture that includes studying the context surrounding a passage.
For example, some have taught that slavery was biblical since this practice can be found in the Bible. However, while it is true slavery is found in the Bible, the New Testament did not teach Christians to enslave one another. On the contrary, in Paul's most personal letter regarding this issue, he wrote to Philemon with the intention that Philemon should free his runaway slave Onesimus (Philemon 1).
In addition, Genesis 1:27 speaks of men and women being created in God's image. Christians are called to love neighbor as self (Mark 12:31), a practice that would certainly contradict the practice of modern slavery. Further, a close examination of slavery and servanthood in first century times shows that it often differed widely in application from modern slavery. A doulos (Greek word for servant) could have a servant of his or her own and held much responsibility. While there were certainly masters who treated their servants poorly in that time, slavery then was not practiced exactly as slavery has been in modern times. Without studying the context of biblical passages on this topic, however, past generations have used Scripture to support the most tragic of interpretations regarding the enslavement and mistreatment of people.
Scripture encourages readers to study the full counsel of God. In Acts 20:27, the apostle Paul told the elders in his presence, "I did not shrink from declaring to you the whole counsel of God." Our lives are to follow this same practice of studying all of God's Word to accurately understand its teachings and apply them to our lives. Second Timothy 2:15 is clear, "Do your best to present yourself to God as one approved, a worker who has no need to be ashamed, rightly handling the word of truth."
For God So Loved the World
Someone recently submitted a comment saying in part,  "God is love PERIOD…Are you sure YOU know God?"
I had to admit, as I read the person's comment that it was abundantly clear we didnot serve the same God.  The idol god they endorsed was someone completely alien to the Father, because their perversion of "love" does not involve obedience to God's commands.  In this erroneous perspective, sin is of no consequence because God is love.  Holding to God's truths are merely academics in "biblical knowledge" which has nothing to do with a Christian's call to "show love."  Somehow, I don't think this is what God meant when He said that love covers a multitude of sins.  God is love, but God is also Truth.  You cannot separate the two without perverting who God is.
Christianity itself is being redefined to be about tolerance (of sin), diversity (of sin), and unity (with thosewillfully in sin).  Anyone who speaks about sin is therefore "judging" and "unloving."  The hatred coming against those who speak against sin has indeed become palatable.
Let me say unequivocally that I am not a servant of this idol "god of love" promoted by many in the churchworld which shies away from addressing sin and uses the grace of God to promote lasciviousness.  If that makes me your enemy, so be it.
Galatians 5:16–18
Keep in Step with the Spirit
16 But I say, vwalk by the Spirit, and you will not gratify wthe desires of the flesh. 17 For xthe desires of the flesh are against the Spirit, and the desires of the Spirit are against the flesh, for these are opposed to each other, yto keep you from doing the things you want to do. 18 But if you are zled by the Spirit, ayou are not under the law.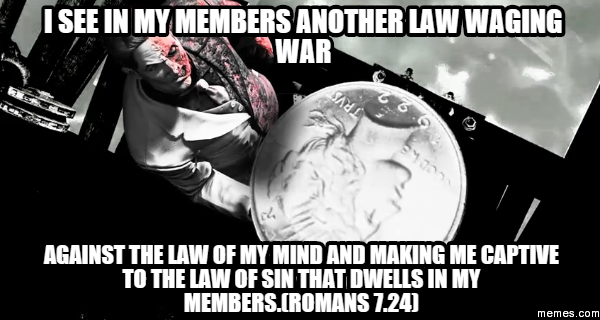 This love is not optional. It is commanded. And it is very radical: "You shall love your neighbor as yourself." In other words, we are called in our freedom to desire and seek the happiness of others with the same zeal that we seek our own. But if you take this command seriously, it is so contrary to our natural inclinations that it seems utterly impossible. That I should get up in the morning and feel as much concern for your needs as for my own seems utterly beyond my power. If this is the Christian life — caring for others as I care for myself — then it is hard, indeed, and I feel hopeless to ever live it out.
Paul's answer to this discouragement is found in Galatians 5:16–18. The secret is in learning to "walk by the Spirit" (v. 16). If the Christian life looks too hard, we must remember that we are not called to live it by ourselves. We must live it by the Spirit of God. The command of love is not a new legalistic burden laid on our back; it is what happens freely when we walk by the Spirit. People who try to love without relying on God's Spirit always wind up trying to fill their own emptiness rather than sharing their fullness. And so love ceases to be love. Love is not easy for us. But the good news is that it is not primarily our work but God's. We must simply learn to "walk by the Spirit."
So I want to build today's message around three questions: What? Why? And, how? What is this "walking by the Spirit"? Why is it crucial to walk by the Spirit? And, how, very practically, can we walk by the Spirit?
What Is Walking by the Spirit?
First, what is this "walking by the Spirit"? There are two other images in the context which shed light on the meaning of "walk by the Spirit." The first is in verse 18: "If you are led by the Spirit you are not under law." If Paul had said, "If you follow the Spirit you are not under law," it would have been true, but in using the passive voice ("If you are led") he emphasizes the Spirit's work, not ours. The Spirit is not a leader like the pace car in the "Daytona 500." He is a leader like a locomotive on a train. We do not follow in our strength. We are led by his power. So "walk by the Spirit" means stay hooked up to the divine source of power and go wherever he leads.
The second image of our walk in the Spirit is in verse 22: "The fruit of the Spirit is love, joy, peace, etc." If our Christian walk is to be a walk of love and joy and peace, then "walk by the Spirit" must mean "bear the fruit of the Spirit." But again, the Spirit's work is emphasized, not ours. He bears the fruit. Perhaps Paul got this image from Jesus. You recall John 15:4–5: "Abide in me, and I in you. As a branch cannot bear fruit by itself, unless it abides in the vine, neither can you unless you abide in me. I am the vine, you are the branches. He who abides in me, and I in him, he it is that bears much fruit." So "walk by the Spirit" means "abide in the vine." Keep yourself securely united to the living Christ. Don't cut yourself off from the flow of the Spirit.
So in answer to our first question, What is this walking by the Spirit? we answer: It is "being led by the Spirit" and it is "bearing the fruit of the Spirit." The work of the Spirit is emphasized, yet the command is for us to do something. Our wills are deeply involved. We must want to be coupled to the locomotive. We must want to abide in the vine. And there are some things we can do to keep ourselves attached to the flow of God's power. But before we ask how to walk by the Spirit let's ask . . .
Why Is It Crucial to Walk by the Spirit?
Why is it crucial to walk by the Spirit? The text gives two reasons, one in verse 16 and one in verse 18. In verse 16 the incentive for walking by the Spirit is that when you do this, you will not gratify the desire of the flesh. The RSV here is wrong when it makes the second part of verse 16 a command instead of a promise and says, "Do not gratify the desires of the flesh." All the other major versions are right to make it a promise because this particular Greek construction has that meaning everywhere else in Paul. The verse should be translated, for example with the NASB, "But I say, walk by the Spirit, and you will not carry out the desire of the flesh." So the first reason we should walk by the Spirit is that when we do, the desires of our flesh are overcome.
In recent messages I've tried to define the flesh as Paul uses it. Most of the time (though not always, see below) it does not simply refer to the physical part of you. (Paul does not regard the body as evil in itself.) The flesh is the ego which feels an emptiness and uses the resources in its own power to try to fill it. Flesh is the "I" who tries to satisfy me with anything but God's mercy. Notice Galatians 5:24, "Those who belong to Christ Jesus have crucified the flesh with its passions and desires." Now compare with this Galatians 2:20, "I have been crucified with Christ, it is no longer I who live, but Christ who lives in me; and the life I now live in the flesh I live by faith in the Son of God who loved me and gave himself for me." In 2:20, "flesh" is used in its less usual meaning referring to ordinary bodily existence, which is not in itself evil ("I now live in the flesh").
But the important thing to notice is that in 5:24 the "flesh" is crucified and in 2:20 "I" am crucified. This is why I define the flesh in its negative usage as an expression of the "I" or the "ego." And notice in 2:20 that since the old fleshly ego is crucified, a new "I" lives, and the peculiar thing about this new "I" is that it lives by faith. "The life I live in the flesh I live by faith in the Son of God who loved me and gave himself for me." The flesh is the ego which feels an emptiness but loathes the idea of satisfying it by faith, i.e., by depending on the mercy of God in Christ. Instead, the flesh prefers to use the legalistic or licentious resources in its own power to fill its emptiness. As Romans 8:7 says, "The mind that is set on the flesh is hostile to God; it does not submit to God's law." The basic mark of the flesh is that it is unsubmissive. It does not want to submit to God's absolute authority or rely on God's absolute mercy. Flesh says, like the old TV commercial, "I'd rather do it myself."
It is not surprising, then, that in verse 17 there is a war between our flesh and God's Spirit. It is a problem at first glance that there is a lively war between flesh and Spirit in the Christian, according to verse 17, but the flesh is crucified in the Christian, according to verse 24. We'll talk more about the sense in which our flesh is crucified when we get to verse 24. For now, let's give Paul the benefit of the doubt and assume that both are somehow true, and focus on this war within: our flesh versus God's Spirit.
God's Spirit Conquers Our Flesh
Verse 17 says, "For the desires of the flesh are against the Spirit, and the desires of the Spirit are against the flesh; for these are opposed to each other to prevent you from doing what you would." The main thing to learn from this verse is that Christians experience a struggle within. If you said to yourself when I was describing the flesh, "Well, I have a lot of that still left in me," it does not necessarily mean you aren't a Christian. A Christian is not a person who experiences no bad desires. A Christian is a person who is at war with those desires by the power of the Spirit.
Conflict in your soul is not all bad. Even though we long for the day when our flesh will be utterly defunct and only pure and loving desires will fill our hearts, yet there is something worse than the war within between flesh and Spirit; namely, no war within because the flesh controls the citadel and all the outposts. Praise God for the war within! Serenity in sin is death. The Spirit has landed to do battle with the flesh. So take heart if your soul feels like a battlefield at times. The sign of whether you are indwelt by the Spirit is not that you have no bad desires, but that you are at war with them!
But when you take verses 16 and 17 together, the main point is not war, but victory for the Spirit. Verse 16 says that when you walk by the Spirit, you will not let those bad desires come to maturity. When you walk by the Spirit, you nip the desires of the flesh in the bud. New God-centered desires crowd out old man-centered desires. Verse 16 promises victory over the desires of the flesh — not that there won't be a war, but that the winner of that war will be the Spirit.
In fact, I think what Paul means in verse 24, when he says the flesh has been crucified, is that the decisive battle has been fought and won by the Spirit. The Spirit has captured the capital and broken the back of the resistance movement. The flesh is as good as dead. Its doom is sure. But there are outlying pockets of resistance. The guerrillas of the flesh will not lay down their arms, and must be fought back daily. The only way to do it is by the Spirit, and that's what it means to walk by the Spirit — so live that he gives victory over the dwindling resistance movement of the flesh. So the first reason why we must walk by the Spirit is that, when we do, the flesh is conquered.
God's Spirit Creates Law-Fulfilling Fruit
The second reason to walk by the Spirit or be led by the Spirit is found in verse 18: "If you are led by the Spirit you are not under the law." This does not mean you don't have to fulfill God's law. You do. That's what verses 13 and 14 said, "Through love be servants of one another. For the whole law is fulfilled in one word, 'You shall love your neighbor as yourself.'" And Romans 8:3–4 say, "God condemned sin in the flesh in order that the just requirement of the law might be fulfilled in us who walk not according to the flesh but according to the Spirit."
Therefore, not being under law does not mean we don't have to fulfill the law. It means that, when we are led by the locomotive of the Spirit, we cruise on the railroad track of the law as a joyful way of life and are not left to climb it like a ladder in our own strength from underneath. When we are led by the Spirit, we are not under the punishment or the oppression of the law because what the law requires the Spirit produces; namely, love. Notice verse 22: the first and all-encompassing fruit of the Spirit is love, which verse 14 says fulfills the whole law.
And to confirm that this is just how Paul is thinking, he ends the list of the fruit of the Spirit in verse 23 with the words, "against such there is no law." In other words, how can you be under the oppression or punishment of the law when the very things the law requires are popping out like fruit on the branches of your life? So the second reason to walk by the Spirit is really the same as the first. Verse 16 says, do it because you get victory over the flesh when you walk by the Spirit. You nip temptation in the bud. Verse 18 says, do it because then you are free from the oppression and punishment of the law, because the fruit the Spirit produces fulfills the law. The Spirit is the fullness that overflows in love. Therefore it conquers the emptiness that drives the flesh, and it spills out in acts of love which fulfill the law.
How Do You Walk by the Spirit?
But the $60,000 question is, How do you walk by the Spirit? All of us have heard preachers say, "Let the Spirit lead you," or, "Allow the Spirit to control you," and have gone away puzzled as to what that means practically. How do you allow the Spirit to control you? I want to try to show you that the answer is, You allow the Spirit to control you by keeping your heart happy in God. Or to put it another way,You walk by the Spirit when your heart is resting in the promises of God. The Spirit reigns over the flesh in your life when you live by faith in the Son of God who loved you and gave himself for you and now is working everything together for your good.
Here's the fivefold evidence from Galatians. First, Galatians 5:6, "In Christ Jesus neither circumcision nor uncircumcision is of any avail, but faith working through love." Genuine faith always produces love, because faith pushes out guilt, fear, and greed and gives us an appetite to enjoy God's power. But Galatians 5:22 says love is a fruit of the Spirit. So if love is what faith necessarily produces and love is a fruit of the Spirit, then the way to walk by the Spirit is to have faith — a happy resting in the promises of God is the pipeline of the Spirit.
Second, notice Galatians 5:5, "For through the Spirit, by faith, we wait for the hope of righteousness." How do you wait for Jesus "through the Spirit"? "By faith!" When you keep your heart happy in God and resting in his promises, you are waiting through the Spirit and walking by the Spirit.
Third, look at Galatians 3:23, "Now before faith came, we were confined under the law." The coming of faith liberates a person from being under law. But what does 5:18 say? "If you are led by the Spirit you are not under law." How, then, shall we seek to be led by the Spirit? By faith. By meditating on the trustworthiness and preciousness of God's promises until our hearts are free of all fretting and guilt and greed. This is how the Holy Spirit fills and leads.
Fourth, see Galatians 3:5, the clearest of all: "Does he who supplies the Spirit to you and works miracles among you do so by works of the law, or by hearing of faith?" The Spirit does his mighty work in us and through us only by the hearing of faith. We are sanctified by faith alone. The way to walk by the Spirit and so not fulfill the desires of the flesh is to hear the delectable promises of God and trust them, delight in them, rest in them.
Finally, consider Galatians 2:20, "I have been crucified with Christ; it is no longer I who live but Christ who lives in me; and the life I now live in the flesh I live by faith in the Son of God who loved me and gave himself for me." Who is the Christ who lives in Paul? He is the Spirit. As 4:6 says: The Spirit of God's Son has been sent into our hearts. And how, according to 2:20, does the life of the Son produce itself in Paul? How does Paul walk by the Spirit of the Son? "The life I now live in the flesh I live by faith in the Son of God."
Day by day Paul trusts the Son. Day by day he casts his cares on God, frees his life from guilt and fear and greed, and is borne along by the Spirit. How, then, do we walk by the Spirit? The answer is plain. We stop trying to fill the emptiness of our lives with a hundred pieces of the world, and put our souls at rest in God. The Spirit will work the miracle of renewal in your life when you start meditating on his unspeakable promises day and night and resting in them. (See also Romans 15:13, 2 Peter 1:4, and Isaiah 64:4.)
The Secret of Walking by the Spirit
Yesterday at 5:30 a.m. I was in Pasadena, California, standing in the kitchen of my beloved teacher Daniel Fuller talking to his wife Ruth. One of the things I will never forget about that kitchen is that over the sink are taped four tremendous promises of God typed on little pieces of paper. Ruth puts them there to meditate on while she works. That's how you walk by the Spirit.
I keep a little scrap paper by my prayer bench, and whenever I read a promise that can lure me away from my guilt and fear and greed, I write it down. Then in dry spells I have a pile of promises to soak my soul in. The fight of faith is fought with the promises of God. And the fight of faith is the same as the fight to walk by the Spirit. He works when we are resting in his promises. George Müller wrote (Autobiography, pp. 152–4):
I saw more clearly than ever that the first great and primary business to which I ought to attend every day was to have my soul happy in the Lord. The first thing to be concerned about was not how much I might serve the Lord, or how I might glorify the Lord; but how I might get my soul into a happy state, and how my inner man might be nourished. . . . Now what is the food for the inner-man? Not prayer but, the Word of God.
George Müller learned the secret of walking by the Spirit: Meditate on the precious truths of the Word of God until your heart is happy in God, resting in his promises.
Hudson Taylor had learned it too. He received word one day of rioting near one of the inland mission stations. In a few moments George Nichol, one of his evangelists, overheard Taylor whistling his favorite hymn, "Jesus, I Am Resting, Resting in the Joy of What Thou Art." Hudson Taylor "had learned that for him, only one life was possible — just that blessed life of resting and rejoicing in the Lord under all circumstances, while he dealt with the difficulties inward and outward, great and small" (Spiritual Secret, p. 209).
I say to you, brothers and sisters, walk by the Spirit, and you will not gratify the desires of the flesh. You will have victory over temptation and know the guidance of the Lord if you keep your heart happy in God by resting in his promises.
And let me be clear, the Hispanic community is very religious, traditional and family-oriented as well. An ill-conceived assault against the church — a rallying point across the minority communities — could bode dismay for the liberal progressives of the Democrat party heading into the 2016 election year. It could be a policy issue that works against the left and galvanizes those who support traditional marriage.
I know there are folks on the liberal progressive left who frequent this website. So here is my message. The Christian church community is a lot bigger and more powerful than you think — they kept a Republican from winning the White House. And these aren't just old white men – there's a growing young Christian constituency. You can criticize the Christian right all you want, but surrendering one's faith principle for political gain is not a viable proposition. And in the case of prosecution of the Christian church, there could be a rallying of churches, regardless of race, the likes of which this nation has not seen.
The SCOTUS decision on same-sex marriage is not about the issue itself — it is about individual religious freedom and the imposition of the State's will against faith. After all, it is the original reason why the Pilgrims fled England. And since there is no place for men and women of faith to retreat — they will make a stand. This ain't first century Rome.
An atheist scientist has accused God with a flood of adversarial adjectives. In his book, he wrote –
"The God of the Old Testament is arguably the most unpleasant character in all fiction: jealous and proud of it; a petty, unjust, unforgiving control-freak; a vindictive, bloodthirsty ethnic cleanser; a misogynistic, homophobic, racist, infanticidal, genocidal, filicidal, pestilential, megalomaniacal, sadomasochistic, capriciously malevolent bully." (God Delusion. Chapter 2 p.31)
Breaking down the paragraph, here is the list of the freak accusations against the Creator by the freakiest of freaks, Richard Dawkins:
1. Unforgiving control-freak
2. Vindictive
3. Bloodthirsty ethnic cleanser
4. Misogynistic
5. Homophobic
6. Racist
7. Infanticidal
8. Genocidal
9. Filicidal
10. Pestilential
11. Megalomaniacal
12. Sadomasochistic
13. Capriciously malevolent bully
Unforgiving Control-Freak?
Unfortunately, for this scientist, his understanding about a creator in charge is nil. Anyone accusing somebody to be an "unforgiving control-freak" without basis is a freak himself like Dawkins! The less-than-zero god of Dawkins is all of these, yet he is petty?
As recorded in the history of God's nation, because of human greed and caprices, the Israelites suffered with rigor in the hands of the cruel Egyptians for four hundred years.
GENESIS 15:13-16
13 And he said unto Abram, Know of a surety that thy seed shall be a stranger in a land that is not theirs, and shall serve them; and they shall afflict them four hundred years;
14 And also that nation, whom they shall serve, will I judge: and afterward shall they come out with great substance.
15 And thou shalt go to thy fathers in peace; thou shalt be buried in a good old age.
16 But in the fourth generation they shall come hither again: for the iniquity of the Amorites is not yet full.
Why did it take that long? God is a forgiving God, waiting patiently for people to repent and realize the consequences of their iniquities. The timing was not only for the Israelites, but also for their enemies.
His being a forgiving God spells His long-suffering for the Amorites. Who are these Amorites?
The Amorites were an ancient nation mentioned frequently in the Old Testament. They were descended from one of the sons of Canaan (
Genesis 14:7
). In early inscriptions, the Amorites were also known as Amurra or Amurri. The "land of the Amorites" included Syria and Palestine. Some of the southern mountains of Judea were also called the hill country of the Amorites (
Deuteronomy 1:7
,
19-20
). Despite their strong numbers and military might, the Amorites were destroyed due to their worship of false gods. Israel's conquest of their land was part of God's judgment on the pagan Amorite culture. The Amorite nation had plenty of time to turn from their idolatry, but they despised God's goodness and longsuffering and refused to repent (
Romans 2:4
). The Lord's judgment upon them was severe, and anyone who imitates their rebellion will eternally regret it (
Romans 2:5
;
Matthew 10:28
;
Revelation 2:22-23
).
(Ref:
Norman Geisler and Joseph M. Holden,
The Popular Handbook of Archaeology and the Bible, Harvest House Publishers, 2012).
II PETER 3:9
The Lord is not slack concerning his promise, as some men count slackness;but is longsuffering to us-ward, not willing that any should perish, but that all should come to repentance.
This is because His desire is for all men to be saved.
I TIMOTHY 2:4
Who will have all men to be saved, and to come unto the knowledge of the truth.
This long span of years – four hundred – proves God's patience and forgiveness for the abuses of the Egyptians against the Israelites and the grace of His forgiveness and patience towards the Amorites (used interchangeably with Canaanites). But seeing that the hardness of their hearts and the degree of corruption the Amorites have accumulated in their ungodly way of life, God ordered the Israelites to get rid of these people. This was after God liberated the Israelites from Egypt. For this, isn't Dawkins accusing God for being "bloodthirsty ethnic cleanser?"
For us to understand the order of God, let us look into model cases in the Bible of annihilation of nations. In various verses, one can read:
"wipe them out," "throw them into confusion," "make them turn their backs and run," "drive them out of your way,""strike them down" "dispossess," "drive out," "thrust out," "destroy them," "subdue them before you," "annihilate," "deliver them over to you," "defeat them," "give kings into your hands,"
and
"wipe out their names from under heaven." But according to Analyst Glenn Miller (ChristianThinkTank.com, 2000), when these are
grouped into two categories
– dispossession versus destruction – the first comes out with 33 occurrences, and destruction only11 occurrences, with a ratio of 3:1.
Recognizing the intent of the 'punishment' explains the order. Accordingly, God was destroying a culture and its carriers, and not necessarily all the individuals in it. In brief, the model cases, as explained by Miller were as follows –
(1) In the story of 
Sodom and Gomorrah,
the cities were destroyed without human agency, and that the vegetation was destroyed. God used some type of natural disaster to accomplish the destruction.
(2)The 
Flood of Noah
was the largest annihilation/judgment to date and it involved people, animals, and much vegetation (Gen 6-8).
(3)The 
Amalekite initiative
 looks like an ordered annihilation;
1 Samuel 15:3 (KJV)
Now go and smite Amalek, and utterly destroy all that they have, and spare them not; but slay both man and woman, infant and suckling, ox and sheep, camel and ass.
The annihilation was to punish the Amalekites for what they did to Israel when they waylaid them as they came up from Egypt. The Amalekites are a predatory, raiding, and nomadic group.
(4)
In the book of Jonah, what is there is an 'averted annihilation'.
JONAH 1:1-5 (KJV)
1 Now the word of the Lord came unto Jonah the son of Amittai, saying,
2 Arise, go to Nineveh, that great city, and cry against it; for their wickedness is come up before me.
3 But Jonah rose up to flee unto Tarshish from the presence of the Lord, and went down to Joppa; and he found a ship going to Tarshish: so he paid the fare thereof, and went down into it, to go with them unto Tarshish from the presence of the Lord.
4 But the Lord sent out a great wind into the sea, and there was a mighty tempest in the sea, so that the ship was like to be broken.
5 Then the mariners were afraid, and cried every man unto his god, and cast forth the wares that were in the ship into the sea, to lighten it of them. But Jonah was gone down into the sides of the ship; and he lay, and was fast asleep……
In short, the people of Nineveh, confronted with warning, responded and averted the annihilation.
From these model cases, the obvious pattern is that the annihilations are judgments over cruelty and violence of an extreme and widespread nature, preceded by long periods of warning or exposure to truth and therefore, with opportunity to change outcomes. But the list of Amorite/Canaanite "religious" practices included: (1) Child sacrifice (with at least some of it in fire); (2) Incest; (3) Bestiality; (3) Homosexual practices; and (4) Cultic prostitution (Miller, 2000; Hobrink, 2011).
Reality dictates that there are people who have no right to live in a civilized society. Governments of almost all civilized nations impose capital punishment for people who are found to be prejudicial to the existence of the better elements of society.
The Bible teaches that children, unlike their evil parents, are welcome in heaven.
MATTHEW 19:14
But Jesus said, Suffer little children, and forbid them not, to come unto me:for of such is the kingdom of heaven.
Here's an archeological account on the land of Canaan suggesting that children were also afflicted by the sexually transmitted diseases prevalent in Canaan during the time that God commanded Israelites to claim the land of the Amorites!
God's express command to Israel was to destroy or drive out the Canaanites (Deuteronomy 7:2, 3). And Joshua went at the task in dead earnest, God himself helping with mighty miracles. In reality, GOD DID IT.
In excavation at Gezer, Macalister, of the Palestine Exploration Fund (1904-09), found, in the Canaanite stratum, which had preceded Israelite occupation, of about 1500 B.C., the ruins of a "High Place," which had been a temple in which they worshiped their god Baal and the goddess Ashtoreth (Astarte). It was an enclosure 150 by 120 feet, surrounded by a wall, open to the sky, where the inhabitants held their religious festivals. Within the walls were 10 rude stone pillars, 5 to 11 feet high, before which the sacrifices were offered. Under the debris, in this "High Place," Macalister found great numbers of jars containing the remains of children who had been sacrificed to Baal. The whole area proved to be a cemetery for new-born babes.
Another horrible practice was that they called "foundation sacrifices." When a house was to be build (sic), a child would be sacrificed, and its body built into the wall, to bring good luck to the rest of the family. Many of these were found in Gezer. They have been found also at Megiddo, Jerico and other places.
Also, in this High Place, under the rubbish Macalister found enormous quantities of images and plaques of Ashtoreth with rudely exaggerated sex organs designed to foster sensual feelings.
So, Canaanites worshiped, by immoral indulgence, as a religious rite, in the presence of their gods; and then, by murdering their first-born children, as a sacrifice to the same gods. It seems that, in large measure, the land of Canaan had become a sort of Sodom and Gomorrah on a national scale. (Ref: Halley's Bible Handbook, Archaeological Notes: Canaanite Religion, pp166-167)
The Macalister mentioned here is Robert Alexander Stewart Macalister (1870-1950), an Irish archeologist who was responsible for the excavations at Gezer, one of the earliest large-scale scientific archeological excavations in the region. Gezer is said to be between Jerusalem and Jaffa. (Ref:
http://archaeology.tau.ac.il/azekah/azekah/2-uncategorised/156-cont-23
)
The height of the evil being practiced in Canaan was their cruelty against their children!
DEUTERONOMY 18:10-12
10 There shall not be found among you any one that maketh his son or his daughter to pass through the fire, or that useth divination, or an observer of times, or an enchanter, or a witch,
11 Or a charmer, or a consulter with familiar spirits, or a wizard, or a necromancer.
12 For all that do these things are an abomination unto the LORD: andbecause of these abominations the LORD thy God doth drive them out from before thee.
Canaanites butchered their children and burned them in the fire to make an offering to their false gods.
JEREMIAH 19:5
They have built also the high places of Baal, to burn their sons with fire for burnt offerings unto Baal, which I commanded not, nor spoke it, neither came it into my mind:
God is a God of justice. A God that allows ample time for repentance; but justice requires equity and equal rights. We are allowed to move with freedom, to live in comfort, to satisfy our desires carnal and spiritual, but not to the expense and detriment of others who have the same right as our own!
MATTHEW 7:12
Therefore all things whatsoever ye would that men should do to you, do ye even so to them: for this is the law and the prophets.
God commanding the Israelites to annihilate the ungodly Amorites and Canaanites is God's wise way of instilling in their minds that they must live in God's justice if they have to live in peace. Cleansing in a civilized society is a must!
LEVITICUS 20:10-11, 16
10 And the man that committeth adultery with another man's wife, even he that committeth adultery with his neighbor's wife, the adulterer and the adulteress shall surely be put to death.
11 And the man that lieth with his father's wife hath uncovered his father's nakedness: both of them shall surely be put to death; their blood shall be upon them.
16 And if a woman approach unto any beast, and lie down thereto, thou shalt kill the woman, and the beast: they shall surely be put to death; their blood shall be upon them.
DEUTERONOMY 22:22
If a man be found lying with a woman married to a husband, then they shall both of them die, both the man that lay with the woman, and the woman: so shalt thou put away evil from Israel.
Ben Hobrink, a biologist, (
Modern Science in the Bible: Amazing Scientific Truths Found in Ancient Texts, Amazon, 2011) wrote –
Obviously, the war that God ordered for the Amorites/Canaanites was not a war of unrestrained lust, greed for expensive goods, or even "empire-building." God did not tolerate those attitudes. (Ref:
Glenn Miller).
It was a judgment that was to be executed – to get rid of evil influence.
The strong statement is that evil should not flourish. Now, Dr. Richard Dawkins, where do you stand? Obviously, you would prefer to preserve the kind that Amorites are.
This is Part 7 of Possibilities and Impossibilities in the Bible.
More to come.
Question: "What is the key to victory when struggling with sin?"
Answer:The key to victory in our struggles with sin lies not in ourselves, but in God and His faithfulness to us: "The LORD is near to all who call on Him, to all who call on Him in truth (Psalm 145:18; see alsoPsalm 46:1).
There's no getting around it: we all struggle with sin (Romans 3:23). Even the great apostle Paul lamented over his ongoing struggle with sin in his life: "For I know that nothing good dwells in me, that is, in my flesh. For I have the desire to do what is right, but not the ability to carry it out. For I do not do the good I want, but the evil I do not want is what I keep on doing. Now if I do what I do not want, it is no longer I who do it, but sin that dwells within me" (Romans 7:18-20). Paul's struggle with sin was real; so much so that he cried out, "What a wretched man I am! Who will rescue me from this body that is subject to death?" (Romans 7:24).
Yet in the next breath, he answers his own question, as well as ours: "Thanks be to God, who delivers me through Jesus Christ our Lord!" (Romans 7:25a). In this passage, Paul not only provides us with the very key to victory when struggling with sin, but explains the never-ending conundrum between our sinful nature and spiritual nature: "So then, I myself serve the law of God with my mind, but with my flesh I serve the law of sin" (Romans 7:25b).
Earlier, Paul said, "For we know that the law is spiritual, but I am of the flesh, sold under sin" (Romans 7:14). Paul is comparing our sinful nature, our flesh, to a slave. Just as a slave obeys his master, so our flesh obeys sin. However, as believers in Christ, we have become spiritual beings under the law of Christ; our inner selves are under the influence and ownership of God's grace and the life of Christ (Romans 5:21). As long as we are living in this world, our sinful nature and fleshly desire will remain with us. But we also have a new nature in Christ. This leads to a struggle between what we want to do and what we actually do, as sin continues to assault our earthly nature. This struggle is a normal part of living the Christian life.
It's interesting to note that Paul, the greatest of the apostles, declared that, of all sinners, "I am the worst!" (1 Timothy 1:15). Paul affirms the struggles we all have as we battle with sin and temptation in our lives. The struggles are real, and they're debilitating. We grow weary from the never-ending temptations and in falling short of God's glory. Paul, in essence, is telling us that we need not pretend that we're untouched by our struggles. He's been there. He understands. Though our efforts to do right seem desperate, we do have hope "through Jesus Christ our Lord" (Romans 7:25;Hebrews 4:15). And He, in fact, is the key to our victory over sin.
A true Christian will war with Satan and his daily efforts to undermine us. The devil is the ruler of this world, and we are living "behind enemy lines" (Ephesians 2:2;Ephesians 6:12;John 12:31). With our focus on Christ, however, we will be able to cultivate a mindset that proclaims we'd rather die than do anything to hurt God. When we give ourselves to Christ totally (Matthew 16:24), Satan will flee from us. When we draw near to God, He, in turn, will draw near to us (James 4:7-8).
Our key to victory in our struggle with sin lies in the very promise of God Himself: "No temptation has overtaken you that is not common to man. God is faithful, and He will not let you be tempted beyond your ability, but with the temptation He will also provide the way of escape, that you may be able to endure it" (1 Corinthians 10:13).
As true believers in Christ, even when we "face trials far beyond our ability to endure" (2 Corinthians 1:8), we can echo the reassuring words of Paul, who declares, "God has delivered us and will continue to deliver us" (2 Corinthians 1:10). Finally, the psalmist gives us these words of encouragement: "Trust in the LORD, and do good; dwell in the land and befriend faithfulness. Delight yourself in the LORD, and He will give you the desires of your heart. Commit your way to the LORD; trust in Him, and He will act" (Psalm 37:3-5).
Still have questions-Click to view-Rewards to Being Faithful….
Can I be a Casual-Sex Christian?
Embracing the difficult struggles of living a intimate life committed to Jesus is the forefront of my existence. My ministry hasn't been a comfortable lackadaisical one. All my pains and sins have been the proving ground of whether I sought after Jesus for fire insurance or for relationship. Put your salvation to the test, interview yourself with He who is greater within you and ask the tough questions about the sins that plague your life. We experience grievous separation from our care giver when we sin. Please examine yourself and prayerfully seek wisdom from the giver of all knowledge to rid yourselves of any debilitating sin that besets you from the creator.
I dated a female who graduated from a Christian college in Virginia's beautiful Shenandoah Valley. It was seemingly perfect from the outside: small campus with professors who adored teaching, numerous Bible studies and Christian groups to keep you spiritually challenged…and the sadly typical sexual immorality underneath the surface.
Casual sex at a Christian college? Yes.
Today's hookup culture is everywhere. In a blog titled "Loving Jesus & Hooking Up," author and blogger Mary DeMuth describes a situation in a church singles' ministry where casual sex ran rampant. Many of those in the group were post-divorce and believed that hooking up was acceptable.
We know the Bible story of the woman who was caught in adultery. She was brought before Jesus where he did not condemn her, but offered her what DeMuth calls "outrageous grace." He then says, "Go and sin no more."
It is that last part that has been forgotten, DeMuth says.
Our sins were paid for when Jesus died on the cross. This does not mean we have the green light to continue sinning when we know better!
Paul wrote in 1 Corinthians 6:18, "Flee from sexual immorality. All other sins a man commits are outside his body, but he who sins sexually sins against his own body."
In the pursuit of feeling good, we sin against our own bodies. DeMuth writes that "we prove that our true allegiance is to ourselves, our desires and not to Christ and His kingdom."
In addition, we are stomping on Jesus' gift of grace.
"He offers a gift to us, the same gift He beautifully demonstrated to the woman caught in adultery: forgiveness of sin and sanctification (working out that forgiveness by walking closely with Jesus). When we hook up casually and falsely believe Jesus is okay with it, to put it bluntly, we are not following the real Jesus," DeMuth writes.
In an iBelieve video, author Nicole Unice talks about godly dating. When done correctly, dating honors women (and men), Unice says. She recommends dating to be approached as one would approach getting to know a new friend. When you meet someone, it is safe talk to them about who they are over a cup of coffee.
"The way I think women get themselves into trouble is over-investing emotionally far before they should," Unice says. "To make yourself available emotionally…you may be doing it in the spirit of 'this is how I'm showing that I'm interested,' but it can come across as way too much too soon, it can come across as just trying too hard and also I think it…creates opportunities for you to be hurt."
DeMuth laments that it is almost impossible to tell the difference between believers and non-believers today. Too many Christians have embraced the modern way of the world with its sexual sin.
"We are called to deny ourselves, take up our crosses, and follow Christ–even as we approach sexuality," she writes. "But we've settled for a sanitized Christianity, a palatable one, where, outside the confines of marriage, we do whatever we want in bed with whomever and whenever, then ask God to stamp it with His approval.
"That's not grace, friends. It's license."
It is said that a flippant young man once remarked to a preacher in mocking fashion, "You say that unsaved people carry a great weight of sin. Frankly, I feel nothing. How heavy is sin? Ten pounds? Fifty pounds? Eighty pounds? A hundred pounds?"
The preacher thought for a moment, then replied, "If you laid a four-hundred-pound weight on a corpse, would it feel the load?"
The young man was quick to say, "Of course not; it's dead"
Driving home his point, the preacher said, "The person who doesn't know Christ is equally dead. And though the load is great, he feels none of it"
The Christian, unlike the average non-Christian, is not indifferent to the weight of sin. He is actually hypersensitive to it. Having come to Jesus Christ, his senses are awakened to the reality of sin. His sensitivity to sin intensifies as he matures spiritually. Such sensitivity prompted a saint as great as Chrysostom, the fourth-century church Father, to say he feared nothing but sin (Second Homily on Eutropius).
The apostle Paul would heartily agree. In Romans 7:14-25 he says,
For we know that the Law is spiritual; but I am of flesh, sold into bondage to sin.For that which I am doing, I do not understand; for I am not practicing what I would like to do, but I am doing the very thing I hate. But if I do the very thing I do not wish to do, I agree with the Law, confessing that it is good. So now, no longer am I the one doing it, but sin which indwells me. For I know that nothing good dwells in me, that is, in my flesh; for the wishing is present in me, but the doing of the good is not. For the good that I wish, I do not do; but I practice the very evil that I do not wish. But if I am doing the very thing I do not wish, I am no longer the one doing it, but sin which dwells in me. I find then the principle that evil is present in me, the one who wishes to do good. For I joyfully concur with the law of God in the inner man, but I see a different law in the members of my body, waging war against the law of my mind, and making me a prisoner of the law of sin which is in my members. Wretched man that I am! Who will set me free from the body of this death? Thanks be to God through Jesus Christ our Lord! So then, on the one hand I myself with my mind am serving the law of God, but on the other, with my flesh the law of sin.
That passage is a poignant description of someone in conflict with himself-someone who loves God's moral law and wants to obey it, but is pulled away from doing so by the sin that is in him. It is the personal experience of a soul in conflict.
The Controversy
There has always been debate whether Paul was describing a Christian or a non-Christian in this passage. Some people say there is too much bondage to sin in view for this passage to refer to a Christian. Others say there is too much desire to do good for a non-Christian. You can't be a Christian and be bound to sin, and you can't be a non-Christian and wholeheartedly desire to keep the law of God. Therein is the conflict of interpreting the passage.
The Non-Christian View
Those who believe Romans 7:14-25 is speaking of a non-Christian say verse 14 is the key: "I am of flesh, sold into bondage to sin. " Then they point to verse 18, which says, " I know that nothing good dwells in me, that is, in my flesh; for the wishing is present in me, but the doing of the good is not. " They conclude that has to be a non-Christian because a Christian knows how to do what's good. There seems to be an obvious lack of the Holy Spirit's power here.
The despair of verse 24–"Wretched man that I am!"–seems far removed from the promise ofRomans 5:1-2: "Having been justified by faith, we have peace with God through our Lord Jesus Christ, through whom also we have obtained our introduction by faith into this grace in which we stand; and we exult in hope of the glory of God."
Romans 6 has many examples of the believer's freedom from sins power. Verse 2 says, "How shall we who died to sin still live in it?" Verses 6-7 say, "Our old self was crucified with [Christ], that our body of sin might be done away with, that we should no longer be slaves to sin; for he who has died is freed from sin. " Verses 11-12 say, "Consider yourselves to be dead to sin…Therefore, do not let sin reign in your mortal body." Verses 17-18 say, " But thanks be to God that though you were slaves of sin, you became obedient from the heart to that form of teaching to which you were committed, and having been freed from sin, you became slaves of righteousness." How can the person who said all that turn around and say, "I am of flesh, sold into bondage to sin" (7:14)?
Chapter 6 emphasizes the new creation, the new nature, the new identity, the new person in Christ, and the holiness of the believer. In his new redeemed self, the believer has broken sin's dominion. However, chapter 7 gives the other side.
Every Christian knows from experience that though he is a new creature in Christ, sin is still a problem. In fact, that conflict is pointed out even in chapter 6: " Therefore do not let sin reign in your mortal body that you should obey its lusts, and do not go on presenting the members of your body to sin as instruments of unrighteousness " (vv. 12-13). Because it's still possible for Christians to yield to sin, we are commanded not to.
Arguing that chapter 7 cannot refer to a Christian because of statements in chapter 6 is to misunderstand the intention of chapter 6.
The Christian View
Paul says, "I joyfully concur with the law of God in the inner man" (Romans 7:22). That certainly isn't something a non-Christian could accurately claim. Romans 8:7 says that the unregenerate person is not subject to the law of God.
In verse 25 Paul says, " Thanks be to God through Jesus Christ our Lord! So then, on the one hand I myself with my mind am serving the law of God ." That sounds likea Christian.
The following verses describe Paul's thwarted desire to do what is right: " For that which I am doing, I do not understand; for I am not practicing what I would like to do, but I am doing the very thing I hate … For I know that nothing good dwells in me, that is, in my flesh; for the wishing is present in me, but the doing of the good is not. For the good that I wish, I do not do; but I practice the very evil that I do not wish … I find then the principle that evil is present in me, the one who wishes to do good " (vv. 15, 18-19, 21).
Romans 3 tells us that the unsaved person has no such longing to do the will of God: " There is none who understands, there is none who seeks for God … There is none who does good, there is not even one …There is no fear of God before their eyes" (vv. 11-12, 18). Therefore the conflict described in Romans 7 can be true of a redeemed person only.
Another question comes up at this point that has sparked an equally furious debate: What kind of Christian is Romans 7 talking about?
Some believe he's a carnal Christian–one with a low level of spirituality who is trying in his own strength to keep the law. However Romans 7:14-25 describes a believer who clearly sees the inability of his flesh to uphold the divine standard. The more spiritual or mature a believer is, the greater his sen­sitivity to his shortcomings will be. An immature Christian doesn't have such an honest self­ perception. The legalist is under the illusion that he is very spiritual. I believe Paul is describing himself in this chapter, judging from the extensive use of the personal pronoun "I."
Some say Romans 7:14-25 describes Paul's struggle before he was saved or right after he became saved and was still spiritually immature. But again, it is the mature Christian who possesses an honest self-evaluation. And Paul exhibited that in passages other than Romans 7.
1 Corinthians 15:9-10–Paul said, " For I am the least of the apostles, who am not fit to be called an apostle, because I persecuted the church of God. But by the grace of God I am what I am. "
Ephesians 3:8–Paul considered himself as "the very least of all saints." That 1 Corinthians was written before Ephesians shows he became more sensitive to sin as time went on. Although in our judgment Paul is the supreme man relative to other men, he saw himself as having fallen from the position of the least of the apostles to less than the least of all believers.
The terms Paul uses in Romans 7 are so precise that we can't miss his struggle with sin. He states that he hates committing sin (v. 15), that he loves righteousness (vv. 19, 21), that he delights in the law of God from the bottom of his heart (v. 22), and that he thanks God for the deliverance that is his in Christ (v. 25). Those are the responses of a mature Christian.
The change in verb tenses is a clue that this passage applies to a Christian. The verbs in Romans 7:7-13 are in the past tense. They refer to Paul's life before his conversion and the process of conviction he experienced when he stood face-to-face with the law of God. However in verses 14-25, where we see the battle with sin taking place, they are in the present tense.
I believe Romans 7:14-25 is Paul's own testimony of how it is to live as a Spirit-controlled, mature believer. He loves the holy law of God with his whole heart, but finds himself wrapped in human flesh and unable to fulfill it the way his heart wants him to.
The Struggle
This passage is unique in that it contains a series of laments–desperate, repetitious cries of a distressed soul in great conflict. Each lament follows the same pattern. Paul first describes his condition, then gives proof of it, and then explains the source of the problem.
Paul's First Lament
For we know that the Law is spiritual; but I am of flesh, sold into bondage to sin. For that which I am doing, I do not understand; for I am not practicing what I would like to do, but I am doing the very thing I hate. But if I do the very thing I do not wish to do, I agree with the Law, confessing that it is good. So now, no longer am I the one doing it, but sin which indwells me (Romans 7:14-17).
The "for" at the beginning tells us Paul isn't introducing a new subject. He continues to answer the hypothetical accusation in verse 7 that his preaching salvation by grace through faith apart from the law implies that the law is evil. He states to the contrary that "the Law is spiritual," meaning that it comes from the Spirit of God and is a reflection of His holy, just, and good nature (cf. v. 12).
Although Paul delights in God's law, he confesses there's a barrier that prevents him from always obeying it: his carnal or fleshly nature. He doesn't say he was in the flesh or controlled by the flesh. Romans 8:8-9 says to its Christian audience, "Those who are in the flesh cannot please God. However, you are not in the flesh." The phrase "in the flesh" refers to an unregenerate condition.
Although Christians are not in the flesh, the flesh is still in us. We are no longer held captive to it, but we can still act fleshly or carnal. In 1 Corinthians 3 Paul says, "I, brethren, could not speak unto you as to spiritual men, but as to men of flesh, as to babes in Christ…for you are still fleshly.For since thereis jealousy and strife among you, are you not fleshly, and are you not walking like mere men?" (vv. 1, 3). He reproved the Corinthian Christians for acting in a fleshly or non-Christian way.
Here in Romans 7 Paul says, " For I know that nothing good dwells in me, that is, in my flesh … with my mind am serving the law of God, but on the other, with my flesh the law of sin " (vv. 18, 25). He admits that the flesh is still present. Flesh is simply a term for our humanness.
Any Christian could make the statement in verse 14. Saying you're carnal is the same as saying you're a sinner. For example, when I am angry, insensitive, or don't pursue God as diligently as I desire, I see my humanness getting in the way of accomplishing all I ought to do.
Paul states in verse 14 that he is "sold into bondage to sin." Verse 23 gives us a similar statement: " I see a different law in the members of my body, waging war against the law of my mind, and making me a prisoner of the law of sin which is in my members." But how can that be since we as Christians have been delivered from sin? The phrase "sold into bondage to sin" is literally translated "having been sold under the sin." That refers to the sin principle, the product of the Fall of man, not to individual sins committed.
Being "sold into bondage to sin" doesn't mean Paul actively committed himself to sinning, as is said about Ahab in 1 Kings 21:20, 25; it means he recognized that in this life we as believers will constantly have to battle sin because of our human nature.
Can Paul's lament of being sold under sin come from a true believer? In Psalm 51:5 David says, "Surely I was sinful at birth, sinful from the time my mother conceived me" (NIV). That sounds like a man who had never been redeemed, doesn't it? But David was simply looking at one reality about himself. His lament is similar to that of Isaiah, who upon seeing a vision of God said, "Woe is me , for I am ruined! Because I am a man of unclean lips, And I live among a people of unclean lips " (Isaiah 6:5). All the prophet could see against the glorious holiness of God was his own sin.
Paul put all our experiences with sin into words in Romans 7:14-25. We all know there sin in our lives even though it shouldn't be there. Although sin is not the product of our new self, we're still bound to some degree by the body we dwell in. Verse 14 could be paraphrased, "The law is spiritual, but I am unspiritual, experiencing a bondage to sin at times."
A self-righteous person deceives himself into thinking he is inherently moral, but verse 15 shows that a Christian led by the Spirit will not think that way. He sees the proof of indwelling sin. Paul's failure to do what he desired and his doing what he hated reflects a profound inner turmoil. His will was frustrated by his sinful flesh. It's not that evil won all the time, but that he was frustrated in his attempt to perfectly obey God.
If you're a Christian, you can identify with that frustration. For instance, no sooner are you complimented for having done something right, and you become proud–you've just done something wrong. The spiritual person has a broken and contrite heart, realizing he can't be all that God wants him to be. Sad to say, many Christians have yet to reach that point. That's because their comprehension of God's holy law is so shallow.
Do you know what makes a Christian want to carry out God's law? His new nature within, which, according to 1 John 3:9, does not sin. When he goes against his new nature, it isn't the law that is responsible, but the sin that still resides in his frail human body. A Christian will naturally pursue the moral excellence of God's law. The more mature a Christian is–the more he loves the Lord, submits to the Spirit's direction in his life, and grows in his understanding of God's holiness–the greater will be his longing to fulfill the law.
Verse 17 sounds like Paul refuses to take the blame for his sin. It's as if he's blaming an inanimate object instead of himself. However, in verse 14 Paul acknowledges that he himself is sinful. Accepting responsibility for our failure challenges the teaching that God doesn't hold us responsible for our sin because sin is tied to our old nature.
Yet verse 17 goes beyond Paul's admitting that he is responsible for his sin. He specifies what part of him is responsible by making a more technical distinction: the sin that dwells in his flesh.
Paul's reasoning in verse 17 is reminiscent of Galatians 2:20: "I [the old nature] have been crucified with Christ; and it is no longer I who live, but Christ lives in me; and the life which I now live in the flesh I live by faith in the Son of God, who loved me, and delivered Himself up for me. " After salvation, sin no longer resides in a person's innermost self, which is recreated to be like Christ. Yet sin finds its residual dwelling in our flesh. That's why Paul said nothing good dwelt in his flesh (v. 18).
There's a big difference between surviving sin and reigning sin: sin no longer reigns in us, but it does survive in us. We are like an artistically unskilled person who has a beautiful picture in clear view, but has no ability to actually paint it. What we need to do is ask the Master Artist to put His hand on ours to help us paint the strokes we never could have painted independently of Him. We experience victory over sin only when we yield ourselves to the One who can overcome the flesh.
Galatians 5:17 says, " For the flesh sets its desire against the Spirit, and the Spirit against the flesh; for these are in opposition to one another, so that you may not do the things that you please. " Galatians 5:16 tells us how to win: " But I say, walk by the Spirit, and you will not carry out the desire of the flesh. " The Holy Spirit gives us victory. But let me warn you that the more victory you experience as you mature in Christ, the more you will recognizesin in your life.
Paul's Second Lament
For I know that nothing good dwells in me, that is, in my flesh; for the wishing is present in me, but the doing of the good is not. For the good that I wish, I do not do; but I practice the very evil that I do not wish. But if I am doing the very thing I do not wish, I am no longer the one doing it, but sin which dwells in me (Romans7:18-20).
In verse 18 Paul gives a more technical identification of the part of him that is actually sinning than he has previously: the sin that dwells in his flesh. The flesh isn't necessarily evil in and of itself, but it's where sin finds its base of operation.
In verses 18-19 Paul isn't saying he can't figure out how to do anything right. He's saying he can't obey to the extent his heart longs to. If you examine your spiritual growth, you should have a greater hatred for your sin now than you did before you understood how serious sin is and how holy God is. Although spiritual growth results in a decreasing frequency of sin, growth also involves a heightened sensitivity to it.
What Paul says in verse 20 is just like what he says in verse 17. Although he had a new nature, he still fought against sin and sometimes lost. Those losses seemed overwhelming to him compared to the perfection of God's holy law. Nevertheless his sensitivity to sin was a normal–not morbid–result of justification by faith.
At this point you might figure Paul would give up, having adequately made his point. But he starts a third lament to emphasize his frustration and sorrow over sin.
Paul's Third Lament
I find then the principle that evil is present in me, the one who wishes to do good. For I joyfully concur with the law of God in the inner man, but I see a different law in the members of my body, waging war against the law of my mind, and making me a prisoner of the law of sin which is in my members (Romans7:21-23).
In contrast to the law of God, Paul saw another law or standard that was making demands on him: the law or principle of evil. Evil battles every good thought, word, and deed. Rather than our sin nature's being eradicated in this life, as some theologians have concluded, Paul tells us that evil is present within us and creates conflict.
Verse 22 tells us that Paul delighted in God's law. The phrase "in the inner man" could be translated, "from the bottom of my heart." Paul, deep down, had a great love for the law of God. That part of us "is being renewed day by day" (2 Corinthians 4:16), "strengthened with power through [God's] Spirit" (Ephesians 3:16).
In verse 23 Paul identifies the source of his problems as the sin that resides in human nature. Sometimes the battle went in favor of his unredeemed flesh and brought him into captivity. That implies Paul is speaking as a redeemed person because unredeemed people can't be brought into captivity–they're already there. When sin wins the victory in the spiritual struggle, the believer becomes a slave to the sin that at least temporarily masters him.
The author of Psalm 119 experienced the same conflict Paul did. His psalm reflects his deep longing for the things of God.
My soul languishes for Your salvation; I wait for Your word. My eyes fail with longing for Your word, while I say, "When will You comfort me?" Though I have become like a wineskin in the smoke, I do not forget Your statutes (vv. 81-83).
If Your law had not been my delight, then I would have perished in my affliction (v. 92).
Oh, how I love Your law! It is my medi­tation all the day (v. 97).
I hate those who are double-minded, but I love Your law (v. 113).
I opened my mouth wide and panted, for I longed for Your commandments (v. 131).
Trouble and anguish have come upon me, yet Your commandments are my delight (v. 143).
I hate and despise falsehood, but I love Your law (v. 163).
Those who love Your law have great peace, and nothing causes them to stumble (v. 165).
I have longed for Your salvation, O Lord, and Your law is my delight (v. 174).
The measure of spirituality that the psalmist expresses is somewhat intimidating. That is why the last verse in Psalm 119 is so surprising: "I have gone astray like a lost sheep; seek Your servant, for I do not forget Your commandments" (v. 176). You might think that a person with such an intense love for God's law would not experience the failure of going astray spiritually. But that is the conflict all believers experience.
Why do we sin? Because God didn't do a good enough job when He saved us? Because He gave us a new nature that isn't complete yet? Because we're not prepared for heaven yet and still need to earn our way in? No, it's because sin is still present in our humanness, which includes the mind, emotions, and body.
In 2 Corinthians 10:3 Paul says, "Though we walk in the flesh, we do not war after the flesh (for the weapons of our warfare are not carnal, but mighty through God to the pulling down of strongholds) (KJV)." Although we still have physical bodies, we are engaged in spiritual warfare using spiritual resources.
Paul's three laments reveal the conflict every believer experiences with sin. From that conflict the believer cries out for deliverance.
The Solution
Oh,wretched man that I am! Who shall deliver mefrom the body of this death? I thank God through Jesus Christ, our Lord. So, then, with the mind I myself serve the law of God; but with the flesh, the law of sin.
As if three laments aren't enough, Paul lets out a wail in verse 24 that exceeds them all in intensity. He cries out in distress and frustration with his spiritual conflict. Can this be the despair of a Christian–let alone that of the apostle Paul? But Paul wasn't the only godly person who refused to keep silent about inner turmoil.
Psalm 6 (KJV)–David cried out, "O Lord, rebuke me not in thine anger, neither chasten me in thy hot displeasure. Have mercy upon me, O Lord; for I am weak. O Lord, heal me; for my bones are vexed. My soul is also very vexed [terrified]; but thou, O Lord, how long? Return, O Lord, deliver my soul: oh, save me for thy mercies' sake…I am weary with my groaning; all the night make I my bed to swim; I water my couch with my tears" (vv. 1-6). David was saying, "I'm sick and tired of not being everything I ought to be!"
Psalm 130 (KJV)–The psalmist wrote, "Out of the depths have I cried unto thee, O Lord. Lord, hear my voice; let thine ears be attentive to the voice of my supplications. If thou, Lord, shouldest mark iniquities, O Lord, who shall stand? But there is forgiveness with thee, that thou mayest be feared. I wait for the Lord, my soul doth wait, and in his word do I hope (vv. 1-5).
In verse 24 Paul rhetorically asks who will rescue him from the sin that resides in his body. "The body of this death" literally refers to our physical body, which is subject to sin and death.
I remember reading that near Tarsus, where Paulwas born, lived a tribe that inflicted a most gruesome punishment upon a convicted murderer. The tribe fastened the body of the murder victim to that of the killer– tying shoulder to shoulder, back to back, arm to arm–and then drove the killer from the community. The bonds were so tight that he could not free himself, and after a few days the decay in the dead body transferred itself to the living flesh of the murderer. In expressing his desire to be free from the sin that clung to his flesh, Paul might have had that ghastly punishment in mind.
In verse 25 Paul says, "Thanks be to God through Jesus Christ our Lord!" That's a dramatic change from his laments over sin and death. Paul always kept things in proper perspective.
Romans 8–Paul was assured of ultimate triumph through Jesus Christ over the conflict with sin: " For I consider that the sufferings of this present time are not worthy to be compared with the glory that is to be revealed to us. For the anxious longing of the creation waits eagerly for the revealing of the sons of God. … For we know that the whole creation groans and suffers the pains of childbirth together until now.And not only this, but also we ourselves, having the first fruits of the Spirit, even we ourselves groan within ourselves, waiting eagerly for our adoption as sons, the redemption of our body " (vv. 18-19, 22-23). We Christians await the final phase of salvation. We're still looking to that day when we are redeemed in body as well as soul. So Paul thanks God in Romans 7:25 that the end of the conflict will come through Christ when we enter into His presence and are glorified.
1 Corinthians 15–"For this perishable must put on imperishable, and this mortal must put on immortality…but thanks be to God, who gives us the victory through our Lord Jesus Christ" (vv. 53, 57). That last phrase is almost the same one Paul uses in Romans 7:25 in reference to our bodily resurrection and glorification.
2 Corinthians 5–"For indeed while we are in this tent [body], we groan, being burdened [with our humanness]; because we do not want to be unclothed, but to be clothed, in order that what is mortal may be swallowed up by life" (v. 4).
Philippians 3–"We eagerly wait for a Savior, the Lord Jesus Christ; who will transform the body of our humble state into conformity with the body of His glory" (vv. 20-21). Ours is a triumphant hope!
Yet the battle goes on. We cry with the poet Tennyson, who wrote, "Ah for a new man to arise in me, that the man I am cease to be!" (Maud, x. 5). The battle won't be over until Jesus gives us immortality. Full deliver­ance awaits glorification. But we can experience vic­tory here and now in the power of the Holy Spirit.
This description of "my people" has a curious resemblance to the exhortation of our Lord when he told his friends to be wise as serpents and harmless as doves. These people, according to Jeremiah's observation, had all the wisdom of the serpent, but it was for serpentine purposes. And the worst of it was that they hurt themselves the most. 
Even in his headlong, infatuated descent to ruin, the great powers are manifest. It is the very perversion and ruin of what is so noble in its original constitution that helps to give one an insight, deep even though melancholy, into all that makes up the nobility. A temple in ruins fills one with thoughts which could never be excited by looking at a dilapidated shed. Jeremiah looks upon Jerusalem and the men who are leaders there (ver. 9), and their great human faculties cannot he concealed from him. When man sinks into sin, this does not destroy the great human powers; it simply distorts their operation. We look at men as they are, and whatever the sad reflections coming into our minds, we still see the supremacy in terrestrial creation, the power to adapt means to ends, and all that strength and suppleness of intellect which are so much more than the greatest strength of a brute. 
The human intellect cannot be left to lie like a dead sword in the scabbard. In one sense the intellect is but an instrument. having in itself no character either for good or evil, any more than a piece of machinery. Everything depends on the disposition and intents of the man using it. But then the intellect, instrumental as it is, is not a mere instrument, but has a living connection with the rest of human nature. It must act, with more or less energy, according to the individuality of its possessor. These faculties must be used, if not for good, then for evil. History abounds in instances of wicked and selfish men who have achieved their mischievous ends by that very intellectual force which was given for something very different. Hence the importance of early training and direction, so far as one will can alter the course of another. Every individual whose faculties are diverted from good purposes is so much gain to the powers of evil. There is no neutral ground to which to retire. To go out of the one path is to go into the other. This was the sad thought that, even while Jerusalem was going down, lower, lower, towards the hour of its capture and desolation, there were yet in it many men who had the power, if only their hearts had been fight, to do much towards saving and blessing their country. But all their thoughts, their utmost acuteness of mind, were given to build and enrich self. – Y. 
Jeremiah 4:22
King James Version (KJV)
22 For my people is foolish, they have not known me; they are sottish children, and they have none understanding: they are wise to do evil, but to do good they have no knowledge.
The Lord cried passionately, 'my people are wise to do evil!' The level of manipulations we see now in methods of trickery is astounding!
• Consultants offer numerous manipulative methods to students and to aspiring candidates who desire to study abroad. The huge deposit amount that has to be made by the candidate is furnished by the consultants on a commission basis; to put it in plain words, the candidate cheats the foreign university by showing false availability of money in the bank, once the admission is acquired the money is withdrawn by the consultants. All this COOL shady deal is not down in a dark corner, it is done openly and Bible-reading, church-going Christians send their children through such 'bogus ways' and then weep when curses come on the lives of their children. Are you listening?
• There are plethora of agents to get you bogus certificates of academic / technical qualifications, experience certificates, caste certificates and what not! It would be crazy on my part to even try to spell out all of them because they are just ENORMOUS! Spreading like mushroom. Whatever has happened to integrity?
• Dad and moms are ever ready to give 'huge money' as donations – please call it BRIBE – in order to get admission in 'good and reputed'schools. What does 'good and reputed' actually mean can you tell me??? Did you know friends, Christian schools run by reputed denominational Christian organizations take bribe and refuse to give receipts to parents? Let the Lord judge them.
Which reputed and good college did the Hebrew slave Daniel study in order to get a plum position in the Government of king Nebuchadnezzar ? Where did Daniel get such phenomenal wisdom? Can anyone answer me? This handsome Hebrew slave got the attention of not the principal ofa college, but of the king and became his pet because of the grace of God on him. His name is Daniel. Read the book of Daniel in the Bible to know more. I wish more Christians do a lot of spade work, hunting and searching for a 'good church' and put their kids in the Sunday School / Youth fellowship and make them grow in the knowledge of God than knowledge of computers. I am screaming out to someone out there! Your kids need J-E-S-U-S ! There would be less of divorces, and more of responsible children if we have given them the Bibles at an early age.
Many Christians are into: adulterous relationships, pornography, pre-marital sex, software piracy, embezzlement of funds, misuse of office property, smoking and drinking, obscene words spill off their mouth when triggered and much more. I am not being unkind, I am just bluntly opening the cupboard!
We need J-E-S-U-S!
The D.B. Cooper investigation
( FBI / European Pressphoto Agency )
An artist's impression from 1971 of the hijacking suspect known as D.B. Cooper. The FBI is looking into a tip from a witness who contends the hijacker died 10 years ago. The witness was brought to the FBI's attention by a retired law enforcement officer. An FBI agent provided few details, but said the bureau considered the tip credible. The bureau is attempting to match fingerprints taken from belongings of the dead man to fingerprints gathered 40 years ago from the cabin of the jetliner that Cooper hijacked.
Romans 5:12-19
New International Version (NIV)
Death Through Adam, Life Through Christ
12 Therefore, just as sin entered the world through one man, and death through sin, and in this way death came to all people, because all sinned—
13 To be sure, sin was in the world before the law was given, but sin is not charged against anyone's account where there is no law. 14 Nevertheless, death reigned from the time of Adam to the time of Moses, even over those who did not sin by breaking a command, as did Adam, who is a pattern of the one to come.
15 But the gift is not like the trespass. For if the many died by the trespass of the one man, how much more did God's grace and the gift that came by the grace of the one man, Jesus Christ, overflow to the many! 16 Nor can the gift of God be compared with the result of one man's sin: The judgment followed one sin and brought condemnation, but the gift followed many trespasses and brought justification. 17 For if, by the trespass of the one man, death reigned through that one man, how much more will those who receive God's abundant provision of grace and of the gift of righteousness reign in life through the one man, Jesus Christ!
18 Consequently, just as one trespass resulted in condemnation for all people, so also one righteous act resulted in justification and life for all people. 19 For just as through the disobedience of the one man the many were made sinners, so also through the obedience of the one man the many will be made righteous.
On November 24, 1971, a man known today as D. B. Cooper hijacked a commercial flight between Portland and Seattle by threatening to blow up the plane unless he received $200,000. After landing to receive the ransom money, he ordered the plane back into the air. Then he lowered the rear stairs of the 727 aircraft and parachuted into the night. He was never captured, and the case is still unsolved. This act hastened the age of aircraft security in which trust and confidence have been replaced by suspicion and fear. What he did affected us all.
The Bible describes two actions that changed the world in a far more significant way. Through Adam's choice, sin and death entered the world, "and thus death spread to all men, because all sinned" ( Romans 5:12). But through Christ's sacrifice on the cross, God provided a remedy for the results of sin. "Through one man's [Adam's] offense judgement came to all men, resulting in condemnation, even so through one Man's [Christ's] righteous act the free gift came to all men, resulting in justification of life."
Christ did what no one else could do when He broke the power of sin and death by His resurrection. He offers forgiveness and eternal life to all who will accept His gift. And for that we thank Him with all our hearts.
When Adam sinned, death spread to all
One act condemned the human race;
But Jesus' death upon the cross
Provides mankind God's saving grace.
The cross of Christ can cure the condemnation of Adam's choice.
The truth is incontrovertible. Malice may attack it, ignorance may deride it, but in the end, there it is.
Do you ever ponder the price paid for freedom as a child of God and as a human being? We all were or still are a slave to sin. Myself and other African-Americans come from a past of our for fathers not being able to drink from any water fountain or enter any particular establishment to eat or entertain. How many of you take freedom for granted? How many of you live to set someone free from the bondage that exist in their life at present? The Truth will set you free not ideologies and opinions.
I wonder how many of us live in the "Truth" of the essential Jesus. I wonder how many of us live our life  based off the opinion of others. Do you realize you will be judged by the "Truth"? I realized this week that society as a whole is not favorable about the "truth". Only "Truth" shapes the "Truth". I will attempt to introduce the author of "Truth" in a two-part series starting today and concluding tomorrow If the "Truth" wills it.
The Liberating power of Divine Truth
Truth purifies human thought
Truth destroys illusions
Truth set you free
"Jesus said to the people who believed in him, "You are truly my disciples if you remain faithful to my teachings. And you will know the truth, and the truth will set you free."(John 8:31-32 NLT)
There is a humorous tale about a young lad who approached his father and asked, "Dad, why does the wind blow?" to which the father responded, "I don't know, son." "Dad, where do the clouds come from?" "I'm not sure, son." "Dad, what makes a rainbow?" "No idea, son." "Dad, do you mind me asking you all these questions." Not at all sons, if you don't ask question, how else are you going to learn?" The father was honest to admit his ignorance but encouraged his son to keep asking question. But a parent with knowledge is a blessing for their children. "Research shows that children of educated parents are healthier, perform better academically, and are more likely to attend higher studies themselves than children of those with lower educational background and the same truth applicable to the knowledge of God.
We cannot give someone what we don't have ourselves and we can't teach someone what we don't know ourselves. Sincerity is the foundation of our humanity. Sincere inquiry leads to successful investigation. Successful investigation adds value to our knowledge. Truth tests our reasoning and improves our minds. We must anticipate Truth is leading to a better society and a better world. Self-transformation leads to world transformation. Learning truth is the beginning of freedom and action. Free Action is the completion of learning truth. Truth shapes your world view. Your world view shapes life. Knowing the truth and practicing it is the key to the freedom.
Edward Everett said "Education is a better safeguard of liberty than a standing army." "Education makes people easy to lead, but difficult to drive; easy to govern, but impossible to enslave. An investment in knowledge always pays the best interest."  Education of Truth is a companion which no misfortune can depress, no crime can destroy, no enemy can alienate, no despotism can enslave. Look at the words of Jesus in John 8:31 and 32 that…"If you hold to my teaching, you are really my disciples. Then you will know the truth, and the truth will set you free."The truth is there at all times – whether or not we recognize it – but unless we know the truth, and apply it, truth itself is helpless. The Bible is full of truths, but you must be careful that the "truth" you follow is an original and Biblical truth and not an interpretation from man, specially a man with an agenda. Once you know what the Bible actually says, then you can apply that truth to your life.
We credibly often use the expression "the truth will set you free" because we live in a society where freedom and truth are cherished more than anything else. Yet many people do not really know the truth and enjoy no freedom. They are slaves to their own sinful desires. They are enslaved by the fear of guilt, death and condemnation. The man set canon and Constitution cannot make us free from this kind of bondage. But Jesus can set us free from the bondage of sin and death. James 1:25 tells us that practicing God's perfect law gives us freedom.
"What is truth?
" Truth is one of the central subjects in philosophy. It is also one of the largest. Truth has been a topic of discussion in its own right for thousands of years. Moreover, a huge variety of issues in philosophy relate to truth, either by relying on theses about truth, or implying theses about truth. It would be impossible to review all there is to say about truth in any coherent way. Instead, this sermon will concentrate on the Biblical themes in the study of truth.
Almost 2,000 years ago, a Roman governor (Pilate) chose to ask a profound and significant question to "The Lord Jesus" —the man who handed over to be executed — "What is truth?" It was a rhetorical question, a cynical response to what Jesus had just revealed: "I have come into the world, to testify to the truth." Pilate didn't realize that he was talking to the Truth.
He was talking to God in the flesh — the One through whom the worlds were created. The Old Testament refers to the Almighty as the "God of truth" (Deut.32:4; Ps 31:5; Is.65:16).  Jesus said in John Gospel chapter 14:6 "I am the way and the truth and the life. No one comes to the Father except through me." He was thereby making a profound claim about His own deity. He was also making it clear that all truth must ultimately be defined in terms of God and His eternal glory. After all, Jesus is "the brightness of [God's] glory and the express image of His person" (Heb 1:3). He is truth incarnate—the perfect expression of God and therefore the absolute embodiment of all that is true.
"What is truth" Most people ponder that question at some time in their lives, especially at critical points when they are struggling with the question of the meaning of life. After all, the need for meaning is a basic human need, and there can be no meaning without some ultimate truth. We seem to know instinctively that ultimate truth is somehow related to the existence of God. In fact, it is interesting that those who deny the existence of God are the same ones who say there is no absolute truth and that everything is relative. But something deep within us says this is not so — something tells us that God exists and that He holds the key to truth. However, that raises another question. If there is a God, a creator, as evidenced by creation, how do we know who He is? How do we know what He's like? Has He revealed Himself and His truth to the human race? The answer is yes! He has revealed Himself to all mankind and He has authenticated His communication to us in such a way that it is clear that it is His word and no one else's.
Truth is that which conforms to reality, fact, or actuality." Truth is that which is consistent with the mind, will, character, glory, and being of God. Even more to the point: Truth is the self-expression of God. Because the definition of truth flows from God, truth is theological. Truth is also ontological—which is a fancy way of saying it is the way things really are. Reality is what it is because God declared it so and made it so. Therefore God is the author, source, determiner, governor, arbiter, ultimate standard, and final judge of all truth.
Jesus also said that the written Word of God is truth. It does not merely contain nuggets of truth; it is pure, unchangeable, and inviolable truth that "-and the Scripture cannot be broken-" (John 10:35). Praying to His heavenly Father on behalf of His disciples, He said this: "Sanctify them by Your truth. Your word is truth" (John 17:17). To recover man out of his fallen state, the Holy Scripture is of much greater aid to us than the air we breathe, or the light of the sun. There is need of the word of God to enlightening the eyes – Showing men what they should do and what they should avoid. It is by God's commandments that we see the exceeding sinfulness of sin, and the necessity of redemption, so that we may love the Lord with all our heart, and our neighbor as ourselves. For this is the end of the commandment, and thus to enlighten the eyes is its use.
Hence David said  "Let me understand the teaching of your precepts;" Psalm 119:27, Precepts are breaking scripture down into micro chunks, word by original word and then building it back up. It is a style of teaching that believes that they cannot do better than to teach the Bible the way it was originally written in other word David prayed Lord teach me your "original idea" he says "How I long for your precepts" Psalm 119:40 David also prayed "Teach me, O LORD, to follow your decrees" Psalm 119:33- we need the guidance of the  Spirit of wisdom in the heart  to understand the way of God's  precepts, the meaning of them, to have a more comprehensive, clear, and distinct knowledge of them; and to be led into the way they direct unto, and walk therein; not the mere words, but the way of applying them to our life daily. God, by his Spirit, gives a right understanding and puts his Spirit within us, causing us to walk in his statutes. The statutes of the Lord – The word here rendered statutes properly means mandates, precepts – rules given to anyone to guide him.
Moreover, the Word of God is eternal truth "which lives and abides forever" (1 pet 1:23). Of course, there cannot be any discord or difference of opinion between the written Word of God (Scripture) and the incarnate Word of God (Jesus). In the first place, truth by definition cannot contradict itself. Second, Scripture is called "the word of Christ" (Col 3:16). It is His  message, His self-expression. In other words, the truth of Christ and the truth of the Bible are of the very same character. They are in perfect agreement in every respect. Both are equally true. God has revealed Himself to humanity through Scripture and through His Son. Both perfectly embody the essence of what truth is.
Remember, Scripture also says God reveals basic truth about Himself in nature. The heavens declare His glory (Ps 19:1). His other invisible attributes (such as His wisdom, power, and beauty) are on constant display in what He has created (Rom 1:20). Knowledge of Him is inborn in the human heart (Rom 1:19), and a sense of the moral character and loftiness of His law is implicit in every human conscience (Rom 2:15).
If there is such a thing as truth, then we should be able to find it.  If truth cannot be known, then it probably doesn't exist.  But, it does exist.  For example, "Something cannot bring itself into existence."  This is an absolutely true statement.  In order for something to bring itself into existence, it would have to exist in order to be able to perform an action. But if it already existed, then it isn't possible to bring itself into existence since it already exists.  Likewise, if it does not exist then it has no ability to perform any creative action since it didn't exist in the first place.
But if it already existed, then it isn't possible to bring itself into existence since it already exists.  Likewise, if it does not exist then it has no ability to perform any creative action since it didn't exist in the first place.  Therefore, "Something cannot bring itself into existence" is an absolute truth. Therefore, we can say that truth conforms and affirms reality. God would be truth, the absolute and true essence of being and reality who is the author of all truth.  If you are interested in truth beyond yourself, then you must look to God. For the Christian, the ultimate expression of truth is found in the Bible, in Jesus who said, "I am the way, the truth, and the life…" (John 14:6)
"The truth will set you free" is a commonly used phrase, in the world today. Many would consider it one of the great laws of life. Only those who study the scripture carefully have an idea about the source and the real meaning. Even people, who don't believe in Jesus, believe in this phrase of His, not knowing the source and practical application. So Let us consider to give some attention to the context of our text.
John chapter Eight begins with a beautiful expression "But Jesus went to the Mount of Olives." "At dawn he appeared again in the temple courts; where all the people sat gathered around him, and he sat down to teach them."
Jesus went to the Mount of Olives, and there he knelt down and prayed, as it was his normal custom. As we know that usually, Jesus prayed there all night, and then from the early morning Jesus came in the temple court and begins to teach them the word of truth. The word of God and prayer were the two basic ingredients in Jesus' daily life. Suddenly a group of people stormed into the temple courts, interrupting Jesus' teachings. They were few self righteous religious people. They were not alone. They dragged in a woman caught in the act of adultery. They made her stand before the group and said to Jesus, "Teacher, this woman was caught in the act of adultery. In the Law Moses commanded us to stone such women. Now what do you say?" As usual, they didn't ask Jesus this question to learn from him. Verse 6 says that they used this question as a trap, in order to have a basis for accusing Jesus. In fact, they thought this was a perfect time to entrap Jesus. If he answered "yes" he would get in trouble with the Roman authorities as the Jews did not have the right to carry out a death sentence (John 18:31). He would also contradict his own teaching of forgiveness and mercy. On the other hand, if he said "no" he would oppose the Law of Moses which was a serious transgression to the Jews.
"But Jesus bent down and started to write on the ground." We don't know what Jesus wrote on the ground. Most likely he wanted to give them a few moments to reflect on what they were doing and come back to their senses. When they kept on questioning him, he straightened up and said to them, "If any one of you is without sin, let him be the first to throw a stone at her." The religious frauds were self-righteous and dragged the woman around with their hands. But Jesus challenged their consciences and their consciences were pierced. They could not deny their sinfulness before the Holy God. What did they do? Look at verse 9. At this, those who heard began to go away one at a time, the older ones first, until only Jesus was left, with the woman still standing there. They tried to condemn Jesus as well as the woman. Instead, they were condemned by their own evilness. We see that the world is filled with condemnations.
Look at verses 10, 11. "Jesus straightened up and asked her, `Woman, where are they? Has no one condemned you?' `No one, sir,' she said. `Then neither do I condemn you,' Jesus declared. `Go now and leave your life of sin.'" In these verses we learn two things about Jesus. First, Jesus did not condemn, but saved her. Second, Jesus gave her a new life direction. Jesus also said to the woman, "Go now and leave your life of sin." Jesus not only saved her from condemnation; he also commanded her stop sinning and start a new life — life based on God's word, not on her sinful desires. Jesus saves a woman from the hands of religious hypocrites and gives her a new life direction.
Jesus knew that the religious people were also slaves to their own sinful desires, even though they looked religious outwardly. As he was preaching the word of God, many of them opened their hearts and believed. After this transformational encounter Jesus said, "You are truly my disciples if you remain faithful to my teachings. And you will know the truth, and the truth will set you free" Truth is a very powerful force. It brings light where there is darkness. It brings clarity where there is confusion. It can impact an entire nation just as easily as it can impact a single individual. Truth enables us to discern and reject the lies of the enemy.  Truth demolishes arguments and pretensions that are at war with the knowledge of God.  Truth, will "take captive every thought" and make it obedient to Jesus (2 Corinthians 10:5 ).
It isn't just the truth that sets you free, it is first knowing the truth and then applying it that sets you free. The truth is original information and it is there at all times – whether or not we recognize it – but unless we know the truth, and apply it, truth itself is powerless. Jesus said to the people who believed in him,"If you hold to my teaching, you are really my disciples. Then you will know the truth, and the truth will set you free."To enjoy real freedom we must 😦 a) Believe that Jesus is the son of God and savior. (b) Hold on to the teachings of Jesus (c) know the truth, (d) truth will set you free. – more than just a student who learns about His teachings, but a follower who emulates Him in all that you do In verse 34, Jesus tells us "everyone who sins is a slave to sin" so, if you are a slave, then you are not free. In verse 36 He says that if he sets you free, then you will be free indeed.
Our freedom therefore requires that if we believe that Jesus is our savior, and hold to His teachings in all things, then His truth will set us free. It is not enough to receive God's truth – we must retain and walk in it. And it is only when we receive the truth, love it, keeps it, and walks in it, and then we are the genuine Disciples of Christ. The service of God is freedom from degrading vices and carnal propensities; from the slavery of passion and inordinate desires. It is a cheerful and delightful surrender of ourselves to Jesus whose yoke is easy and whose burden is light. No man is truly free, but he in whose heart the power of sin is destroyed, and who has received the Spirit of adoption, through which he cries, Abba! Father!"Romans 8:15 says "For you did not receive a spirit that makes you a slave again to fear, but you received the Spirit of sonship. And by him we cry, "Abba, Father." The bondage of sin is the most grievous bondage; and freedom from its guilt and influence is the greatest liberty.
I want to stop here and pick-up in the next post. I hope this revived your stance on the "Truth". May God hold you steady until we meet again In Jesus name.