Ministry

We are submitting our request to partner with several agencies this month to assist outreach for this specific populous of individuals. There are several resource that we are willing to carry the torch and advertise and link others with to expose the options that are available. If you are a non-profit or church that has veterans and teens with challenges please consider attending this event.
Upcoming Events
2015 National Conference on Ending Homelessness
July 15 – 17, 2015
In order to effectively approach homelessness, a community needs a clear, deliberate, and comprehensive strategy. In The Ten Essentials, the Alliance outlines the ten components necessary in a successful plan to end homelessness. The Ten Essentials covers the most important strategies for success: prevention, re-housing options, access to housing and services, and efficient use of data, among others.
Plan
Devise a plan of action. The Alliance's Ten Year Plan to End Homelessness is a good place to start – a comprehensive, systematic approach to addressing the different facets of homelessness. While planning, it is important to have representatives and input from all the groups affected by this social issue: government officials, business leaders, community activists, and the like. Every solution starts with a plan.
Data
Before moving forward, it's imperative to fully understand the problem. With homelessness, that can be a tall order, as the social problem is influenced by the economy, geography, transportation, and a host of other elements. Luckily, most communities conduct a biannual point in time census and have a Homelessness Management Information System (HMIS), required by the Department of Housing and Urban Development (HUD). HMIS collects data about those who interact with the homeless assistance system, and this information can be helpful in understanding the homeless population better and addressing their specific needs.
Emergency Prevention
As with most things, the most economical and efficient way to end homelessness is to prevent it from happening in the first place. Consider enacting programs and policies that will do just that. Many existing social programs connect vulnerable populations with emergency services, temporary cash assistance, and case management. Consider ways to integrate with these existing systems or adopt your own.
Systems Prevention
Many people who fall into homelessness do so after release from state-run institutions, including jail and the foster care system. Still others come to homelessness from mental health programs and other medical care facilities. By creating a clear path to housing from those institutions—in the form of case management, access to services, or housing assistance programs—we can reduce the role that state-run institutions play in creating homelessness.
Outreach
An important role in ending homelessness is outreach to people experiencing homelessness. A key ingredient to this outreach is the ability to connect the homeless population to housing and services. When considering outreach efforts, it's important to understand that many people living on the streets exhibit mental illness, substance addiction, and other negative behavior patterns. As such, it's important to consider low-demand housing that does not mandate sobriety or treatment.
Shorten Homelessness
A successful homeless assistance program not only works to end homelessness, but minimizes the length of stay in shelter and reduces repeat homeless episodes. In order to do this, assistance programs must align resources to ensure that families and individuals have access to the services necessary to achieve independence as quickly as possible. This often requires immediate access to housing, home-based case management, and incentives embedded into the homeless assistance system to promote these outcomes.
Rapid Re-Housing
Navigating the housing market, especially on behalf of clients with lower incomes and higher needs, is a difficult task. A successful homeless assistance program has housing staff that help with just that. Housing locators search local housing markets and build relationships with landlords.  Successful program components include incentives to landlords to rent to homeless households, creative uses of housing vouchers and subsidies to help homeless individuals and families afford their rental unit, and links to resources to help clients maintain their housing.
Services
Services are actually more accessible than they sound – many of them already exist in the community. By and large, homeless individuals can access mainstream programs, including Temporary Assistance to Needy Families (TANF), Supplemental Security Income (SSI), Medicaid, and other existing federal assistance programs. Connecting families and individuals exiting homelessness to these programs is imperative to ensuring their continued independence.
Permanent Housing
At its root, homelessness is the result of the inability to afford and maintain housing. Remember that any plan to end homelessness must incorporate an investment in creating affordable housing. This includes supportive housing, which is permanent housing coupled with supportive services. This is often used for the chronically homeless population – that is, people experiencing long-term or repeated homelessness who also have mental or physical disabilities.
Income
In order to maintain housing, people exiting homelessness must have income. Cash assistance programs are available through federal and state government, and career-based employment services can help formerly homeless people build the skills necessary to increase their income. Mainstream services, including the Workforce Investment Act, should be used for this purpose.
http://operationsafehouse.org/safehouse-riverside/
Galatians 5:16–18
Keep in Step with the Spirit
16 But I say, vwalk by the Spirit, and you will not gratify wthe desires of the flesh. 17 For xthe desires of the flesh are against the Spirit, and the desires of the Spirit are against the flesh, for these are opposed to each other, yto keep you from doing the things you want to do. 18 But if you are zled by the Spirit, ayou are not under the law.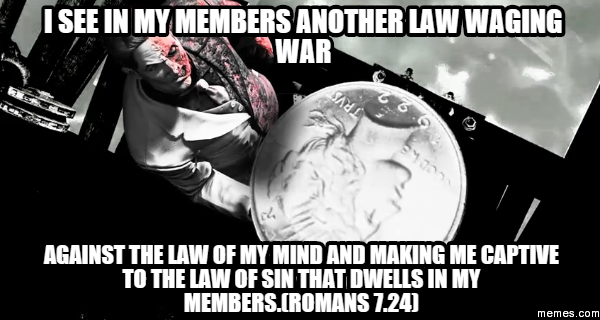 This love is not optional. It is commanded. And it is very radical: "You shall love your neighbor as yourself." In other words, we are called in our freedom to desire and seek the happiness of others with the same zeal that we seek our own. But if you take this command seriously, it is so contrary to our natural inclinations that it seems utterly impossible. That I should get up in the morning and feel as much concern for your needs as for my own seems utterly beyond my power. If this is the Christian life — caring for others as I care for myself — then it is hard, indeed, and I feel hopeless to ever live it out.
Paul's answer to this discouragement is found in Galatians 5:16–18. The secret is in learning to "walk by the Spirit" (v. 16). If the Christian life looks too hard, we must remember that we are not called to live it by ourselves. We must live it by the Spirit of God. The command of love is not a new legalistic burden laid on our back; it is what happens freely when we walk by the Spirit. People who try to love without relying on God's Spirit always wind up trying to fill their own emptiness rather than sharing their fullness. And so love ceases to be love. Love is not easy for us. But the good news is that it is not primarily our work but God's. We must simply learn to "walk by the Spirit."
So I want to build today's message around three questions: What? Why? And, how? What is this "walking by the Spirit"? Why is it crucial to walk by the Spirit? And, how, very practically, can we walk by the Spirit?
What Is Walking by the Spirit?
First, what is this "walking by the Spirit"? There are two other images in the context which shed light on the meaning of "walk by the Spirit." The first is in verse 18: "If you are led by the Spirit you are not under law." If Paul had said, "If you follow the Spirit you are not under law," it would have been true, but in using the passive voice ("If you are led") he emphasizes the Spirit's work, not ours. The Spirit is not a leader like the pace car in the "Daytona 500." He is a leader like a locomotive on a train. We do not follow in our strength. We are led by his power. So "walk by the Spirit" means stay hooked up to the divine source of power and go wherever he leads.
The second image of our walk in the Spirit is in verse 22: "The fruit of the Spirit is love, joy, peace, etc." If our Christian walk is to be a walk of love and joy and peace, then "walk by the Spirit" must mean "bear the fruit of the Spirit." But again, the Spirit's work is emphasized, not ours. He bears the fruit. Perhaps Paul got this image from Jesus. You recall John 15:4–5: "Abide in me, and I in you. As a branch cannot bear fruit by itself, unless it abides in the vine, neither can you unless you abide in me. I am the vine, you are the branches. He who abides in me, and I in him, he it is that bears much fruit." So "walk by the Spirit" means "abide in the vine." Keep yourself securely united to the living Christ. Don't cut yourself off from the flow of the Spirit.
So in answer to our first question, What is this walking by the Spirit? we answer: It is "being led by the Spirit" and it is "bearing the fruit of the Spirit." The work of the Spirit is emphasized, yet the command is for us to do something. Our wills are deeply involved. We must want to be coupled to the locomotive. We must want to abide in the vine. And there are some things we can do to keep ourselves attached to the flow of God's power. But before we ask how to walk by the Spirit let's ask . . .
Why Is It Crucial to Walk by the Spirit?
Why is it crucial to walk by the Spirit? The text gives two reasons, one in verse 16 and one in verse 18. In verse 16 the incentive for walking by the Spirit is that when you do this, you will not gratify the desire of the flesh. The RSV here is wrong when it makes the second part of verse 16 a command instead of a promise and says, "Do not gratify the desires of the flesh." All the other major versions are right to make it a promise because this particular Greek construction has that meaning everywhere else in Paul. The verse should be translated, for example with the NASB, "But I say, walk by the Spirit, and you will not carry out the desire of the flesh." So the first reason we should walk by the Spirit is that when we do, the desires of our flesh are overcome.
In recent messages I've tried to define the flesh as Paul uses it. Most of the time (though not always, see below) it does not simply refer to the physical part of you. (Paul does not regard the body as evil in itself.) The flesh is the ego which feels an emptiness and uses the resources in its own power to try to fill it. Flesh is the "I" who tries to satisfy me with anything but God's mercy. Notice Galatians 5:24, "Those who belong to Christ Jesus have crucified the flesh with its passions and desires." Now compare with this Galatians 2:20, "I have been crucified with Christ, it is no longer I who live, but Christ who lives in me; and the life I now live in the flesh I live by faith in the Son of God who loved me and gave himself for me." In 2:20, "flesh" is used in its less usual meaning referring to ordinary bodily existence, which is not in itself evil ("I now live in the flesh").
But the important thing to notice is that in 5:24 the "flesh" is crucified and in 2:20 "I" am crucified. This is why I define the flesh in its negative usage as an expression of the "I" or the "ego." And notice in 2:20 that since the old fleshly ego is crucified, a new "I" lives, and the peculiar thing about this new "I" is that it lives by faith. "The life I live in the flesh I live by faith in the Son of God who loved me and gave himself for me." The flesh is the ego which feels an emptiness but loathes the idea of satisfying it by faith, i.e., by depending on the mercy of God in Christ. Instead, the flesh prefers to use the legalistic or licentious resources in its own power to fill its emptiness. As Romans 8:7 says, "The mind that is set on the flesh is hostile to God; it does not submit to God's law." The basic mark of the flesh is that it is unsubmissive. It does not want to submit to God's absolute authority or rely on God's absolute mercy. Flesh says, like the old TV commercial, "I'd rather do it myself."
It is not surprising, then, that in verse 17 there is a war between our flesh and God's Spirit. It is a problem at first glance that there is a lively war between flesh and Spirit in the Christian, according to verse 17, but the flesh is crucified in the Christian, according to verse 24. We'll talk more about the sense in which our flesh is crucified when we get to verse 24. For now, let's give Paul the benefit of the doubt and assume that both are somehow true, and focus on this war within: our flesh versus God's Spirit.
God's Spirit Conquers Our Flesh
Verse 17 says, "For the desires of the flesh are against the Spirit, and the desires of the Spirit are against the flesh; for these are opposed to each other to prevent you from doing what you would." The main thing to learn from this verse is that Christians experience a struggle within. If you said to yourself when I was describing the flesh, "Well, I have a lot of that still left in me," it does not necessarily mean you aren't a Christian. A Christian is not a person who experiences no bad desires. A Christian is a person who is at war with those desires by the power of the Spirit.
Conflict in your soul is not all bad. Even though we long for the day when our flesh will be utterly defunct and only pure and loving desires will fill our hearts, yet there is something worse than the war within between flesh and Spirit; namely, no war within because the flesh controls the citadel and all the outposts. Praise God for the war within! Serenity in sin is death. The Spirit has landed to do battle with the flesh. So take heart if your soul feels like a battlefield at times. The sign of whether you are indwelt by the Spirit is not that you have no bad desires, but that you are at war with them!
But when you take verses 16 and 17 together, the main point is not war, but victory for the Spirit. Verse 16 says that when you walk by the Spirit, you will not let those bad desires come to maturity. When you walk by the Spirit, you nip the desires of the flesh in the bud. New God-centered desires crowd out old man-centered desires. Verse 16 promises victory over the desires of the flesh — not that there won't be a war, but that the winner of that war will be the Spirit.
In fact, I think what Paul means in verse 24, when he says the flesh has been crucified, is that the decisive battle has been fought and won by the Spirit. The Spirit has captured the capital and broken the back of the resistance movement. The flesh is as good as dead. Its doom is sure. But there are outlying pockets of resistance. The guerrillas of the flesh will not lay down their arms, and must be fought back daily. The only way to do it is by the Spirit, and that's what it means to walk by the Spirit — so live that he gives victory over the dwindling resistance movement of the flesh. So the first reason why we must walk by the Spirit is that, when we do, the flesh is conquered.
God's Spirit Creates Law-Fulfilling Fruit
The second reason to walk by the Spirit or be led by the Spirit is found in verse 18: "If you are led by the Spirit you are not under the law." This does not mean you don't have to fulfill God's law. You do. That's what verses 13 and 14 said, "Through love be servants of one another. For the whole law is fulfilled in one word, 'You shall love your neighbor as yourself.'" And Romans 8:3–4 say, "God condemned sin in the flesh in order that the just requirement of the law might be fulfilled in us who walk not according to the flesh but according to the Spirit."
Therefore, not being under law does not mean we don't have to fulfill the law. It means that, when we are led by the locomotive of the Spirit, we cruise on the railroad track of the law as a joyful way of life and are not left to climb it like a ladder in our own strength from underneath. When we are led by the Spirit, we are not under the punishment or the oppression of the law because what the law requires the Spirit produces; namely, love. Notice verse 22: the first and all-encompassing fruit of the Spirit is love, which verse 14 says fulfills the whole law.
And to confirm that this is just how Paul is thinking, he ends the list of the fruit of the Spirit in verse 23 with the words, "against such there is no law." In other words, how can you be under the oppression or punishment of the law when the very things the law requires are popping out like fruit on the branches of your life? So the second reason to walk by the Spirit is really the same as the first. Verse 16 says, do it because you get victory over the flesh when you walk by the Spirit. You nip temptation in the bud. Verse 18 says, do it because then you are free from the oppression and punishment of the law, because the fruit the Spirit produces fulfills the law. The Spirit is the fullness that overflows in love. Therefore it conquers the emptiness that drives the flesh, and it spills out in acts of love which fulfill the law.
How Do You Walk by the Spirit?
But the $60,000 question is, How do you walk by the Spirit? All of us have heard preachers say, "Let the Spirit lead you," or, "Allow the Spirit to control you," and have gone away puzzled as to what that means practically. How do you allow the Spirit to control you? I want to try to show you that the answer is, You allow the Spirit to control you by keeping your heart happy in God. Or to put it another way,You walk by the Spirit when your heart is resting in the promises of God. The Spirit reigns over the flesh in your life when you live by faith in the Son of God who loved you and gave himself for you and now is working everything together for your good.
Here's the fivefold evidence from Galatians. First, Galatians 5:6, "In Christ Jesus neither circumcision nor uncircumcision is of any avail, but faith working through love." Genuine faith always produces love, because faith pushes out guilt, fear, and greed and gives us an appetite to enjoy God's power. But Galatians 5:22 says love is a fruit of the Spirit. So if love is what faith necessarily produces and love is a fruit of the Spirit, then the way to walk by the Spirit is to have faith — a happy resting in the promises of God is the pipeline of the Spirit.
Second, notice Galatians 5:5, "For through the Spirit, by faith, we wait for the hope of righteousness." How do you wait for Jesus "through the Spirit"? "By faith!" When you keep your heart happy in God and resting in his promises, you are waiting through the Spirit and walking by the Spirit.
Third, look at Galatians 3:23, "Now before faith came, we were confined under the law." The coming of faith liberates a person from being under law. But what does 5:18 say? "If you are led by the Spirit you are not under law." How, then, shall we seek to be led by the Spirit? By faith. By meditating on the trustworthiness and preciousness of God's promises until our hearts are free of all fretting and guilt and greed. This is how the Holy Spirit fills and leads.
Fourth, see Galatians 3:5, the clearest of all: "Does he who supplies the Spirit to you and works miracles among you do so by works of the law, or by hearing of faith?" The Spirit does his mighty work in us and through us only by the hearing of faith. We are sanctified by faith alone. The way to walk by the Spirit and so not fulfill the desires of the flesh is to hear the delectable promises of God and trust them, delight in them, rest in them.
Finally, consider Galatians 2:20, "I have been crucified with Christ; it is no longer I who live but Christ who lives in me; and the life I now live in the flesh I live by faith in the Son of God who loved me and gave himself for me." Who is the Christ who lives in Paul? He is the Spirit. As 4:6 says: The Spirit of God's Son has been sent into our hearts. And how, according to 2:20, does the life of the Son produce itself in Paul? How does Paul walk by the Spirit of the Son? "The life I now live in the flesh I live by faith in the Son of God."
Day by day Paul trusts the Son. Day by day he casts his cares on God, frees his life from guilt and fear and greed, and is borne along by the Spirit. How, then, do we walk by the Spirit? The answer is plain. We stop trying to fill the emptiness of our lives with a hundred pieces of the world, and put our souls at rest in God. The Spirit will work the miracle of renewal in your life when you start meditating on his unspeakable promises day and night and resting in them. (See also Romans 15:13, 2 Peter 1:4, and Isaiah 64:4.)
The Secret of Walking by the Spirit
Yesterday at 5:30 a.m. I was in Pasadena, California, standing in the kitchen of my beloved teacher Daniel Fuller talking to his wife Ruth. One of the things I will never forget about that kitchen is that over the sink are taped four tremendous promises of God typed on little pieces of paper. Ruth puts them there to meditate on while she works. That's how you walk by the Spirit.
I keep a little scrap paper by my prayer bench, and whenever I read a promise that can lure me away from my guilt and fear and greed, I write it down. Then in dry spells I have a pile of promises to soak my soul in. The fight of faith is fought with the promises of God. And the fight of faith is the same as the fight to walk by the Spirit. He works when we are resting in his promises. George Müller wrote (Autobiography, pp. 152–4):
I saw more clearly than ever that the first great and primary business to which I ought to attend every day was to have my soul happy in the Lord. The first thing to be concerned about was not how much I might serve the Lord, or how I might glorify the Lord; but how I might get my soul into a happy state, and how my inner man might be nourished. . . . Now what is the food for the inner-man? Not prayer but, the Word of God.
George Müller learned the secret of walking by the Spirit: Meditate on the precious truths of the Word of God until your heart is happy in God, resting in his promises.
Hudson Taylor had learned it too. He received word one day of rioting near one of the inland mission stations. In a few moments George Nichol, one of his evangelists, overheard Taylor whistling his favorite hymn, "Jesus, I Am Resting, Resting in the Joy of What Thou Art." Hudson Taylor "had learned that for him, only one life was possible — just that blessed life of resting and rejoicing in the Lord under all circumstances, while he dealt with the difficulties inward and outward, great and small" (Spiritual Secret, p. 209).
I say to you, brothers and sisters, walk by the Spirit, and you will not gratify the desires of the flesh. You will have victory over temptation and know the guidance of the Lord if you keep your heart happy in God by resting in his promises.
http://www.ted.com/playlists/259/talks_to_give_you_a_confidence
Nehemiah 8:10 is an encouraging scripture that says, "…Do not sorrow, for the joy of the Lord is your strength" (AMP). God wants us to stay joyful no matter what difficulties we face in life, because His joy is our strength. Simply put, it's the fruit of joy that strengthens us to go through whatever we have to deal with and make it to the end result. That's why, as Christians, joy should be our normal mood.
Paul was determined to enjoy the journey no matter how many potholes were in the road. In Colossians 1:11, he wrote, "[We pray] that you may be invigorated and strengthened with all power according to the might of His glory, [to exercise] every kind of endurance and patience (perseverance and forbearance) with joy" (AMP). Our joy is a weapon. It gives us the ability to not only endure difficulties, but to enjoy life in the midst of them.
Obstacles to Joy
But what happens when you wake up in the morning feeling low, irritated, discouraged or frustrated—and you don't know exactly why? There has to be a reason. Well, for every "fruit" there is a root. And if you don't get to the root of a bad mood, you just start blaming everything and everybody for making you feel bad, and focusing only on all the things that are wrong rather than the good God is doing in your life.
It's amazing how our minds automatically lean toward the negative. That's our old, unregenerate nature at work. But God's Word says we are new creatures in Christ (2 Corinthians 5:17). And Ephesians 4:24 tells us to "put on the new nature (the regenerate self) created in God's image, [Godlike] in true righteousness and holiness" (AMP). This means we have to deliberately put on Christ's love, mercy and patience—it's a choice we make.
Before you start thinking, "But Aaron, you don't understand how bad things have been and how much I'm hurting," I want to remind you of an encouraging truth. God never tells us to do something He doesn't give us the ability to do. Philippians 4:13 (AMP) says, "I have strength for all things in Christ Who empowers me [I am ready for anything and equal to anything through Him Who infuses inner strength into me; I am self-sufficient in Christ's sufficiency]." The key is to always lean on Jesus for the ability and strength you need to do what you need to do.
Figure Out Why You Feel Bad
If you're frustrated by a bad attitude and not sure how to begin to overcome it, you need to discover the root of the fruit. Sometimes there are obvious reasons we feel lousy. It may be a bad habit, like not eating right or staying up too late at night. I always feel bad the next day when I eat too much sugar and carbohydrates. The simple solution is to eat healthier and go to bed at a decent time.
On a spiritual level, maybe you care too much about what people think about you to the point you are letting them control you. As a result you always say "yes" to people when you really want to say, "no." Or you wake up feeling bad because you did something wrong the day before and haven't repented of it yet. Now you're reaping the consequences. But 1 John 1:9 says, "If we confess our sins, He is faithful and just to forgive us our sins and to cleanse us from all unrighteousness" (NKJV).
Is Your Spiritual Gas Tank Empty?
When I do a conference or consulting , I give it my all, and I'm glad to do it. But when I go home, if I don't take time to get back in the Word, spend quiet time with God and get "filled up" spiritually, I'm bound to get a bad mood and start grumbling and complaining. When I run on empty, I'm a mess!
You must spend daily time in God's presence if you're going to live with the joy of the Lord. The more intimate your personal relationship with Him becomes, the better your fruit will be. Isaiah 40:31 (AMP) confirms it:
"Those who wait for the Lord [who expect, look for, and hope in Him] shall change and renew their strength and power; they shall lift their wings and mount up [close to God] as eagles [mount up to the sun]; they shall run and not be weary, they shall walk and not faint or become tired."
If you're not living with the joy of the Lord, examine the root of your fruit. Spend time with God, study the Word, do what He tells you to do by His grace, and soon your joy will return.
Disqualified. The mere mention of the word stirs up strong emotions. No matter the situation, the word smacks of shame, humiliation, and the worst kind of failure. The Scriptures call us to be like Christ, but they also offer warnings regarding disqualification. Some of us wrongly claim immunity from such attitudes; others of us believe we are beyond help. Paul reminds us that God's faithfulness provides a way through the temptations that lead to disqualification.
My ministry on word press is spreading more everyday, but my local facebook, twitter, google+ and tumbler ratings are not as impressive. Why does it seem like the more people know you the less receptive they are about receiving the gospel from your vessel? The flags in this picture reflect how well outsiders have responded since the inception of "Fresh Oil in 2013. God has blessed me with invitations to travel to preach and teach what He and only He has infused me with and for that I am grateful. I am also grateful to all who have or are participating in drinking from this well know as "Fresh Oil…
My own call to the ministry was greatly influenced by the prophets of the Old Testament. At a significant crisis point in my life when I was struggling to decide a direction for my life, the Lord spoke to me through Isaiah 61 and said "This is who you are."  You remember the passage: "The Spirit of the LORD God is on me, because the LORD has anointed me to preach good news to the afflicted."
After one has answered the call to salvation and received Christ, God calls him to other callings which are moral in mature and affect a believers attitude and conduct. He has called believers to "fellowship with Christ" [1Cor. 1:9], to "holiness" [1Thes. 4:7], to "liberty" [Gal. 5:13], to "peace" [1Cor. 7:15], and to"virtue" [2Pet. 1:3]. Believers are to "walk worthy" of the calling they have received [Eph. 4:1].
But there is still another calling that is even more personal than the moral callings. It is God's call to the individual believer for a specific ministry. The Lord has been calling individuals for specific ministries for millennia. He called Abram out of Ur; Moses out of Egypt; and Aaron from among the Levites [Heb. 5:4]. God had certain duties He wanted them to perform. The Lord also called many others in the Bible for certain ministries. From Isaiah [Isa. 6:9] to the twelve disciples to Paul [1Tim. 1:11], the Lord has been calling men into His ministry.
A call from God into a ministry is a high and heavenly calling [Phil. 3:14] which, unfortunately, is taken lightly by some ministers today [if they are truly called]. Paul was called to be an "apostle," "preacher,"and "teacher" of the Gentiles [Rom. 1:1; 1Tim. 1:1; etc.], and he never lost sight of his calling. He actively engaged in his ministry until the day his head was taken. Of course, the Lord doesn't call men to be apostles today because no minister today has the "signs of an apostle" [2Cor. 12:12]. I know there are some frauds out there who claim to be apostles [Yes, even among Fundamental Baptists] but they are deceived. Just ask one of them for some signs and they usually shut up. But the Lord still calls men to other callings or vocations such as pastoring, evangelism, and teaching. He calls and provides these men to the Church for the "perfecting of the saints" [Eph. 4:11-12].
(Nehemiah 11:1-12:47)
If I were to ask, "How does a person go into the ministry?" many Christians would answer, "The person needs to go to Bible college or seminary. After he has served in a ministry position for a while, he needs to be ordained."
All right, I admit that it was a trick question. The question itself and that answer reflect a deeply entrenched, but erroneous, mentality among God's people, which divides people into two categories: those who are "in the ministry" ("clergy") and those who are not ("laity"). To the extent that we buy into that mindset, the body of Christ will be crippled. Just a few will be committed to doing the work of the ministry, while the majority sit back and let them do it. But the biblical picture is that those who are gifted as pastor-teachers and evangelists are to equip the saints (all believers) for the work of the ministry (Eph. 4:11-12).
So the correct answer to the question, "How does a person go into the ministry?" is, "He or she trusts in Jesus Christ as Savior and Lord." At the moment a person trusts Christ as Savior, the Holy Spirit baptizes him (or her) into the body of Christ (1 Cor. 12:13). As members of His body, each one has a spiritual gift which he is to exercise for the building up of the body. It is proper and usually necessary for those who are gifted as pastor-teachers and evangelists to pursue formal training. It is also proper, according to Scripture (1 Tim. 5:17-18; 1 Cor. 9:14) to support those who devote themselves to these ministries. But it still is true that every believer has a spiritual gift that he or she is to use in ministry.
I'm talking primarily about a mindset where each of you sees yourself as entrusted by God with a vital ministry for which you will give an account. In the parable of the talents, it was the one-talent man who buried rather than invested his talent. Often in the body of Christ, it is the "one-talent" person who thinks, "I'm not gifted in an important way, so I can't do much for the Lord." That's a wrong mentality that I want to challenge. The lesson I want to draw from our text is that…
All of God's people should be ministry oriented.
Nehemiah 11 & 12 is another one of those portions of Scripture that you look at and think, "Why did God put this in His inspired Word?" From 11:3-12:26 there is a lengthy register of the names of the Jewish citizens. These two chapters include:
1. The families who repopulated Jerusalem (11:3-24)
A. Lay families in Jerusalem (11:3-9)
B. Priests in Jerusalem (11:10-14)
C. Levites, gatekeepers, and temple servants in Jerusalem (11:15-24)
2. The families who lived in the cities of Judah and Benjamin (11:25-36)
3. The priests and Levites of Zerubbabel's return (12:1-9)
4. The high priests (12:10-11)
5. The priests and Levites after Zerubbabel and Jeshua (12:12-26).
6. The dedication of the wall (12:26-43)
7. The organization of temple support (12:44-47)
Derek Kidner (Ezra & Nehemiah, Tyndale Old Testament Commentaries [IVP], p. 117) aptly says,
It is not bureaucratic pedantry that has preserved these names. The point is, once more, that these people and their chronicler are conscious of their roots and of their structure as God's company. This is no rabble of refugees, settling down anywhere: they have the dignity of order and of known relationships; above all, of their calling to be "a kingdom of priests and a holy nation" (Ex. 19:6).
These people had willing hearts to do whatever God wanted them to do, and each functioned in their own unique capacity. As we examine the section that lists the names of the Jewish citizens, four factors emerge that help us define what ministry involves. The section dealing with the dedication of the wall reveals four requirements for the person involved in ministry (= every believer).
What does ministry involve?
1. MINISTRY INVOLVES A WILLINGNESS TO LIVE WHERE GOD WANTS YOU TO LIVE.
Nehemiah got the wall built, but there were not many people living in the city (7:4). When the people returned from the exile, the walls were torn down and there was a lot of rubble from the previous destruction. It would have required a lot of work to clear the rubble and restore the city. As the former capital, the restored city would have been a major target for enemies to attack. At first there wasn't much economic opportunity there. It was far easier to settle out in the country and farm your own plot of ground. So most of the people had been content to live in the surrounding villages scattered across the land.
But Nehemiah knew that if the city was to be strong and prosperous and if the worship in the temple was to thrive, the city had to be well populated with citizens who could defend it in case of attack. As 11:1 notes, the leaders lived in Jerusalem, but most of the people did not. So they cast lots to pick one out of ten who would move to Jerusalem. It seems that some who were not chosen volunteered to move, either in place of or in addition to those who drew the lot (11:2). The ones who stayed in the villages blessed those who were willing to move to Jerusalem.
Those who moved had to pull up roots where they were already established, give up their acreage in the country, and move into what quickly became a somewhat crowded city. Based on the number of men who moved to the city (3,044), there were about 10,000, conservatively estimated, who moved into the city, with a total population of 100,000 Jews in the land (Howard Vos, cited by James Boice, Nehemiah: Learning to Lead [Revell], p. 175). Although it was inconvenient and less desirable in some ways to move from the country to the city, these people were willing to live where God wanted them to live in order to serve His purpose.
One of the first considerations that any servant of God should think about is, "Where does God want me to live?" That should be determined in large measure by the potential for your ministry in that locale. Is there a solid Bible-teaching church where you can grow and serve? If not, is God calling you to help start such a church? That should be a primary factor in any move that you make.
I meet many Christians who say things like, "I moved to Flagstaff because it was a small town and not too crowded. But it's becoming too big. I'm thinking of moving to (and they name some beautiful remote setting)." They haven't given a minute's thought to what sort of church may be there. Their main aim is to get away from people and the city.
Has it ever occurred to you that God pictures heaven as a city? It's not pictured as a ranch or personal retreat, where you can live in seclusion and ignore others. It's a city, the New Jerusalem! The reason Christians think about escaping from the city is that they don't have a ministry mindset. If you're thinking ministry, you're thinking people. And while people live in the country and in suburbs, it is tragic that American evangelicals have, in large part, abandoned the cities. Rather than complaining about all the people in Flagstaff, we should view them as an opportunity for ministry!
2. MINISTRY INVOLVES SERVING IN THE SPHERE IN WHICH GOD CALLS YOU TO SERVE.
Chapter 11 lists the heads of families in Jerusalem (11:3-9); the priests (11:10-14); the Levites (11:15-18); the gatekeepers and temple servants (11:19-21); various officials appointed by the king of Persia (11:22-24); and, the people who lived outside the city (11:25-36). Each served in his respective sphere for the effective operation of the city and the nation. Those who lived outside of the city had to farm the land to provide food for those in the city. Each had a different role, but each role was vital to the entire cause.
In the body of Christ, God has gifted us in different ways, but every part is vital for the overall functioning and health of the body (1 Cor. 12:12-30). We should learn to coordinate and complement each other without friction or rivalry. Problems often develop in the body because the eye looks at everyone from the perspective of the eye only, and the hand views everything from the perspective of the hand. But the eye should value the hand and the hand should value the eye.
I once heard Carl George make the astute observation that the things in the church that people usually complain about reveal the person's area of spiritual gift. For example, if a person says, "This isn't a caring church," she is probably gifted in mercy. The one who says, "This church doesn't emphasize outreach enough" is probably an evangelist. The guy who says, "This church is a disorganized mess" is probably a gifted administrator.
The solution is not for the gifted person to sit around criticizing others for not doing what probably is not their area of gift, but rather to get involved in the areas that he thinks need fixing! The merciful person should help us all become more merciful by showing mercy. The evangelist should show us how to reach the lost. The administrator should help us get organized. God has made us all differently, and we only work as a body when we work in our sphere and affirm others in their sphere. Click to view- Servant or Selfish?
Can you see yourself as a church? What does your tabernacle look like to others?
Read Exodus 25:1-9
In the Creation account, we see the creation of the stars of the universe occur in five words – "He made the stars also." Interestingly enough, 50 chapters are given over to explain the Tabernacle and its function. This shows us something of the importance of the Tabernacle.
The great lesson of the tabernacle is that God came down to dwell with His people. From Genesis to Deuteronomy we have accounts of God visiting men. These visits culminated in God's dwelling with men in the Tabernacle or tent. John picks up the same thought and uses the same word "tabernacled," to describe God dwelling among men in the person of Christ. John 1:14 says, "The Word became flesh and tabernacled [or pitched His tent] among us." The Tabernacle served as God's dwelling place for 500 years among the children of Israel. The Temple superseded it, during the reign of Solomon.
Please note that God could not dwell among His people while they were in Egypt. They must be redeemed (1) by blood and (2) by power. They must be free from the shackles and sin of Egypt. Before God could fellowship with them in this unique way they had to be redeemed and sanctified. [Express practical truth here]
It is important to consider the symbolism of the Tabernacle. One must consider also the physical features of the Tabernacle. When considering some of these we will no doubt consider Hebrews, especially chapters 9-10. The remainder of the lesson is taken up with the materials and the measurements of the Tabernacle. These can be considered at a future reading.
The Tabernacle: Its Immediate Purpose
Read: Exodus 25:1-9 and Exodus 29:39-46. The Word of God makes it quite plain that there is a twofold purpose for the divine conception and the human construction of the Tabernacle. There was an immediate and ultimate purpose. The immediate purpose was to wean the children of Israel away from the base idolatry of Egypt and set before them a pure and noble ideal of worship and witness. The natural tendency of these ancient pilgrims was downward and backward. We see a clear example of this with the worship of the golden calf in Exodus 32.
The worship of the unseen God was something new. All heathen religions had their visible gods. Thus, the immediate purpose of the Tabernacle was the provision of a place of worship. The Israelite came to the door of the Tabernacle to worship God. He could not see Him. He brought his offering – the visible expression of his reverence and awe.
Worship, in essence, is an inward spiritual exercise. Jesus said: "God is a Spirit: and they that worship Him must worship Him in spirit and in truth" (John 4:24). True worship must originate in the Spirit. [Describe a "tripartite being"] Worship is not only to be in the spirit, but is also to be according to truth.
Consider the established relationship – Exodus 25:8 says, "Let them make me a sanctuary that I may dwell among them." This was an entirely new relationship between God and man. God walked in the garden with Adam. He visited the patriarchs and communicated His will to them, but He never lived on earth until the Tabernacle was built among His redeemed and separated people. In a similar way we can never worship until God dwells in us by His Holy Spirit. See Ephesians 2:22. Finally, the Tabernacle was "the place of meeting" (See Exodus 29:42-43). God met with Moses, Aaron, and the people and revealed Himself to them.
A Place of Witness
Not only was the Tabernacle a "place of worship," but it was also a "place of witness." InNumbers 17:7-8 the "tent of meeting" is twice called "the tabernacle of witness."
A Witness of the Presence of God
The Tabernacle witnessed to all of "the Presence of God." Exodus 40:33-34 says, "Then a cloud covered the tent of the congregation, and the glory of the Lord filled the tabernacle. The cloud was thereafter the witness of the presence of God among His people." Exodus 40:38 says, "The cloud of the Lord was upon the Tabernacle by day and fire was on it by night, in the sight of all Israel, throughout all their journeys."
A Witness of the Purity of God
The Tabernacle witnessed to all of the "Purity of God." The words "tabernacle" or "sanctuary" carry with them the thought of holiness. Over thirty times in Exodus alone the word holy occurs in relation to the Tabernacle. The plate of pure gold that was attached to the miter worn by Aaron was inscribed "Holiness to the Lord." The court enclosed by the white linen fence was called "the holy place." See Leviticus 6:16-26. The first compartment of the Tabernacle was called "the holy place." See Ex. 26:33. The innermost sanctum was called "the most holy place." See Ex. 26:34.
A Witness of the Protection of God
The Tabernacle witnessed to the "Protection of God." While the pillar of cloud and fire stood over the Tabernacle, nothing could touch the people of God! At night they had light to see. During the day they had shade from the tropical sun. The Psalmist describes this protection perfectly in Psalm 121:5-7, "The Lord is they keeper: the Lord is they shade upon they right hand. The sun shall not smite thee by day, nor the moon by night. The Lord shall preserve thee from all evil: He shall preserve they soul."
A Witness of the Provision of God
Then finally, the Tabernacle witnessed to the "Provision of God." God is really behind these symbols. All that the Tabernacle stood for was God's promise of provision and protection for His people in the wilderness. We today can claim these same promises of provision and protection as we walk the pilgrim way towards heaven and home.
The Tabernacle: Its Ultimate Purpose
Read Hebrews 9:1-12. The ultimate purpose of the Tabernacle is to draw our attention to the Lord Jesus in whom all the types and shadows are fulfilled. The priests of old, as they carried out their duties, must have realized the imperfections and incompleteness of the ritual and sacrifices. Their exercises before the Lord were all so abstract and obscure; they must have felt that there was substance to the shadow somewhere. If this was their reasoning, they were right, for the ultimate purpose of the Tabernacle with its ceremonies was to prefigure Christ.
Let us consider the Tabernacle as it relates to the Person of Christ. "O fix our gaze on Thee, so wholly Lord on Thee, that with Thy beauty occupies." The writer to the Hebrews, having touched upon the ritual of the Tabernacle, concludes His discourse by saying, "The Holy Spirit thus signifying, that the way into the holiest of all was not yet made manifest" (Heb. 9:8).
Hebrews 9:11-12 says, "But Christ being come an high priest of good things to come, by a greater and more perfect tabernacle, not made with hands, that is to say, not of this building; Neither by the blood of goats and calves, but by his own blood he entered in once into the holy place, having obtained eternal redemption for us." Christ is the perfect tabernacle. He is the fulfillment of all that the wilderness Tabernacle typified and prefigured.
The Structure of the Tabernacle
The Gold
The gold speaks of our Lord's deity. The gold was the purest that could be produced, and therefore the most precious metal known to man. The gold is described as beaten gold. It had endured the fiercest fire and had been subjected to the hammer of the refiner and sculptor. This is significant. Not only does it portray the purity of Christ's deity and His absolute Godhead, it also portrays what Isaiah prophesied. "He was bruised for our iniquities," in Isa. 53:5. "It pleased the Lord to bruise Him," in Isa. 53:10.
The golden candlestick was made of pure, solid gold. Signifying the absolute perfection of His Deity. The weight of the Golden Candlestick was 90 talents (which is equal to 95 lbs). At present day prices it would cost approximately $260,000. Perhaps Peter had in mind the golden candlestick and He of whom it spoke, when he penned the significant words, "Unto you who believe He is precious."
The Wood
While the gold speaks of the Lord's deity, the wood speaks of His humanity (think of The Holy Mount and Mount Calvary). There are several unique qualities of the shittim or acacia tree:
1. The wood was virtually indestructible and incorruptible. Think of the following: Herod, the temptation, Nazareth, the storm, and ultimately the death of the "Lord and Christ." The Lord endured the hatred of men and the judgment of God. The wood being incorruptible typified the holy body of the Lord, which saw no corruption, even in death. [Describe] See also Psalm 16:10.
2. The acacia tree only grew in the wilderness in adverse circumstances. This reminds us of the words of Isaiah saying that the Messiah would be "as a root out of dry ground;" A tender plant, before Jehovah.
3. It was an unattractive tree outwardly – though very valuable. This reminds us of Isaiah's comments, "He hath no form of comeliness; and when we shall see Him, there is no beauty that we should desire Him." With Christ and the Tabernacle, the beauty was on the inside.
Bringing these two great thoughts of the gold and the wood together, we have a picture of the unique Person of the Lord Jesus Christ. John says it all when he writes: "The Word was made flesh and dwelt among us and we beheld His glory, the glory as of the only begotten of the Father, full of grace and truth." The concept of God and man being in one body battles the intellect. Yet, uniquely and gloriously, Christ was perfect – absolute God and at the same time, the perfect man – Very God of very God. "Great is the mystery of godliness, God was manifest in the flesh," (1 Tim 3:13).
Christ, The Perfect Priest
Christ is not only the perfect Tabernacle, but He is also the perfect Priest.
As Perfect Priest, He exercises:
– The ministry of introduction at the door of the outer court.
– The ministry of reconciliation at the brazen altar.
– The ministry of separation at the laver.
– The ministry of illumination at the golden candlestick.
– The ministry of satisfaction at the table of showbread.
– The ministry of intercession at the altar of incense.
– The ministry of communion at the Ark of the Covenant in the Holy of Holies.
In His death, He was the Priest and the Sacrifice, the One who offered and the Offering. So then, the immediate purpose of the Tabernacle was to provide a place of Worship and Witness. The ultimate purpose was that of prefiguring Christ in all the glory of His Person and the greatness of His work.
A tribute to the symbolic presence of dignity and strength.
"One man can make a difference."
– Robert Kennedy
"The definition of success:
To laugh much; to win respect of intelligent persons and the affections of children; to earn the approbation of honest critics and endure the betrayal of false friends; to appreciate beauty
; to find the best in others; to give one's self; to leave the world a little better, whether by a healthy child, a garden patch, or a redeemed social condition.; to have played and laughed with enthusiasm, and sung with exultation; to know even one life has breathed easier because you have lived…
this is to have succeeded."
– Ralph Waldo Emerson
"Deep within us there is a flame that burns, and that flame is the spark of God. In some it burns brightly, in others it is barely distinguishable; but always it burns…and with love and acceptance the flame gets higher and brighter. We can help others to kindle this flame by seeing the good in them, even if they don't see it themselves."
Memories!  They are powerful forces that often guide us in ways we do not often consider.  Can you remember back to your first bike?  Or those family vacations in the back of the car looking out the window at the night sky?  Memories that send you back a few years and make you feel nostalgic, remembering a time that seems so long ago.  I can see a certain picture or hear a particular song on the radio and instantly I am propelled back to a different age.  Memories are powerful!
Yesterday I spent the day reflecting about Pastor Elisee Bastien who went on to his eternal reward.  I have such fond memories of Pastor Elisee Bastien that came flooding back into my mind when I heard the news. May and I began to thank God for the time He allowed us to share with this wonderful man. We really experienced great growth from his marriage and ministry of compassion. This family didn't find us insignificant within the corporate body of believers. This dynamic Man of God joined the list of great mentors and gifts that God had intended for May and I to glean from while positioning us within Kansas Ave. His lovely wife shared words of wisdom and life experience with May that I still reap the benefits of today and vice versa for May. Elisee Bastien would call out of the blue to encourage me when life was upon me to stay faithful in my investment of faith, he would reassure me that God will be faithful to return to me a eternal reward should I stay my course.
Pastor Elisee Bastien became such an integral part of our lives and made a huge impact on me as I tried to find comfort in knowing that I still had ministry responsibilities . He was a godly man of wisdom and integrity but most of all he truly cared for people. I remember when May and I finally were ready to move into our little humble sanctuary in Hemet, Pastor Bastien phoned and asked when were we going to invite him and his wife over for fellowship. I responded soon. I could hear that bright smile of eloquence through the phone and wisdom said through that smile maybe this coming weekend, I immediately agreed. I felt somewhat inadequate due to our having been to their lovely home for fellowship. WOW!!! how his wife, my sister in Christ can cook..But the food wasn't the only thing that was good. This Man of God knew how to empower your spirit man with grace and love. We spoke about everything openly without having a condemning spirit. He explained to me that my only job in this life is to live it unto God by His design laid out in the Bible. When they graced us with visitation to our home they came with a card and a beautiful plant that  we still have today. Your lovely wife inspired May all the more to continue her pursuits in higher learning because she went on to blaze a trial of how it looks to work and be a wife and a student and mother. We are so blessed to be within a ministry that empowers and lives unto loving it's congregation. Everything in our home has significant value "Uncle David James" blessed us with needed articles to start life over, He is resting in the Lord today, Paul Arceneaux has a place in this home that has forged great memories. We are seeing that leaving a legacy of honor is to be of the highest pursuits in life due to being planted by God at this great church.
He had a hand in so many peoples ministries! I don't think he realized what an impact he had on people! Love him so much! – Aaron Pratt
He was so kind to me… always had such a sweet spirit to him. I always think back to the many conversations with him when he not only was the pastor but another father figure to so many of us.- May Pratt
Flooded by many great memories. So thankful for the influence Pastor Bastien and family had on my life. Praying for the family during this time. – Loved ones of the church…
He was a great Pastor, leader and great man of God. he will always hold a special place in my heart. I learned a lot through his ministry and teachings and also learned through his kind, generous, and loving spirit. I will miss him greatly. –Aaron Pratt
I have never had a Pastor like Pastor Bastien, He was a Titan in my eyes. He could teach, preach, and counsel. He was the same all the time. He was genuine, down to earth, and just plain real. A high standard for sure. – Maymie Pratt
As is evident by the many tributes and memories of this great man, it caused me to think about the legacy and memories each of us leave as we go through life.  What will we be remembered for?  What impact are we making in the lives of those around us?  Are we having a positive or negative impact on others?
I pray that each of us could take a moment on this day in the year of 2015 and look back over our lives to see the legacy we are leaving behind.  I trust we can look at the example of those that have gone on before us and determine to leave such a legacy that it will last for years to come.
Thank you Pastor Bastien for being the "Man" God called you to be.  Thank you for impacting so many lives.  Thank you for running the race the way you did.
Our prayers are with the family during this time.  You were blessed to have this great man in your life.
PS.  If Pastor Bastien impacted your life or you have a special memory of him you would like to share, please leave us a comment below.  Thanks!
Is your church worship more of the world or christian?
There is a great misunderstanding in churches of the purpose of music in Christian worship. Churches routinely advertise their "life-changing" or "dynamic" worship that will "bring you closer to God" or "change your life." Certain worship CD's promise that the music will "enable you to enter the presence of God." Even a flyer for a recent conference for worship leaders boasted:
"Join us for dynamic teaching to set you on the right path, and inspiring worship where you can meet God and receive the energy and love you need to be a mover and shaker in today's world…Alongside our teaching program are worship events which put you in touch with the power and love of God."
The problem with the flyer and with many church ads is that these kinds of promises reveal a significant theological error. Music is viewed as a means to facilitate an encounter with God; it will move us closer to God. In this schema, music becomes a means of mediation between God and man. But this idea is closer to ecstatic pagan practices than to Christian worship.
Jesus is the only mediator between God and man. He alone is the One who brings us to God. The popular but mistaken notions regarding worship music undermine this foundational truth of the Christian faith. It is also ironic that while many Christians deny the sacramental role of those ordinances which the Lord Himself has given to the church (baptism and the Lord's Supper) they are eager to grant music sacramental powers. Music and "the worship experience" are viewed as means by which we enter the presence of God and receive his saving benefits. There is simply no evidence whatsoever in Scripture that music mediates direct encounters or experiences with God. This is a common pagan notion. It is far from Christian.
In his helpful book True Worship Vaughan Roberts offers four consequences of viewing music as an encounter with God. I will summarize them.
1. God's Word is marginalized.
In many Churches and Christian gatherings it is not unusual for God's Word to be shortchanged. Music gives people the elusive "liver quiver" while the Bible is more mundane. Pulpits have shrunk and even disappeared while bands and lighting have grown. But faith does not come from music, dynamic experiences, or supposed encounters with God. Faith is birthed through the proclamation of God's Word (Rom 10:17).
2. Our assurance is threatened.
If we associate God's presence with a particular experience or emotion, what happens when we no longer feel it? We search for churches whose praise band, orchestra, or pipe organ produce in us the feelings we are chasing. But the reality of God in our lives depends on the mediation of Christ not on subjective experiences.
3. Musicians are given priestly status.
When music is seen as a means to encounter God, worship leaders and musicians are vested with a priestly role. They become the ones who bring us into the presence of God rather than Jesus Christ who alone has already fulfilled that role. Understandably, when a worship leader or band doesn't help me experience God they have failed and must be replaced. On the other hand, when we believe that they have successfully moved us into God's presence they will attain in our minds a status that is far too high for their own good.
4. Division is increased.
If we identify a feeling as an encounter with God, and only a particular kind of music produces that feeling, then we will insist that same music be played regularly in our church or gatherings. As long as everyone else shares our taste then there is no problem. But if others depend upon a different kind of music to produce the feeling that is important to them then division is cultivated. And because we routinely classify particular feelings as encounters with God our demands for what produce those feelings become very rigid. This is why so many churches succumb to offering multiple styles of worship services. By doing so, they unwittingly sanction division and self-centeredness among the people of God.
Scripture is full of exhortations to God's people to sing and make music to the Lord. Our God has been gracious to give us this means to worship Him. But it is important to understand that music in our worship is for two specific purposes: to honor God and to edify our fellow believers. Unfortunately, many Christians tend to grant music a sacramental power which Scripture never bestows upon it.

My motivation for writing this blog is twofold:  First, there is a slow apostasy that is creeping in to many so-called Christian denominations.  Many groups that claim the name of Christ are advocating anti-Christian principles.  Second, it seems that the majority of Christians are not adequately trained nor sufficiently motivated to carry out the Great Commission: "Go therefore and make disciples of all the nations, baptizing them in the name of the Father and the Son and the Holy Spirit, 20teaching them to observe all that I commanded you . . . "(Matt. 28:19-20).  To carry out this commission, Christians need to be disciples and disciple-makers. It means knowing basic Christian doctrine, knowing the Bible, and being able to defend the Christian faith.
I'm not saying that every Christian has to be seminary trained, memorize the New Testament, and stand on street corners shouting about Jesus.  I am talking about the basic knowledge of God's word as well as the basics of evangelism and doctrine that helps to lead us to do what Jesus charged us to do:  make disciples.
Apostasy means to fall away from the truth.  To the degree that Christians adopt the ideas of the world above scripture they are committing apostasy.  The world wants us to let things be, to adopt a policy of tolerance about other religions and ideas in contradiction to Scripture, and let the culture simply continue on its way towards increasing immorality and irreverence.  Jesus has given us a commission to make disciples and to do this means we have to be prepared and Bible-focused in a world that is hostile to Christianity.  Carrying out the Great Commission means that we have to be praying, studying, tithing, learning, being trained, being active, supporting the church, supporting missionaries, etc.  Some churches do this.  Others do not.  But, all should be evangelistic–not for church membership or church growth but for making people followers of Jesus.
The Great Commission (Matt. 28:19-20) is the charge of Jesus to believers, to every believer, to be disciple makers.  It is not aimed at just the pastor and the missionary.  It is aimed at everyone in the church.  But, perhaps you feel that you are not called to be a pastor, a missionary, or an evangelist–that just isn't your calling.  That's okay.  But, are you praying for those who are pastors, missionaries, and evangelists?  Are you supporting them in your tithes?  Are you using whatever gifts that you have in support of the church so that the Great Commission can be carried out by those God anoints to minister in whatever capacity it is?
The Great Commission is a commission of love given to us by the God of love.  It is what Jesus asked us to do.  People are going to hell.  Jesus wants us to help as many as possible find salvation in Him.  He wants us to beHis disciples and then make others into disciples as well.  This is what He wants.  Is this happening in your life and church?  Are you contributing in some way to the building of the body of Christ, or do you only go to church and take in.  If this is all you are doing, then you need to make some changes.
In America, too many Christians are comfortable with their lives, their DVR's, their remote control TV's, their air conditioned cars, retirement funds, and their polished preachers.  Our comfort is important to us.  But, it can lure us into a casual relationship with God because all our earthly needs are met.  Such casualness destroys the urgency–the intimacy of dependence upon God that excites and motivates the believer into action when God miraculously and continuously provides our needs.   I also believe that many pastors are failing to do what the Bible says to do: equip the saints (Eph. 4:12). I suspect far too many pastors are more concerned about not offending their own congregations with the whole gospel than spreading its truth lest people go find another church to be comfortable in.  Growing in Christ means to become mature and daily pick up your cross to follow Jesus.  The pastor is not there to baby-sit Christians.  He is not there to simply comfort them and to make them feel warm and cozy, nor is he there to reflect the current social trends and morays of the secular environment.  He is there to equip the saints, to call them to repentance and holiness, to present God's word, to train them up to be more like Jesus (Eph. 4:12), and to help them mature in Christ so that they can become a people of action as well as a people of love.
The gospel is not only about being born again but is also about picking up your cross and following Jesus (Luke 9:23), about prayer, about supporting Christians who teach, about bearing one another's burdens, about defending the faith, about standing up for righteousness, and much more.  For too many Christians, picking up the cross and following Jesus is too much to ask.  But it is, however, easy to drop a check in the offering plate and think that they've done their part as a Christian.  This is nothing more than buying a way out of their responsibilities.
Is this too harsh?
If you think I am being too harsh, let me say that I know that there are many Christians who take their faith seriously, are learning and applying God's word, and doing what they can to expand God's kingdom whether it be by praying, tithing, witnesses, teaching, church work, or living godly lives.  Likewise, I know that there are many pastors who labor to equip their congregations and who lovingly work to shepherd them with all sincerity and obedience to Christ.  For you all, I praise God for His miraculous work in you.
Pastors have a huge job before them.  They are to preach God's word, teach the congregation, counsel, model godliness, and equip the saints.  This is difficult to do, especially when secularism is slowly making inroads into the hearts and minds of Christians.  Regarding moral issues, Christians, statistically, are in bad shape.  According to Barna Research online, of those claiming to be born again, only 23% believe abortion should be illegal; 34% believe homosexuality is alright; 36% believe that a man and a woman living together is okay; 37% says profanity is acceptable; only 20% believe it is wrong to get drunk, etc.  This is truly sad and dangerous.  Oh sure, you may say they are not 'real' Christians.  I hope you're right.  But, the statistics are real, and those who are truly born again should be out there fighting against abortion, homosexuality, drunkenness, etc., as well as praying for and seeking revival in Christian churches.
People are going to hell.  The enemy is making converts to false gospels in the cults, false world religions, humanistic principles in schools, and moral relativism in society.  Christians are not supposed to be keepers of the aquarium.  They are supposed to be fishers of men.  Christians are supposed to confront the world in a wise and loving fashion.  This is what the Bible says to do; and to accomplish this, the Christians need a truly Christian Worldview with the desire to spread the gospel everywhere.
The Christian Church needs to wake Up!
Christianity is under an ever increasing attack.  Here in America, laws are being passed to reduce and remove our religious freedoms.  Prayer has been removed from schools, the 10 Commandments removed from courtrooms.  Movies and TV routinely portray Christians as ignorant bigots.  Universities constantly attack the absolutes of Christianity and some even promote Eastern Mysticism, witchcraft, relativism, and a homosexual agenda by having representatives of these lies come in and teach!  Secular society as a whole is imposing its moral agenda upon all people, the church included, and it is working!  Christians are starting to listen to the false teaching of a fallen world and recanting on biblical doctrines of the Trinity, the deity of Christ, of Jesus being theonly way, of moral absolutes, and of their being a Day of Judgment with the unsaved going to hell.  This is the sign of apostasy within the church!
Again, let me add that not all Christians are apathetic and worldly.  There are many churches with godly pastors who are teaching all of God's word.  There are many churches out there with members who are learning God's word, who are making converts, and who are standing up for righteousness.  It is because of people like them that the gospel is spreading throughout the world.  There are more Christians alive now than ever before. But, there are also more Muslims now than ever before–more Mormons, more Jehovah's Witnesses, more atheists, etc., than ever before.  Let's not give up nor become discouraged.  Let's support one another in prayer.  Let's study to show ourselves approved to God.  Let's tithe properly.  Let's witness.  Let's take risks for Jesus.  Let's do what He asks of us.
"All authority has been given to Me in heaven and on earth. 19Go therefore and make disciples of all the nations, baptizing them in the name of the Father and the Son and the Holy Spirit, 20teaching them to observe all that I commanded you; and lo, I am with you always, even to the end of the age." (Matt. 28:18-20, NASB).
In March of 2014, I began my visitation to three Christian colleges. At each stop, I spent some time talking to professors, asking them what they're seeing in their classrooms. And at each stop, the anguished answer was the same:
These kids know almost nothing about their faith.
It's not that they are bad kids; it's that the basics of Christianity are unknown to them. Mind you, these are college students who were raised in Christian homes, and who chose to attend Christian colleges. And yet, their teachers are discovering that when it comes to the Christian faith, most of them are blank slates.
Let me repeat: these are Christian students, in Christian colleges. In California, a Baptist theologian who teaches at an Evangelical college told me the ignorance of his students astonishes him. "It's all Moralistic Therapeutic Deism with them," he said. "Maybe you've heard of that?"
Indeed I have. MTD is the name that the top sociologist Christian Smith gave nearly a decade ago to what he calls the "de facto dominant religion among contemporary teenagers in the United States." Simply put, it's a pseudo-religion that says faith is about nothing more than "feeling good, happy, secure, and at peace."
Three-quarters of Millennialls agree that present-day Christianity has "good values and principles," but strong majorities also agree that modern-day Christianity is "hypocritical" (58 percent), "judgmental" (62 percent), and "anti-gay" (64 percent).
You've seen the statistics. If you're in ministry, you've probably witnessed the problem firsthand. The Millennials (those born between 1980 and 2000) are leaving the church in droves, and staying away. Approximately 70 percent of those raised in the church disengage from it in their 20s. One-third of Americans under 30 now claim "no religion."
There are 80 million Millennials in the U.S.—and approximately the same number of suggestions for how to bring them back to church. But most of the proposals I've heard fall into two camps.
The first goes something like this:  The church needs to be more hip and relevant. Drop stodgy traditions. Play louder music. Hire pastors with tattoos and fauxhawks. Few come right out and advocate for this approach. But from pastoral search committees to denominational gatherings to popular conferences, a quest for relevance drives the agenda.
Others demand more fundamental change. They insist the church soften its positions on key doctrines and social issues. Our culture is secularizing. Let's get with the times in order to attract the younger generation, they say. We must abandon supernatural beliefs and restrictive moral teachings. Christianity must "change or die."
I think both approaches are flawed.
Chasing coolness won't work. In my experience, churches that try to be cool end up with a pathetic facsimile of what was cool about 10 years ago. And if you've got a congregation of businessmen and soccer moms, donning a hip veneer will only make you laughable to the younger generation.
The second tack is worse. Not only will we end up compromising core beliefs, we will shrink our churches as well. The advocates of this approach seem to have missed what happened to mainline liberal churches over the last few decades. Adopting liberal theologies and culturally acceptable beliefs has drastically reduced their numbers while more theologically conservative churches grew.
There is no one silver bullet for bringing Millennials back to church. But here are a few actions to help us reach the next generation more effectively.
Adopt a Different Tone
As the culture has grown more secular, many Christians have struggled to adjust. The church once had pride of place in North American society. Now it seems we're increasingly getting pushed to the margins. Christian morality is no longer assumed and our beliefs are suddenly considered strange.
This loss of cultural capital has caused many to shout louder in hopes of regaining influence. But adopting a shrill, combative tone only exacerbates the problem. It's the surest way to alienate outsiders, especially Millennials. Author and historian John Dickson urges Christians to move from a posture of "admonition to mission." Dickson lives in Australia, a decidedly post-Christian country. In our increasingly secular culture, it's a lesson we need to take to heart. Let's stop being shocked when our unbelieving neighbors fail to act like Christians and take a more winsome tone when we communicate the gospel.
Foster Intergenerational Relationships
I've read virtually all of the books on Millennials and the church, and I've adopted my own thoughts about Generation Ex (Read Generation Ex -Christians by Drew Dyck). If there's one lesson to take away from this corpus of literature, it's this: inter-generational relationships are crucial. The number one predictive factor as to whether or not a young Christian will retain his or her faith is whether that person has a meaningful relationship with an older Christian.
We're surprised when even our most ardent young people walk away, but we shouldn't be. If they didn't have relationships with older Christians in the congregation, in all likelihood, they're gone. When they age out of youth group, they age out of the church. Churches must find ways to pair older Christians with teens and to engage Millennials outside the church (many of whom are starving for mentors). This is a touchy subject for me because I've seen my own kids abandon their faith and cultural teaching to the point of going to prison for life and living contrary life styles. My going to prison and losing their respect I feel contributed to their posture now, but I am going to worship and believe God for their return.
The number one predictive factor as to whether or not a young Christian will retain his or her faith is whether that person has a meaningful relationship with an older Christian.
Present a Bigger God
Many evangelical churches present a one-sided vision of God. We love talking about God's love, but not his holiness. We stress his immanence, but not his transcendence. How does this affect Millennials? I like the way Millennial blogger Stephen Altrogge puts it in Untamable God.
Why are so many young people leaving the church? I don't think it's all that complicated. God seems irrelevant to them. They see God as existing to meet their needs and make them happy. And sure, God can make them feel good, but so can a lot of other things. Making piles of money feels good. Climbing the corporate ladder feels good. Buying a motorcycle and spending days cruising around the country feels good … if God is simply one option on a buffet, why stick with God?
Millennials have a dim view of church. They are highly skeptical of religion. Yet they are still thirsty for transcendence. But when we portray God as a cosmic buddy, we lose them (they have enough friends). When we tell them that God will give them a better marriage and family, it's white noise (they're delaying marriage and kids or forgoing them altogether). When we tell them they're special, we're merely echoing what educators, coaches, and parents have told them their whole lives. But when we present a ravishing vision of a loving and holy God, it just might get their attention and capture their hearts as well.
I'll be talking more on this topic at http://www.yelp.com/biz/world-conquerors-church-oakland on Febuary 20th-22. Pray for our travel and a deeper dive into how churches can convey a compelling vision of God for Millennials, as well as the whole congregation.
Forming partners is key to performing ministry of any sought.We were blessed in getting some leverage with this organization to help us to be a blessing in a backpack to 3202 inmates getting out of prison or county jails in December and January. I was really blessed to get a close-up of how this blessing helps families and kids and communities.
The Program
We Provide Weekend Nourishment to School Children on the Federal Free and Reduced Meal Program
The Blessings in a Backpack program is simple. A passionate parent, teacher, nurse, counselor, community advocate or corporate supporter elects to start the Blessings in a Backpack program in a local school Once a school is adopted, Blessings in a Backpack will provide the program framework for implementation.
The next step is to fundraise to support the number of children your program will feed. You will also need to gather volunteers to manage the weekly logistics of getting the food from the grocer to the school or facility where the backpacks will be loaded with food for distribution. Blessings in a Backpack donates all program backpacks raised through national partnerships and funding. We also connect adopters across the country so they can share ideas and successes and so that you can learn how to run your new program. 100% of all monies raised for a new or existing school program go directly to food purchased for the backpacks.
Typical Backpack Food Items
The backpacks include ready-to-eat food items such as granola bars, peanut butter, tuna, crackers, mac & cheese, cereal, juice boxes, etc. Blessings in a Backpack reviews its standard menu with a nutritionist annually to make sure the food is kid-friendly, nutritious, non-perishable and easy-to-prepare. Please be aware, most of these kids live in a world where some food is better than no food.
The Results: Nourished Kids Ready to Learn
Students who participate in the Blessings in a Backpack program show marked improvement in school attendance, test scores, behavior, and health. Food is an essential building block, and in this case truly is a blessing, especially to a hungry child! Visit the Get Involved section of our site to find out the various ways in which you can help Blessings in a Backpack feed more children.
Blessings in a Backpack is a 501 (C) 3. Please click to see our most recent Form 990.
A challenge: Dream a dream so big only God can fulfill it.
---
Dreams are not merely the nightly thoughts you experience as the brain sorts out the day's events. They are the goals and visions that fire your heart and saturate your soul with joy at the very thought of them. They are those continuing visions of what you want your life to be at its highest level of fulfillment–what you want to do, how you want to do it, what kind of person you want to become in the process.
Your destiny and reason for living are wrapped up tightly in your dreams and desires, like the genetic information inside a seed. That dream in your heart contains your spiritual "DNA," the very blueprint for who you are. Your dream is that idea, that vision for your life that burns inside of you–something you can't ignore for long. It keeps coming back to your mind because it is part of who you are; it will never leave you alone.
A dream doesn't drive you; it draws you. It is like a big magnet that pulls you toward itself. I don't believe that there is a man or woman without a dream, because God designed every member of the human race to have dreams. Without a dream, a person will be frustrated in the present and will miss his or her future.
Your dream did not even originate with you. It resides within you, but God put it there. He is the source of your dream. When people dream without God, they find it hollow and unsatisfying. Every person must come to Jesus for his or her dream to make sense. In fact, without Jesus, you might follow a dream for your life that God never put in your heart.
Not every dream is from God. There is such a thing as godless dreams. But when your dream is God's dream, it's unstoppable.
Jesus said that apart from Him we can't do anything and that all our dreams will be frustrated. The power, energy and creativity needed to fulfill our dreams must flow from Jesus.
The most common and most crucial question is, "How do I know which dreams in my heart are from God?" Here is the answer. You will know it's God's dream if:
1. It is bigger than you.
2. You can't let it go.
3. You would be willing to give everything for it.
4. It will last forever.
5. It meets a need nobody else has met.
6. It brings glory to God.
Let's unpack each of these. First, any dream God put in your heart will be much bigger than you. Most children start out with big dreams of being a major league baseball player or the first woman president of the United States. But people and circumstances whittle those dreams down to size. We reach adulthood, and we voluntarily trim our dreams to manageable proportions so we won't be disappointed.
That's the opposite of what we should do. We should set higher goals, not lower ones. God is the author of bigness, not smallness. We may not reach the highest dream, but we will go a lot farther by aiming high than aiming low.
The first test you can apply to your dream is: "Is it too big for me to fulfill without God's help?" If you can do it without His help, you are not dreaming big enough. If it's much bigger than you, you are on the right track. The Bible promises that all things are possible with God. Is your dream impossible enough? Does it go beyond you enough to qualify for God's help? Your dream should be so big that it takes your breath away, makes you temporarily weak in the knees, and makes you cry out to God for help and guidance.
Next, are you able to let this dream go, or does it keep bugging you? A God-given dream is a bothersome thing: it won't leave you alone! It keeps bobbing to the surface of your heart, clamoring for your mind's attention. If that's how your dream behaves, then it is probably from God. You also know it's a God-given dream if you are willing to devote every ounce of energy and every minute of your days to it. A dream inspires devotion like the devotion a parent has for a child: you would give your very life just to see it grow and find fulfillment.
Will your dream last forever? Many people pursue dreams built on things that will fade away. They dream of fame, but fame never lasts. Others build dreams on wealth, health or power, but none of these last more than a few decades at most. A dream cannot be built on ego. It cannot be built on tradition–because the company expects it or your family expects it. None of these foundations will support your dream.
You must build your dreams on something that will last. Only two things in the entire world will last forever: truth and people. Heaven and earth will pass away, but God's Word will never pass away. You have to build your dream on that never-changing foundation.
The second thing that lasts forever is people. God made human beings to last forever. Jesus came to seek and save that which was lost, to die for people. That's how we should spend our lives, too. If God Himself thought people were worth dying for, shouldn't we follow His example? In fact, the only way to minister to God is to minister to people, as He said, "When you've done it to the least of them, you've done it to Me" (see Matt. 25:40).
Your dream must be built on human need. Will it help people? Improve lives? Alleviate human suffering? Does it fill a need nobody else is filling? If so, you can be sure that dream is from God. The secret to happiness in life is pouring into other people, giving without expecting anything in return.
Finally, your dream should bring glory to God. The most horrible thing in life is to realize you have wasted months, years or decades following the wrong dream. Life is too precious to fritter away by building on a crumbling foundation. Many people lose their lives, not by dying, but by squandering their time.
So, you've identified your dream. If fills all the criteria of a dream from God Himself. How do you bring that dream to fruition? It's not about brute force, mindless energy or human calculation. Here are some steps that I have noticed people take on the road to reaching their dreams:
1. Get alone with God.
One reason people never discover their dream and purpose in life is that they never stop long enough to listen. They are like the World War II pilot who became lost over the ocean and radioed back, "I have no idea where I am or where I'm heading, but I'm making record time." Someone else said, "It's an ironic habit of the human race that we double our speed when we've lost our way."
We have to get alone with God and listen. Psalm 46:10 says, "Be still, and know that I am God." To get a vision from God, turn off the television. Get quiet. Let God talk to you. An Indian tribe in Oregon used to send young men out, when they came of age, with the instruction, "Don't come back until you have a vision." Those who got discouraged came back early. Those who stayed until they had a vision became the leaders of the tribe.
Paul spent three years in the desert listening to God before he began his ministry. That was his seminary education. He said: "God, what is the overarching, all-consuming passion of my life? What will I do until I die?" Once he discovered his dream, he lived an extraordinary life.
2. Review your gifts and talents.
Romans 12:6 says we each have gifts. God gave you the gifts you have; you didn't choose them. Fulfillment comes when you use those gifts for Him in service of your dream. Your gifts are the key to discovering God's will in your life.
Desire points us to our dreams. God uses desire to accomplish what He wants on this earth. How did He make sure the world was populated? He gave men and women a desire for each other to produce children. How did He make sure we cared for our bodies? He made us thirsty and made two-thirds of the planet water. He made us hungry and caused food to grow all around us.
God speaks to us through desires. Many Christians have come to think that their motives and desires are corrupt and untrustworthy, but the Bible says that if any man is in Christ Jesus, he is a new creature. Old things pass away, and all things become new (see 2 Cor. 5:17). That includes our desires! The Bible says you can have the mind of Christ within you. So what does it say about your desires? It says your desires, when you become a new creature, are changed. That's why God can say, "I want to give you the desires of your heart."
3. Review your experience.
We pay attention not only to our desires and talents, but also to our past history. This is a powerful thing. Romans 8:28 says, " … All things work together for good. … " God uses all things.
God can use your desires and talents to serve your larger goals. Even if it's a skill you don't particularly enjoy, you may find it opens doors for you at key times. Not everything in our past is bound to be good. Some people reading this may have lingering pain in their lives. Some went through a divorce, grew up with angry parents or struggled with alcohol. Some had abortions, filed for bankruptcy or endured hurts that cannot be easily explained.
But each of these problems falls into the category of "all things." God wants to integrate your hurts and difficulties into your life message. He never wastes circumstances, even bad ones. Before you became a believer, God was working to redeem the problems you faced. Not all things are good, but all things will work for the good of those who love Him and are called according to His purpose (see Rom. 8:28).
Second Corinthians 1:4 says God helps us in our troubles so we can help others who have troubles, using the same help we ourselves have received from God. When you grasp that, it will change the way you view your life circumstances, and it will help you discover your dream.
5. Begin to explore different avenues.
6. Journal your dream.
Once you are able to define your dream, write it down. Habakkuk 2:2 says, "Then the Lord answered me and said: 'Write the vision and make it plain on tablets, that he may run who reads it.'" If you want to move ahead in your dream, you must write it down–inscribe it indelibly.
That shows resolve, definition and form. It is not enough to have an idea of what you want to do; you must have a plan for implementing it. Dreams do not come true by fantasizing–you have to write them down and let them become a guiding force in your life.
It has been said, "No individual has the right to come into the world and go out of it without leaving behind him distinct and legitimate reasons for having passed through it." But most people have lost their dream.
It seems impractical in this world to believe you were born for something great. Somehow it becomes more important to have a steady job, pay the mortgage, keep things moving forward with the least amount of disruption and the highest possibility for what our society calls "success." But the fulfillment of your dream has little to do with what our society considers success–it's much bigger than that. Are you dreaming big enough?
Bringing the gifts that my ancestors gave,
I am the dream and the hope of the slave.
I rise
I rise
I rise.
Maya Angelou (1928-)
"Still I rise," And Still I Rise (1978)
Racism is not an excuse to not do the best you can.
Arthur Ashe (1943-1993)
quoted in Sports Illustrated, July 1991
People pay for what they do, and still more for what they have allowed themselves to become. And they pay for it very simply; by the lives they lead.
James Baldwin (1924-1987)
Nobody Knows My Name (1961)
If we accept and acquiesce in the face of discrimination, we accept the responsibility ourselves and allow those responsible to salve their conscience by believing that they have our acceptance and concurrence. We should, therefore, protest openly everything . . . that smacks of discrimination or slander.
Mary McLeod Bethune (1875-1955)
"Certain Unalienable Rights," What the Negro Wants, edited by Rayford W. Logan (1944)
The Rev. Al Sharpton lashed out at authorities, accusing law enforcement agencies of overreacting to the protests in Ferguson. He said protesters demonstrated peacefully "and you put snipers on the roof and pointed guns at them." He also lambasted police for releasing a video they claimed showed Brown leaving a convenience store they said was robbed the same day Brown was shot.
"How do you think we look when the world sees you can't produce a police report but you can find a video?" he asked to applause.
He said police that are wrong "need to be dealt with just like people in our community who are wrong need to be dealt with."
Sharpton said Brown doesn't want to be remembered "for riots."
"He wanted to be the one who made America deal with how we are going to police the United States," Sharpton said.
Brown's funeral "is not about you," he said about the protesters. "This is about justice. This is about sadness and America is going to have to come to terms with there's something wrong that we have money to give military equipment to police forces but we don't have money for training and money for public education and money to train our children."
Sharpton also had harsh words for those in the black community who refer to themselves as the N-word and call women derogatory names.
"You've lost where you've come from," he said. "We have to clean up our community so we can clean up the United States of America."
"Michael Brown's blood is crying from the ground, crying for vengeance, crying for justice," said the Rev. Charles Ewing, Brown's great-uncle. Ewing said, "There is a cry being made from the ground," not just for his nephew but also for Trayvon Martin, the unarmed black teen who was gunned down in 2012; for the elementary school students at Sandy Hook in December 2012; and for victims of black-on-black crime.
Cal Brown, Mike Brown's stepmother, remembered him as a "dynamic young man." She told the crowd that at Mike's recent high school graduation, he said that one day the world would know his name.
"He's not a lost soul," Cal Brown said. "His death was not in vain."
Another relative described Mike Brown as "a big guy, but he was a kind, gentle soul," and also spoke about how Brown said he would be remembered.
"He did not know that he was offering up a divine prophecy at that time," the relative said. "He did not know his name would be remembered, but today we were remembering the name of Mike Brown."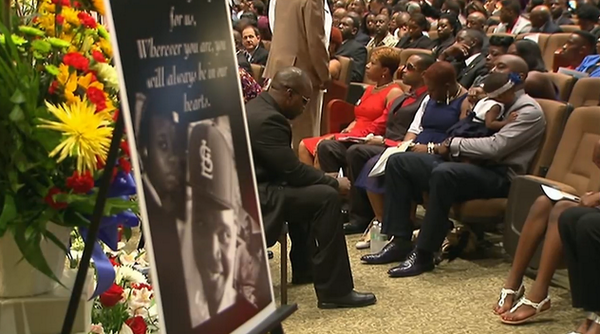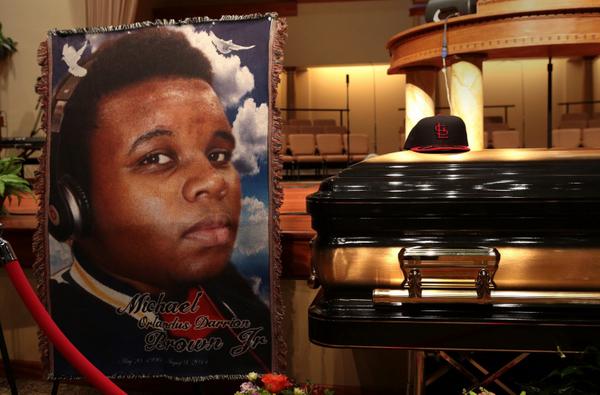 I am yelling at the top of my voice within this post to stop killing our own soldiers-(Black Men). We need one another and we are coming to the end of this on-slaughter of our race, we need to understand how important unity is. We need to stop falling for the  designed practices of the evil ones of this world who intend to have us murder each other. They design programs that seem positive, like turn your arms in amnesty. This program is truly designed to disarm Americans. We saw through out the protest what the police abroad have planned for getting their point across to anyone who op-posses   their hidden agenda's to continue to oppress and position us of color to be slaughtered by our own devise or theirs. I am fueled with a indignation to really make my voice heard in any sect or burrow I come in contact with. I am moving out of the buildings of Orthodox Christianity and moving with His spirit as He leads me. I am not going to be slave to any traps or ideologies of tradition any longer. I am going deep into my cultural roots and educating myself with the laws of this evil land and I will lead all those I can reach. The second half of my life is going to make a difference on this planet for myself, my family and my people.
To be considered black in the United States not even half of one's ancestry must be African black. But will one-fourth do, or one-eighth, or less? The nation's answer to the question 'Who is black?" has long been that a black is any person with any known African black ancestry. This definition reflects the long experience with slavery and later with Jim Crow segregation. In the South it became known as the "one-drop rule," meaning that a single drop of "black blood" makes a person a black. It is also known as the "one black ancestor rule," some courts have called it the "traceable amount rule," and anthropologists call it the "hypo-descent rule," meaning that racially mixed persons are assigned the status of the subordinate group. This definition emerged from the American South to become the nation's definition, generally accepted by whites and blacks. Blacks had no other choice. As we shall see, this American cultural definition of blacks is taken for granted as readily by judges, affirmative action officers, and black protesters as it is by Ku Klux Klansmen.
Let us not he confused by terminology. At present the usual statement of the one-drop rule is in terms of "black blood" or black ancestry, while not so long ago it referred to "Negro blood" or ancestry. The term "black" rapidly replaced "Negro" in general usage in the United States as the black power movement peaked at the end of the 1960s, but the black and Negro populations are the same. The term "black" is used in this post for persons with any black African lineage, not just for unmixed members of populations from sub-Saharan Africa. The term "Negro," which is used in certain historical contexts, means the same thing. Terms such as "African black," "unmixed Negro," and "all black" are used here to refer to unmixed blacks descended from African populations.
We must also pay attention to the terms "mulatto" and "colored." The term "mulatto" was originally used to mean the offspring of a "pure African Negro" and a "pure white." Although the root meaning of mulatto, in Spanish, is "hybrid," "mulatto" came to include the children of unions between whites and so-called "mixed Negroes." For example, Booker T. Washington and Frederick Douglass, with slave mothers and white fathers, were referred to as mulattoes. To whatever extent their mothers were part white, these men were more than half white. Douglass was evidently part Indian as well, and he looked it. Washington had reddish hair and gray eyes. At the time of the American Revolution, many of the founding fathers had some very light slaves, including some who appeared to be white. The term "colored" seemed for a time to refer only to mulattoes, especially lighter ones, but later it became a euphemism for darker Negroes, even including unmixed blacks. With widespread racial mixture, "Negro" came to mean any slave or descendant of a slave, no matter how much mixed. Eventually in the United States, the terms mulatto, colored, Negro, black, and African American all came to mean people with any known black African ancestry. Mulattoes are racially mixed, to whatever degree, while the terms black, Negro, African American, and colored include both mulattoes and unmixed blacks. As we shall see, these terms have quite different meanings in other countries.
Whites in the United States need some help envisioning the American black experience with ancestral fractions. At the beginning of miscegenation between two populations presumed to be racially pure, quadroons appear in the second generation of continuing mixing with whites, and octoroons in the third. A quadroon is one-fourth African black and thus easily classed as black in the United States, yet three of this person's four grandparents are white. An octoroon has seven white great-grandparents out of eight and usually looks white or almost so. Most parents of black American children in recent decades have themselves been racially mixed, but often the fractions get complicated because the earlier details of the mixing were obscured generations ago. Like so many white Americans, black people are forced to speculate about some of the fractions– one-eighth this, three-sixteenths that, and so on….
Not only does the one-drop rule apply to no other group than American blacks, but apparently the rule is unique in that it is found only in the United States and not in any other nation in the world. In fact, definitions of who is black vary quite sharply from country to country, and for this reason people in other countries often express consternation about our definition. James Baldwin relates a revealing incident that occurred in 1956 at the Conference of Negro-African Writers and Artists held in Paris. The head of the delegation of writers and artists from the United States was John Davis. The French chairperson introduced Davis and then asked him why he considered himself Negro, since he certainly did not look like one. Baldwin wrote, "He is a Negro, of course, from the remarkable legal point of view which obtains in the United States, but more importantly, as he tried to make clear to his interlocutor, he was a Negro by choice and by depth of involvement–by experience, in fact."
The phenomenon known as "passing as white" is difficult to explain in other countries or to foreign students. Typical questions are: "Shouldn't Americans say that a person who is passing as white is white, or nearly all white, and has previously been passing as black?" or "To be consistent, shouldn't you say that someone who is one-eighth white is passing as black?" or "Why is there so much concern, since the so-called blacks who pass take so little negroid ancestry with them?" Those who ask such questions need to realize that "passing" is much more a social phenomenon than a biological one, reflecting the nation's unique definition of what makes a person black. The concept of "passing" rests on the one-drop rule and on folk beliefs about race and miscegenation, not on biological or historical fact.
The black experience with passing as white in the United States contrasts with the experience of other ethnic minorities that have features that are clearly non-caucasoid. The concept of passing applies only to blacks–consistent with the nation's unique definition of the group. A person who is one-fourth or less American Indian or Korean or Filipino is not regarded as passing if he or she intermarries and joins fully the life of the dominant community, so the minority ancestry need not be hidden. It is often suggested that the key reason for this is that the physical differences between these other groups and whites are less pronounced than the physical differences between African blacks and whites, and therefore are less threatening to whites. However, keep in mind that the one-drop rule and anxiety about passing originated during slavery and later received powerful reinforcement under the Jim Crow system.
For the physically visible groups other than blacks, miscegenation promotes assimilation, despite barriers of prejudice and discrimination during two or more generations of racial mixing. As noted above, when ancestry in one of these racial minority groups does not exceed one-fourth, a person is not defined solely as a member of that group. Masses of white European immigrants have climbed the class ladder not only through education but also with the help of close personal relationships in the dominant community, intermarriage, and ultimately full cultural and social assimilation. Young people tend to marry people they meet in the same informal social circles. For visibly non-caucasoid minorities other than blacks in the United States, this entire route to full assimilation is slow but possible.
For all persons of any known black lineage, however, assimilation is blocked and is not promoted by miscegenation. Barriers to full opportunity and participation for blacks are still formidable, and a fractionally black person cannot escape these obstacles without passing as white and cutting off all ties to the black family and community. The pain of this separation, and condemnation by the black family and community, are major reasons why many or most of those who could pass as white choose not to. Loss of security within the minority community, and fear and distrust of the white world are also factors.
It should now be apparent that the definition of a black person as one with any trace at all of black African ancestry is inextricably woven into the history of the United States. It incorporates beliefs once used to justify slavery and later used to buttress the castelike Jim Crow system of segregation. Developed in the South, the definition of "Negro" (now black) spread and became the nation's social and legal definition. Because blacks are defined according to the one-drop rule, they are a socially constructed category in which there is wide variation in racial traits and therefore not a race group in the scientific sense. However, because that category has a definite status position in the society it has become a self-conscious social group with an ethnic identity.
The one-drop rule has long been taken for granted throughout the United States by whites and blacks alike, and the federal courts have taken "judicial notice" of it as being a matter of common knowledge. State courts have generally upheld the one-drop rule, but some have limited the definition to one thirty-second or one-sixteenth or one-eighth black ancestry, or made other limited exceptions for persons with both Indian and black ancestry. Most Americans seem unaware that this definition of blacks is extremely unusual in other countries, perhaps even unique to the United States, and that Americans define no other minority group in a similar way. . . .
We must first distinguish racial traits from cultural traits, since they are so often confused with each other. As defined in physical anthropology and biology, races are categories of human beings based on average differences in physical traits that are transmitted by the genes not by blood. Culture is a shared pattern of behavior and beliefs that are learned and transmitted through social communication. An ethnic group is a group with a sense of cultural identity, such as Czech or Jewish Americans, but it may also be a racially distinctive group. A group that is racially distinctive in society may be an ethnic group as well, but not necessarily. Although racially mixed, most blacks in the United States are physically distinguishable from whites, but they are also an ethnic group because of the distinctive culture they have developed within the general American framework.
Don't worry if you have haters; Jesus Christ was perfect, and they still hated him! What should we expect being imperfect?
Matthew 5:43-48
"You have heard that it was said, 'YOU SHALL LOVE YOUR NEIGHBOR and hate your enemy.' But I say to you, love your enemies and pray for those who persecute you, so that you may be sons of your Father who is in heaven; for He causes His sun to rise on the evil and the good, and sends rain on therighteous and the unrighteous. For if you love those who love you, what reward do you have? Do not even the tax collectors do the same? If you greet only your brothers, what more are you doing than others? Do not even the Gentiles do the same? Therefore you are to be perfect, as your heavenly Father is perfect."
I think it's important to first say a little about why loving your enemies is necessary. Jesus gives us the answer in verse 48. Based on everything that has gone before in this chapter (as well as the concept of loving your enemies), Jesus says you cannot be perfect without it. The word perfect in verse 48 comes from the Greek word "teleios."   And while "perfect" is a good translation, I think it distracts from the meaning here. Another way to translate teleios is "complete" or "mature." So what I think Jesus is trying to say here is if you wanted to be a complete person, or a fully mature human being, loving your enemies is something that you have to do.
"They hating on me!" or "Haters are going to hate!" are common phrases that some use to justify reasons why someone or a group of people have an unfavorable opinion of them or their activities.  The term "haters" has become popular in the last few years to describe others, but can you actually "hate" on yourself?  Read some ways the person hating on you could be in the mirror.
1. Comparing Yourself to Others – If you are constantly comparing what you have or don't have to what others do or don't have, then you may be borderline hating on yourself.  Comparisons may ignite low self-esteem and depression and have been one of the top five causes of why relationships end.
2. Not Listening to Your Inner Voice – Your inner voice, your conscience, or whatever you prefer to call it can be your saving grace for so many reasons.  Usually, your conscience is based upon your mind and body's history and best practices in each situation.  Sometimes your natural reaction may not be your best reaction and it's that inner voice that tells you to do differently. Listen.
3. Doing Just Enough to Get By – With the exception of trust fund babies, "self-made" successful people usually have a story of sacrifice, hard work, perseverance and dedication.  The only person "doing just enough" hurts is yourself.  When you can, do more, give more, show how much "more" you are than people realize.
4. Not Being a Man or Woman of Your Word – One of the quickest ways to get "realistic" haters is to lie about who you truly are.  Saying one thing and not following through gives a false representation of who you truly are. Don't allow others the satisfaction of misinterpreting you. Give them the real "say-what-i-do-and-do-what-i-say" self.
5. Not Believing In Your Ability – We can sometimes be our own worst enemy.  Saying that you "can't" or that something "never" happens to you is speaking to your own downfall.  Use words like "I can" and "I will" to verbally affirm your current and future positions.  Research has shown that those who visualize their goal on a consistent basis are 33% more likely to achieve those goals.
6. Saying That You Have Haters (When You Really Don't) – Be honest with yourself:  are people really "hating" on you or are they telling you the truth?  Sometimes the truth hurts, but can lead to healing.  It may do you good to take a look at what the person says (not how they say it) and see if it's true.  If it's true, do what you need to do to be better. If it's false, do what you need to do to stay strong.
Remember, announcing that you have haters rarely does anything to help your case, as nearly everyone has haters nowadays.  The differentiating factor is how you rise above despite your obstacles.