Ferguson
Bringing the gifts that my ancestors gave,
I am the dream and the hope of the slave.
I rise
I rise
I rise.
Maya Angelou (1928-)
"Still I rise," And Still I Rise (1978)
Racism is not an excuse to not do the best you can.
Arthur Ashe (1943-1993)
quoted in Sports Illustrated, July 1991
People pay for what they do, and still more for what they have allowed themselves to become. And they pay for it very simply; by the lives they lead.
James Baldwin (1924-1987)
Nobody Knows My Name (1961)
If we accept and acquiesce in the face of discrimination, we accept the responsibility ourselves and allow those responsible to salve their conscience by believing that they have our acceptance and concurrence. We should, therefore, protest openly everything . . . that smacks of discrimination or slander.
Mary McLeod Bethune (1875-1955)
"Certain Unalienable Rights," What the Negro Wants, edited by Rayford W. Logan (1944)
The Rev. Al Sharpton lashed out at authorities, accusing law enforcement agencies of overreacting to the protests in Ferguson. He said protesters demonstrated peacefully "and you put snipers on the roof and pointed guns at them." He also lambasted police for releasing a video they claimed showed Brown leaving a convenience store they said was robbed the same day Brown was shot.
"How do you think we look when the world sees you can't produce a police report but you can find a video?" he asked to applause.
He said police that are wrong "need to be dealt with just like people in our community who are wrong need to be dealt with."
Sharpton said Brown doesn't want to be remembered "for riots."
"He wanted to be the one who made America deal with how we are going to police the United States," Sharpton said.
Brown's funeral "is not about you," he said about the protesters. "This is about justice. This is about sadness and America is going to have to come to terms with there's something wrong that we have money to give military equipment to police forces but we don't have money for training and money for public education and money to train our children."
Sharpton also had harsh words for those in the black community who refer to themselves as the N-word and call women derogatory names.
"You've lost where you've come from," he said. "We have to clean up our community so we can clean up the United States of America."
"Michael Brown's blood is crying from the ground, crying for vengeance, crying for justice," said the Rev. Charles Ewing, Brown's great-uncle. Ewing said, "There is a cry being made from the ground," not just for his nephew but also for Trayvon Martin, the unarmed black teen who was gunned down in 2012; for the elementary school students at Sandy Hook in December 2012; and for victims of black-on-black crime.
Cal Brown, Mike Brown's stepmother, remembered him as a "dynamic young man." She told the crowd that at Mike's recent high school graduation, he said that one day the world would know his name.
"He's not a lost soul," Cal Brown said. "His death was not in vain."
Another relative described Mike Brown as "a big guy, but he was a kind, gentle soul," and also spoke about how Brown said he would be remembered.
"He did not know that he was offering up a divine prophecy at that time," the relative said. "He did not know his name would be remembered, but today we were remembering the name of Mike Brown."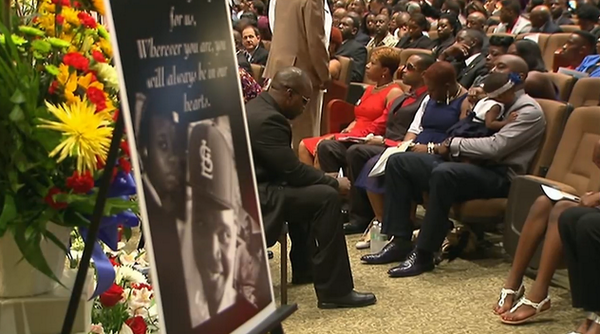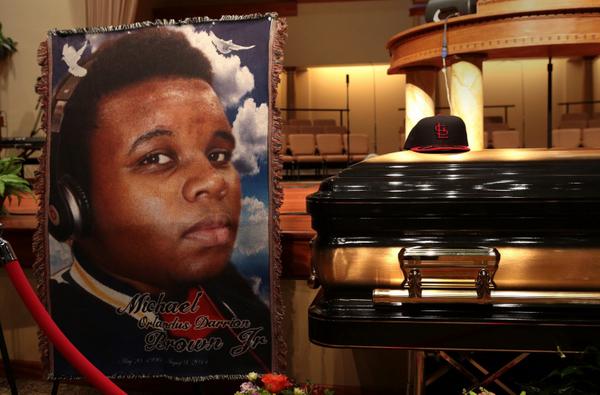 I am yelling at the top of my voice within this post to stop killing our own soldiers-(Black Men). We need one another and we are coming to the end of this on-slaughter of our race, we need to understand how important unity is. We need to stop falling for the  designed practices of the evil ones of this world who intend to have us murder each other. They design programs that seem positive, like turn your arms in amnesty. This program is truly designed to disarm Americans. We saw through out the protest what the police abroad have planned for getting their point across to anyone who op-posses   their hidden agenda's to continue to oppress and position us of color to be slaughtered by our own devise or theirs. I am fueled with a indignation to really make my voice heard in any sect or burrow I come in contact with. I am moving out of the buildings of Orthodox Christianity and moving with His spirit as He leads me. I am not going to be slave to any traps or ideologies of tradition any longer. I am going deep into my cultural roots and educating myself with the laws of this evil land and I will lead all those I can reach. The second half of my life is going to make a difference on this planet for myself, my family and my people.
To be considered black in the United States not even half of one's ancestry must be African black. But will one-fourth do, or one-eighth, or less? The nation's answer to the question 'Who is black?" has long been that a black is any person with any known African black ancestry. This definition reflects the long experience with slavery and later with Jim Crow segregation. In the South it became known as the "one-drop rule," meaning that a single drop of "black blood" makes a person a black. It is also known as the "one black ancestor rule," some courts have called it the "traceable amount rule," and anthropologists call it the "hypo-descent rule," meaning that racially mixed persons are assigned the status of the subordinate group. This definition emerged from the American South to become the nation's definition, generally accepted by whites and blacks. Blacks had no other choice. As we shall see, this American cultural definition of blacks is taken for granted as readily by judges, affirmative action officers, and black protesters as it is by Ku Klux Klansmen.
Let us not he confused by terminology. At present the usual statement of the one-drop rule is in terms of "black blood" or black ancestry, while not so long ago it referred to "Negro blood" or ancestry. The term "black" rapidly replaced "Negro" in general usage in the United States as the black power movement peaked at the end of the 1960s, but the black and Negro populations are the same. The term "black" is used in this post for persons with any black African lineage, not just for unmixed members of populations from sub-Saharan Africa. The term "Negro," which is used in certain historical contexts, means the same thing. Terms such as "African black," "unmixed Negro," and "all black" are used here to refer to unmixed blacks descended from African populations.
We must also pay attention to the terms "mulatto" and "colored." The term "mulatto" was originally used to mean the offspring of a "pure African Negro" and a "pure white." Although the root meaning of mulatto, in Spanish, is "hybrid," "mulatto" came to include the children of unions between whites and so-called "mixed Negroes." For example, Booker T. Washington and Frederick Douglass, with slave mothers and white fathers, were referred to as mulattoes. To whatever extent their mothers were part white, these men were more than half white. Douglass was evidently part Indian as well, and he looked it. Washington had reddish hair and gray eyes. At the time of the American Revolution, many of the founding fathers had some very light slaves, including some who appeared to be white. The term "colored" seemed for a time to refer only to mulattoes, especially lighter ones, but later it became a euphemism for darker Negroes, even including unmixed blacks. With widespread racial mixture, "Negro" came to mean any slave or descendant of a slave, no matter how much mixed. Eventually in the United States, the terms mulatto, colored, Negro, black, and African American all came to mean people with any known black African ancestry. Mulattoes are racially mixed, to whatever degree, while the terms black, Negro, African American, and colored include both mulattoes and unmixed blacks. As we shall see, these terms have quite different meanings in other countries.
Whites in the United States need some help envisioning the American black experience with ancestral fractions. At the beginning of miscegenation between two populations presumed to be racially pure, quadroons appear in the second generation of continuing mixing with whites, and octoroons in the third. A quadroon is one-fourth African black and thus easily classed as black in the United States, yet three of this person's four grandparents are white. An octoroon has seven white great-grandparents out of eight and usually looks white or almost so. Most parents of black American children in recent decades have themselves been racially mixed, but often the fractions get complicated because the earlier details of the mixing were obscured generations ago. Like so many white Americans, black people are forced to speculate about some of the fractions– one-eighth this, three-sixteenths that, and so on….
Not only does the one-drop rule apply to no other group than American blacks, but apparently the rule is unique in that it is found only in the United States and not in any other nation in the world. In fact, definitions of who is black vary quite sharply from country to country, and for this reason people in other countries often express consternation about our definition. James Baldwin relates a revealing incident that occurred in 1956 at the Conference of Negro-African Writers and Artists held in Paris. The head of the delegation of writers and artists from the United States was John Davis. The French chairperson introduced Davis and then asked him why he considered himself Negro, since he certainly did not look like one. Baldwin wrote, "He is a Negro, of course, from the remarkable legal point of view which obtains in the United States, but more importantly, as he tried to make clear to his interlocutor, he was a Negro by choice and by depth of involvement–by experience, in fact."
The phenomenon known as "passing as white" is difficult to explain in other countries or to foreign students. Typical questions are: "Shouldn't Americans say that a person who is passing as white is white, or nearly all white, and has previously been passing as black?" or "To be consistent, shouldn't you say that someone who is one-eighth white is passing as black?" or "Why is there so much concern, since the so-called blacks who pass take so little negroid ancestry with them?" Those who ask such questions need to realize that "passing" is much more a social phenomenon than a biological one, reflecting the nation's unique definition of what makes a person black. The concept of "passing" rests on the one-drop rule and on folk beliefs about race and miscegenation, not on biological or historical fact.
The black experience with passing as white in the United States contrasts with the experience of other ethnic minorities that have features that are clearly non-caucasoid. The concept of passing applies only to blacks–consistent with the nation's unique definition of the group. A person who is one-fourth or less American Indian or Korean or Filipino is not regarded as passing if he or she intermarries and joins fully the life of the dominant community, so the minority ancestry need not be hidden. It is often suggested that the key reason for this is that the physical differences between these other groups and whites are less pronounced than the physical differences between African blacks and whites, and therefore are less threatening to whites. However, keep in mind that the one-drop rule and anxiety about passing originated during slavery and later received powerful reinforcement under the Jim Crow system.
For the physically visible groups other than blacks, miscegenation promotes assimilation, despite barriers of prejudice and discrimination during two or more generations of racial mixing. As noted above, when ancestry in one of these racial minority groups does not exceed one-fourth, a person is not defined solely as a member of that group. Masses of white European immigrants have climbed the class ladder not only through education but also with the help of close personal relationships in the dominant community, intermarriage, and ultimately full cultural and social assimilation. Young people tend to marry people they meet in the same informal social circles. For visibly non-caucasoid minorities other than blacks in the United States, this entire route to full assimilation is slow but possible.
For all persons of any known black lineage, however, assimilation is blocked and is not promoted by miscegenation. Barriers to full opportunity and participation for blacks are still formidable, and a fractionally black person cannot escape these obstacles without passing as white and cutting off all ties to the black family and community. The pain of this separation, and condemnation by the black family and community, are major reasons why many or most of those who could pass as white choose not to. Loss of security within the minority community, and fear and distrust of the white world are also factors.
It should now be apparent that the definition of a black person as one with any trace at all of black African ancestry is inextricably woven into the history of the United States. It incorporates beliefs once used to justify slavery and later used to buttress the castelike Jim Crow system of segregation. Developed in the South, the definition of "Negro" (now black) spread and became the nation's social and legal definition. Because blacks are defined according to the one-drop rule, they are a socially constructed category in which there is wide variation in racial traits and therefore not a race group in the scientific sense. However, because that category has a definite status position in the society it has become a self-conscious social group with an ethnic identity.
The one-drop rule has long been taken for granted throughout the United States by whites and blacks alike, and the federal courts have taken "judicial notice" of it as being a matter of common knowledge. State courts have generally upheld the one-drop rule, but some have limited the definition to one thirty-second or one-sixteenth or one-eighth black ancestry, or made other limited exceptions for persons with both Indian and black ancestry. Most Americans seem unaware that this definition of blacks is extremely unusual in other countries, perhaps even unique to the United States, and that Americans define no other minority group in a similar way. . . .
We must first distinguish racial traits from cultural traits, since they are so often confused with each other. As defined in physical anthropology and biology, races are categories of human beings based on average differences in physical traits that are transmitted by the genes not by blood. Culture is a shared pattern of behavior and beliefs that are learned and transmitted through social communication. An ethnic group is a group with a sense of cultural identity, such as Czech or Jewish Americans, but it may also be a racially distinctive group. A group that is racially distinctive in society may be an ethnic group as well, but not necessarily. Although racially mixed, most blacks in the United States are physically distinguishable from whites, but they are also an ethnic group because of the distinctive culture they have developed within the general American framework.

Sure it can be disputed what black/African American culture is. I personally don't believe blacks have much of a culture in America anymore, thanks to assimilation. When I hear blacks referring to every and anything as ghetto, ratchet, bad, and hood,…I assume this is the Negro people culture if anything. *Never knowing nothing about themselves, but what they've been told by the media and brainwashed blacks.
Most people's concept of Race relies on an artificial construct of relatively recent invention. Since the human race originated in Africa (ca. 150 – 250 thousand years ago) there have been several sub-species of human. The last was called Neanderthal. They became extinct about 30,000 years ago. Since then, there has been only one race: the human race. We are all biologically identical and interchangeable, yet culturally and ethnically diverse and distinct. This cultural and ethnic diversity has been institutionalized during European global colonization from about the 14th century on as categories of Race.
In the colonies that were to become the United States of America, these racial categories came to be institutionalized on the basis of skin color. People were placed in different groups based on skin color (among other differences such as religion). This was a political arrangement made mostly for economic reasons. Indian land had value. African labor produced value, and so on. Therefore these groups became (racial) social classes. Social Class refers to a person's economic access and opportunity within a social system.
Since society is made interlocking institutions (systems) that control people's lives, race and class distinctions have concrete consequences for all involved. For some the color based race system would mean rewards – for others it would mean degradation. To be defined as White (and male) resulted in unachieved preference and power. To be institutionally identified as non-White resulted in degrees of disenfranchisement and unrewarded labor. It is a social history of a racist culture.
Culture is – in part – is the set of assumptions and beliefs about the way the world should work. These assumptions and associations govern individual behavior. As I have said, these peoples coming to the lands that would be called the United States were culturally and ethnically distinct. Sometimes – often, actually – the cultural expectations of a people are in conflict with one or more of the institutions of society. They had differing interpretations of how the world should work. It is just that one of the color-coded racial groups would have the (unearned) power to enforce its vision of exclusivity. If one institutionally confirmed group expected the world should work one way – let's say enslavement – and yet other groups expected the world should work differently – let's say freedom – then out of that cultural and institutional conflict emerges the incidents of history. It is the interaction between these three – race, class and culture – that we will use to define Black American history. This interaction drives historical events.
And, all too often, the history of African Americans is taught as if bound in the fetters of enslavement – as if the sole identity of Black Americans is one of tragedy. Instead, this text substitutes the triumph of an enslaved people – a people who – though racialized and marginalized – yet continue to challenge the nature of American Justice.
First, what is an African? Second, what is America? And, also, what do I mean by Black? To be Black and American is an international experience. To overlook that fact diminishes both Africans and Americans. After all, more Africans ended up in other parts of the Americas than the small area we now call the United States. To use the words: Black American – to be Black and American – acknowledges a social and cultural dislocation from both Africa and America. Both Africa and America are continents. Each is made of many nations, cultural traditions and societies. Almost all Americans came from elsewhere – decimating and absorbing the indigenous Americans in the process. Each immigrating group retained an identity associated with their place of origin. Only the African diaspora required the purposeful destruction of national, social and cultural identities. Only the forced relocation of Africans required a people to re-invent themselves – and – in the process of this reinvention – American culture has been reinvented. The politics and economics of the African American experience have transformed America. And, it has transformed Africans into Blacks.
Black Americans are not just African any more than other Americans are just American. But, the cultural genocide of American institutions of enslavement stripped Blacks of this self awareness. "Black" may well be an ironic metaphor for this blank spot in what could have been a truly African American identity. Other Americans can proudly self-assert themselves as Dutch-American, or English-American, from Cornwall, or Jicarilla Apache. African Americans must affiliate with an entire continent. This presents certain unusual problems in understanding African American history and identity. No matter how strongly some Black Americans may wish otherwise – contemporary African Americans may well be the most "American" of us all. The African American search for a useful past upon which to build a present full of possibilities – the Black yearning for freedom and self determination – has defined just what it can mean to be American. And, it will be the future of Black Americans that will define the future of the American Dream.
Structurally, technologically and culturally speaking, there is no "music industry" any more. There is also no "movie industry" any more. Those two things have been consolidated into a more generic and all encompassing, "entertainment industry." But that's not even the kicker. The kicker is that technically, the entertainment industry is now a sub-division of a much larger and more insidious industry known as the "telecommunications industry." This is the delivery system under which all media and cultural distribution is being consolidated. Some entities to look out for in this telecommunications act generated morass: Google, Apple, and Access One. This shift presents both new challenges and new opportunities. Those engaged in cultural struggle as well as those engaged in labor struggle are currently smack dap up against that.
Firstly: all of you reading this are Africans. To be human is to be African. It is where all contemporary human life originated. Current American culture views African as synonymous with skin color. We do not know whether ancient Africans were Black in the modern concept of Race (capital "B" and "R"), but they were African.
Africa is where most of what it means to be human originated also. The family, language, astronomy, technology, religion, domestication of plant and animal species (and, perhaps, beer): all African. In brief, the biological, social, and cultural source of all human beings is Africa. Therefore, we are all Africans in some more recent or more distant context.
Exhaustive DNA studies have replicated the biologic origin of humanity as being African. Some of the best evidence places the origin of all modern humans in the womb of a single mitochondrial "Eve" in East Africa around 200,000 years ago (Ehrlich: 94-109). It is from her that we are all descended. She was the mother of all humanity. And, she was African.
Our best current scientific data show Homo sapiens – modern humans – first migrated from their African origins into other parts of the world about 100,000 years ago (Fernandez-Armesto: 13). Already, the primary elements of the civilizations we all know and share were part of the human toolkit. Cultural understanding and complex social organization are well documented in many archaeological sites in and near the continent of Africa (Ehrlich: 205-09).
The next step in the human adventure on this planet is called "Civilization." It, too, is of African origin. Along African rivers such as the Nile, the Congo, or the Niger, Black people would develop all aspects of complex and sophisticated societies. The well known ancient architectural marvel of the pyramids is the only one of humanities Seven Ancient Wonders to survive. But other less well known African civilizations contributed the bulk of peoples that would one day be called African Americans.
Beyond the physical biology, the size of our brains or the types of tools we make, the things that make us all human – that gives us our humanity – are culture and social relationships. These too are of African origin. Language, religion, and abstract thought, are all elemental to the human being. Families, bands, tribes, city-states, and nations are African firsts. The use and control of fire, organized scavenging, hunting, and gathering, the domestication of plants and animals are all part of our African heritage.
The diverse environment represented in Africa also laid foundations for the diversity of human approaches to survival and prosperity. Twa and !Kung hunter-gatherers share the African continent with Bantu agriculturalists and Maasai pastoralists. These modern examples of our collective African heritage stem from an ancient population that generated far more than we see now. Probably the most ancient and certainly the most original human society and culture of all time is African. Even though some interesting modern interpretations assert that it is in the Middle East or that its people were "White," or that it was a Mediterranean empire, and even though we know it by the Greek name, Egypt was (and is) African.
First thing that needs to be noted is that we just had another police shooting of an unarmed man in Austin, Texas on Thursday night.. This happened after the report was compiled, so add another name to this grisly toll..
Second, folks have got to understand this is not coincident, it's quite deliberate. Police have moved from a point of trying to de-escalate or prevention to a shoot first ask questions later policy..
Michael Brown shooting: 'They killed another young black man in America'
African American teenager's killing by police puts Missouri city on edge after another night of protests
Michael Brown was on the right path, according to his family and friends. Studying did not come easily, but the 18-year-old worked hard at Normandy high school and graduated in May. Mike had been due to start classes atVatterott College last Monday. He was excited to enter the world of business."This is a boy who did everything right," said Cornell Brooks, the president of the
National Association for the Advancement of Colored People
, "who never got into a fight, who stayed in school."
While some boys would get into edgy scrapes, Mike, a "gentle giant", wasn't interested, said Chris McMillan, a 20-year-old childhood friend who grew up playing PlayStation with Brown.
"He was a cool person," said McMillan. "He was laidback and respectful. None of that nonsense. None of the crews and gangs. We'd just play games, chill, and ride around."
The list below are just noting the deaths at hands of the police, its not highlighting the enormous amounts of brutality and outright disrespect many in the Black community have to endure on a daily basis.. The report below is to say the least disturbing and underscores a low wage war going on in our communities…
Twenty-eight Black People (27 Men and 1 Female) Killed by Police Officials, Security
Guards, and Self-Appointed "Keepers of the Peace" between January 1, 2012 and March
31, 2012
– 28 cases of state sanctioned or justified murder of Black people in the first 3
months of 2012 alone have been found (due to under reporting and discriminatory
methods of documentation, it is likely that there are more that our research has yet
to uncover)
– Of the 28 killed people, 18 were definitely unarmed. 2 probably had firearms, 8
were alleged to have non-lethal weapons.
– Of the 28 killed people,
. 11 were innocent of any illegal behavior or behavior that involved a
threat to anyone (although the shooters claimed they looked "suspicious");
. 7 were emotionally disturbed and/or displaying strange behavior.
. The remaining 10 were either engaged in illegal or potentially illegal
activity, or there was too little info to determine circumstances of their
killing. It appears that in all but two of these cases, illegal and/or harmful
behavior could have been stopped without the use of lethal force.
[4]This list of28 names was collected between 3/28/2012 and 3/30/2012 by reviewing google
search results to the question, "who have police killed in 2012". Only the first 65 pages out of
712,000,000 were reviewed.
[5] News One.com reported Rodriguez was African America however other reports and family
photos indicate he was Latino.
[6] Many written reports do not explicitly identify the race of the victim. Most, however, do show
photographs. In the case of Warren, no photo was displayed.
Police officers, security guards, or self-appointed vigilantes extrajudicially killed at least 313 African-Americans in 2012, according to a recent study. This means a black person was killed by a security officer every 28 hours. The report notes that it's possible that the real number could be much higher.
The report, entitled "Operation Ghetto Storm," was conducted by the Malcolm X Grassroots Movement, an antiracist grassroots activist organization. The organization has chapters in Atlanta, Detroit, Fort Worth-Dallas, Jackson, New Orleans, New York City, Oakland, and Washington, D.C. It has a history of organizing campaigns against police brutality and state repression in black and brown communities. Their study's sources included police and media reports along with other publicly available information. Last year, the organization published a similar study showing that a black person is killed by security forces every 36 hours. However, this study did not tell the whole story, as it only looked at shootings from January to June 2012. Their latest study is an update of this.
These killings come on top of other forms of oppression black people face. Mass incarceration of nonwhites is one of them. While African-Americans constitute 13.1% of the nation's population, they make up nearly 40% of the prison population. Even though African-Americans use or sell drugs about the same rate as whites, they are 2.8 to 5.5 times more likely to be arrested for drugs than whites. Black offenders also receive longer sentences compared to whites. Most offenders are in prison for nonviolent drug offenses.
"Operation Ghetto Storm" explains why such killings occur so often. Current practices of institutional racism have roots in the enslavement of black Africans, whose labor was exploited to build the American capitalist economy, and the genocide of Native Americans. The report points out that in order to maintain the systems of racism, colonialism, and capitalist exploitation, the United States maintains a network of "repressive enforcement structures." These structures include the police, FBI, Homeland Security, CIA, Secret Service, prisons, and private security companies, along with mass surveillance and mass incarceration.
The Malcolm X Grassroots Movement is not the only group challenging police violence against African-Americans. The Stop Mass Incarceration Network has been challenging the policy of stop-and-frisk in New York City, in which police officers randomly stop and search individuals for weapons or contraband. African-American and Latino men are disproportionately stopped and harassed by police officers. Most of those stopped (close to 90%) are innocent, according to the New York Civil Liberties Union. Stop Mass Incarceration alsoorganizes against the War on Drugs and inhumane treatment of prisoners.
Along with the rate of extrajudicial killings, the Malcolm X Grassroots Movement report contains other important findings. Of the 313 killed, 124 (40%) were between 22 and 31 years old, 57 (18%) were between 18 and 21 years old, 54 (17%) were between 32 and 41 years old, 32 (10%) were 42 to 51 years old, 25 (8%) were children younger than 18 years old, 18 (6%) were older than 52, and 3 (1%) were of unknown ages.
A significant portion of those killed, 68 people or 22%, suffered from mental health issues and/or were self-medicated. The study says that "[m]any of them might be alive today if community members trained and committed to humane crisis intervention and mental health treatment had been called, rather than the police."
43% of the shootings occurred after an incident of racial profiling. This means police saw a person who looked or behaved "suspiciously" largely because of their skin color and attempted to detain the suspect before killing them. Other times, the shootings occurred during a criminal investigation (24%), after 9-1-1 calls from "emotionally disturbed loved ones" (19%) or because of domestic violence (7%), or innocent people were killed for no reason (7%).
Most of the people killed were not armed. According to the report, 136 people or 44%, had no weapon at all the time they were killed by police officers. Another 27% were deaths in which police claimed the suspect had a gun but there was no corroboration to prove this. In addition, 6 people (2%) were alleged to have possessed knives or similar tools. Those who did, in fact, possess guns or knives were 20% (62 people) and 7% (23 people) of the study, respectively.
The report digs into how police justify their shootings. Most police officers, security guards, or vigilantes who extrajudicially killed black people, about 47% (146 of 313), claimed they "felt threatened", "feared for their life", or "were forced to shoot to protect themselves or others". George Zimmerman, the armed self-appointed neighborhood watchman who killed Trayvon Martin last year, claimed exactly this to justify shooting Martin. Other justifications include suspects fleeing (14%), allegedly driving cars toward officers, allegedly reaching for waistbands or lunging, or allegedly pointing a gun at an officer. Only 13% or 42 people fired a weapon "before or during the officer's arrival".
Police recruitment, training, policies, and overall racism within society conditions police (and many other people) to assume black people are violent to begin with. This leads to police overacting in situations involving African-American suspects. It also explains why so many police claimed the black suspect "looked suspicious" or "thought they had a gun." Johannes Mehserle, the white BART police officer who shot and killed 22-year-old Oscar Grant in January 2009, claimed Grant had a gun, even though Grant was subdued to the ground by other officers.
Of the 313 killings, the report found that 275 of them or 88% were cases of excessive force. Only 8% were not considered excessive as they involved cases were suspects shot at, wounded, or killed a police and/or others. Additionally, 4% were situations were the facts surrounding the killing were "unclear or sparsely reported". The vast majority of the time, police officers, security guards, or armed vigilantes who extrajudicially kill black people escape accountability.
Over the past 70 years, the "repressive enforcement structures" described in the report have been used to "wage a grand strategy of 'domestic' pacification" to maintain the system through endless "containment campaigns" amounting to "perpetual war". According to the report, this perpetual war has been called multiple names — the "Cold War", COINTELPRO, the "War on Drugs, the "War on Gangs", the "War on Crime", and now the "War on Terrorism". This pacification strategy is designed to subjugate oppressed populations and stifle political resistance. In other words, they are wars against domestic marginalized groups. "Extrajudicial killings", says the report, "are clearly an indispensable tool in the United States government's pacification pursuits." It attributes the preponderance of these killings to institutionalized racism and policies within police departments.
Paramilitary police units, known as SWAT (Special Weapons and Tactics) teams, developed in order to quell black riots in major cities, such as Los Angeles and Detroit, during the 1960s and '70s. SWAT teams had major shootouts with militant black and left-wing groups, such as the Black Panther Party and Symbionese Liberation Army (SLA) in 1969 and 1974, respectively. SWAT teams were only used for high-risk situations, until the War on Drugs began in the 1980s. Now they're used in raids — a common military tactic — of suspected drugor non-drug offenders' homes.
The War on Drugs, first declared by President Richard Nixon in 1971, was largely a product of U.S. covert operations. Anti-communist counter-revolutionaries, known as the "Contras", were trained, funded, and largely created by the CIA to overthrow the leftist Sandinista government of Nicaragua during the 1980s. However, the CIA's funding was not enough. Desperate for money, the Contras needed other funding sources to fight their war against the Sandinistas. The additional dollars came from the drug trade. The late investigative journalist Gary Webb, in 1996, wrote a lengthy series of articles for the San Jose Mercury News, entitled "Dark Alliance," detailing how the Contras smuggled cocaine from South America to California's inner cities and used the profits to fund their fight against the Sandinista government. The CIA knew about this but turned a blind eye. The report received a lot of controversy, criticism, and tarnishing of Webb's journalistic career, which would lead him to commit suicide in 2004. However, subsequent reports from Congressional hearings and other journalists corroborated Webb's findings.