deception
Galatians 5:16–18
Keep in Step with the Spirit
16 But I say, vwalk by the Spirit, and you will not gratify wthe desires of the flesh. 17 For xthe desires of the flesh are against the Spirit, and the desires of the Spirit are against the flesh, for these are opposed to each other, yto keep you from doing the things you want to do. 18 But if you are zled by the Spirit, ayou are not under the law.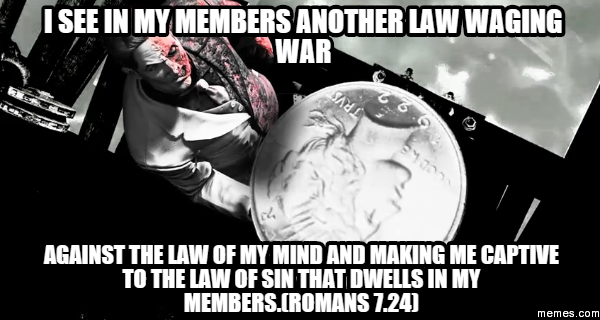 This love is not optional. It is commanded. And it is very radical: "You shall love your neighbor as yourself." In other words, we are called in our freedom to desire and seek the happiness of others with the same zeal that we seek our own. But if you take this command seriously, it is so contrary to our natural inclinations that it seems utterly impossible. That I should get up in the morning and feel as much concern for your needs as for my own seems utterly beyond my power. If this is the Christian life — caring for others as I care for myself — then it is hard, indeed, and I feel hopeless to ever live it out.
Paul's answer to this discouragement is found in Galatians 5:16–18. The secret is in learning to "walk by the Spirit" (v. 16). If the Christian life looks too hard, we must remember that we are not called to live it by ourselves. We must live it by the Spirit of God. The command of love is not a new legalistic burden laid on our back; it is what happens freely when we walk by the Spirit. People who try to love without relying on God's Spirit always wind up trying to fill their own emptiness rather than sharing their fullness. And so love ceases to be love. Love is not easy for us. But the good news is that it is not primarily our work but God's. We must simply learn to "walk by the Spirit."
So I want to build today's message around three questions: What? Why? And, how? What is this "walking by the Spirit"? Why is it crucial to walk by the Spirit? And, how, very practically, can we walk by the Spirit?
What Is Walking by the Spirit?
First, what is this "walking by the Spirit"? There are two other images in the context which shed light on the meaning of "walk by the Spirit." The first is in verse 18: "If you are led by the Spirit you are not under law." If Paul had said, "If you follow the Spirit you are not under law," it would have been true, but in using the passive voice ("If you are led") he emphasizes the Spirit's work, not ours. The Spirit is not a leader like the pace car in the "Daytona 500." He is a leader like a locomotive on a train. We do not follow in our strength. We are led by his power. So "walk by the Spirit" means stay hooked up to the divine source of power and go wherever he leads.
The second image of our walk in the Spirit is in verse 22: "The fruit of the Spirit is love, joy, peace, etc." If our Christian walk is to be a walk of love and joy and peace, then "walk by the Spirit" must mean "bear the fruit of the Spirit." But again, the Spirit's work is emphasized, not ours. He bears the fruit. Perhaps Paul got this image from Jesus. You recall John 15:4–5: "Abide in me, and I in you. As a branch cannot bear fruit by itself, unless it abides in the vine, neither can you unless you abide in me. I am the vine, you are the branches. He who abides in me, and I in him, he it is that bears much fruit." So "walk by the Spirit" means "abide in the vine." Keep yourself securely united to the living Christ. Don't cut yourself off from the flow of the Spirit.
So in answer to our first question, What is this walking by the Spirit? we answer: It is "being led by the Spirit" and it is "bearing the fruit of the Spirit." The work of the Spirit is emphasized, yet the command is for us to do something. Our wills are deeply involved. We must want to be coupled to the locomotive. We must want to abide in the vine. And there are some things we can do to keep ourselves attached to the flow of God's power. But before we ask how to walk by the Spirit let's ask . . .
Why Is It Crucial to Walk by the Spirit?
Why is it crucial to walk by the Spirit? The text gives two reasons, one in verse 16 and one in verse 18. In verse 16 the incentive for walking by the Spirit is that when you do this, you will not gratify the desire of the flesh. The RSV here is wrong when it makes the second part of verse 16 a command instead of a promise and says, "Do not gratify the desires of the flesh." All the other major versions are right to make it a promise because this particular Greek construction has that meaning everywhere else in Paul. The verse should be translated, for example with the NASB, "But I say, walk by the Spirit, and you will not carry out the desire of the flesh." So the first reason we should walk by the Spirit is that when we do, the desires of our flesh are overcome.
In recent messages I've tried to define the flesh as Paul uses it. Most of the time (though not always, see below) it does not simply refer to the physical part of you. (Paul does not regard the body as evil in itself.) The flesh is the ego which feels an emptiness and uses the resources in its own power to try to fill it. Flesh is the "I" who tries to satisfy me with anything but God's mercy. Notice Galatians 5:24, "Those who belong to Christ Jesus have crucified the flesh with its passions and desires." Now compare with this Galatians 2:20, "I have been crucified with Christ, it is no longer I who live, but Christ who lives in me; and the life I now live in the flesh I live by faith in the Son of God who loved me and gave himself for me." In 2:20, "flesh" is used in its less usual meaning referring to ordinary bodily existence, which is not in itself evil ("I now live in the flesh").
But the important thing to notice is that in 5:24 the "flesh" is crucified and in 2:20 "I" am crucified. This is why I define the flesh in its negative usage as an expression of the "I" or the "ego." And notice in 2:20 that since the old fleshly ego is crucified, a new "I" lives, and the peculiar thing about this new "I" is that it lives by faith. "The life I live in the flesh I live by faith in the Son of God who loved me and gave himself for me." The flesh is the ego which feels an emptiness but loathes the idea of satisfying it by faith, i.e., by depending on the mercy of God in Christ. Instead, the flesh prefers to use the legalistic or licentious resources in its own power to fill its emptiness. As Romans 8:7 says, "The mind that is set on the flesh is hostile to God; it does not submit to God's law." The basic mark of the flesh is that it is unsubmissive. It does not want to submit to God's absolute authority or rely on God's absolute mercy. Flesh says, like the old TV commercial, "I'd rather do it myself."
It is not surprising, then, that in verse 17 there is a war between our flesh and God's Spirit. It is a problem at first glance that there is a lively war between flesh and Spirit in the Christian, according to verse 17, but the flesh is crucified in the Christian, according to verse 24. We'll talk more about the sense in which our flesh is crucified when we get to verse 24. For now, let's give Paul the benefit of the doubt and assume that both are somehow true, and focus on this war within: our flesh versus God's Spirit.
God's Spirit Conquers Our Flesh
Verse 17 says, "For the desires of the flesh are against the Spirit, and the desires of the Spirit are against the flesh; for these are opposed to each other to prevent you from doing what you would." The main thing to learn from this verse is that Christians experience a struggle within. If you said to yourself when I was describing the flesh, "Well, I have a lot of that still left in me," it does not necessarily mean you aren't a Christian. A Christian is not a person who experiences no bad desires. A Christian is a person who is at war with those desires by the power of the Spirit.
Conflict in your soul is not all bad. Even though we long for the day when our flesh will be utterly defunct and only pure and loving desires will fill our hearts, yet there is something worse than the war within between flesh and Spirit; namely, no war within because the flesh controls the citadel and all the outposts. Praise God for the war within! Serenity in sin is death. The Spirit has landed to do battle with the flesh. So take heart if your soul feels like a battlefield at times. The sign of whether you are indwelt by the Spirit is not that you have no bad desires, but that you are at war with them!
But when you take verses 16 and 17 together, the main point is not war, but victory for the Spirit. Verse 16 says that when you walk by the Spirit, you will not let those bad desires come to maturity. When you walk by the Spirit, you nip the desires of the flesh in the bud. New God-centered desires crowd out old man-centered desires. Verse 16 promises victory over the desires of the flesh — not that there won't be a war, but that the winner of that war will be the Spirit.
In fact, I think what Paul means in verse 24, when he says the flesh has been crucified, is that the decisive battle has been fought and won by the Spirit. The Spirit has captured the capital and broken the back of the resistance movement. The flesh is as good as dead. Its doom is sure. But there are outlying pockets of resistance. The guerrillas of the flesh will not lay down their arms, and must be fought back daily. The only way to do it is by the Spirit, and that's what it means to walk by the Spirit — so live that he gives victory over the dwindling resistance movement of the flesh. So the first reason why we must walk by the Spirit is that, when we do, the flesh is conquered.
God's Spirit Creates Law-Fulfilling Fruit
The second reason to walk by the Spirit or be led by the Spirit is found in verse 18: "If you are led by the Spirit you are not under the law." This does not mean you don't have to fulfill God's law. You do. That's what verses 13 and 14 said, "Through love be servants of one another. For the whole law is fulfilled in one word, 'You shall love your neighbor as yourself.'" And Romans 8:3–4 say, "God condemned sin in the flesh in order that the just requirement of the law might be fulfilled in us who walk not according to the flesh but according to the Spirit."
Therefore, not being under law does not mean we don't have to fulfill the law. It means that, when we are led by the locomotive of the Spirit, we cruise on the railroad track of the law as a joyful way of life and are not left to climb it like a ladder in our own strength from underneath. When we are led by the Spirit, we are not under the punishment or the oppression of the law because what the law requires the Spirit produces; namely, love. Notice verse 22: the first and all-encompassing fruit of the Spirit is love, which verse 14 says fulfills the whole law.
And to confirm that this is just how Paul is thinking, he ends the list of the fruit of the Spirit in verse 23 with the words, "against such there is no law." In other words, how can you be under the oppression or punishment of the law when the very things the law requires are popping out like fruit on the branches of your life? So the second reason to walk by the Spirit is really the same as the first. Verse 16 says, do it because you get victory over the flesh when you walk by the Spirit. You nip temptation in the bud. Verse 18 says, do it because then you are free from the oppression and punishment of the law, because the fruit the Spirit produces fulfills the law. The Spirit is the fullness that overflows in love. Therefore it conquers the emptiness that drives the flesh, and it spills out in acts of love which fulfill the law.
How Do You Walk by the Spirit?
But the $60,000 question is, How do you walk by the Spirit? All of us have heard preachers say, "Let the Spirit lead you," or, "Allow the Spirit to control you," and have gone away puzzled as to what that means practically. How do you allow the Spirit to control you? I want to try to show you that the answer is, You allow the Spirit to control you by keeping your heart happy in God. Or to put it another way,You walk by the Spirit when your heart is resting in the promises of God. The Spirit reigns over the flesh in your life when you live by faith in the Son of God who loved you and gave himself for you and now is working everything together for your good.
Here's the fivefold evidence from Galatians. First, Galatians 5:6, "In Christ Jesus neither circumcision nor uncircumcision is of any avail, but faith working through love." Genuine faith always produces love, because faith pushes out guilt, fear, and greed and gives us an appetite to enjoy God's power. But Galatians 5:22 says love is a fruit of the Spirit. So if love is what faith necessarily produces and love is a fruit of the Spirit, then the way to walk by the Spirit is to have faith — a happy resting in the promises of God is the pipeline of the Spirit.
Second, notice Galatians 5:5, "For through the Spirit, by faith, we wait for the hope of righteousness." How do you wait for Jesus "through the Spirit"? "By faith!" When you keep your heart happy in God and resting in his promises, you are waiting through the Spirit and walking by the Spirit.
Third, look at Galatians 3:23, "Now before faith came, we were confined under the law." The coming of faith liberates a person from being under law. But what does 5:18 say? "If you are led by the Spirit you are not under law." How, then, shall we seek to be led by the Spirit? By faith. By meditating on the trustworthiness and preciousness of God's promises until our hearts are free of all fretting and guilt and greed. This is how the Holy Spirit fills and leads.
Fourth, see Galatians 3:5, the clearest of all: "Does he who supplies the Spirit to you and works miracles among you do so by works of the law, or by hearing of faith?" The Spirit does his mighty work in us and through us only by the hearing of faith. We are sanctified by faith alone. The way to walk by the Spirit and so not fulfill the desires of the flesh is to hear the delectable promises of God and trust them, delight in them, rest in them.
Finally, consider Galatians 2:20, "I have been crucified with Christ; it is no longer I who live but Christ who lives in me; and the life I now live in the flesh I live by faith in the Son of God who loved me and gave himself for me." Who is the Christ who lives in Paul? He is the Spirit. As 4:6 says: The Spirit of God's Son has been sent into our hearts. And how, according to 2:20, does the life of the Son produce itself in Paul? How does Paul walk by the Spirit of the Son? "The life I now live in the flesh I live by faith in the Son of God."
Day by day Paul trusts the Son. Day by day he casts his cares on God, frees his life from guilt and fear and greed, and is borne along by the Spirit. How, then, do we walk by the Spirit? The answer is plain. We stop trying to fill the emptiness of our lives with a hundred pieces of the world, and put our souls at rest in God. The Spirit will work the miracle of renewal in your life when you start meditating on his unspeakable promises day and night and resting in them. (See also Romans 15:13, 2 Peter 1:4, and Isaiah 64:4.)
The Secret of Walking by the Spirit
Yesterday at 5:30 a.m. I was in Pasadena, California, standing in the kitchen of my beloved teacher Daniel Fuller talking to his wife Ruth. One of the things I will never forget about that kitchen is that over the sink are taped four tremendous promises of God typed on little pieces of paper. Ruth puts them there to meditate on while she works. That's how you walk by the Spirit.
I keep a little scrap paper by my prayer bench, and whenever I read a promise that can lure me away from my guilt and fear and greed, I write it down. Then in dry spells I have a pile of promises to soak my soul in. The fight of faith is fought with the promises of God. And the fight of faith is the same as the fight to walk by the Spirit. He works when we are resting in his promises. George Müller wrote (Autobiography, pp. 152–4):
I saw more clearly than ever that the first great and primary business to which I ought to attend every day was to have my soul happy in the Lord. The first thing to be concerned about was not how much I might serve the Lord, or how I might glorify the Lord; but how I might get my soul into a happy state, and how my inner man might be nourished. . . . Now what is the food for the inner-man? Not prayer but, the Word of God.
George Müller learned the secret of walking by the Spirit: Meditate on the precious truths of the Word of God until your heart is happy in God, resting in his promises.
Hudson Taylor had learned it too. He received word one day of rioting near one of the inland mission stations. In a few moments George Nichol, one of his evangelists, overheard Taylor whistling his favorite hymn, "Jesus, I Am Resting, Resting in the Joy of What Thou Art." Hudson Taylor "had learned that for him, only one life was possible — just that blessed life of resting and rejoicing in the Lord under all circumstances, while he dealt with the difficulties inward and outward, great and small" (Spiritual Secret, p. 209).
I say to you, brothers and sisters, walk by the Spirit, and you will not gratify the desires of the flesh. You will have victory over temptation and know the guidance of the Lord if you keep your heart happy in God by resting in his promises.
What if, for one day, Jesus were to become you? What if, for twenty-four hours, Jesus wakes up in your bed, walks in your shoes, lives in your house, assumes your schedule? Your boss becomes His boss, your mother becomes His mother, your pains become His pains? With one exception, nothing about your life changes. Your health doesn't change. Your circumstances don't change. Your schedule isn't altered. Your problems aren't solved. Only one change occurs.
What if, for one day and one night, Jesus lives your life with His heart?

Your heart gets the day off, and your life is led by the heart of Christ. His priorities govern your actions. His passions drive your decisions. His love directs your behavior.

What would you be like? Would people notice a change? Your family – would they see something new? Your coworkers – would they sense a difference? What about the less fortunate? Would you treat them the same? And your friends? Would they detect more joy? How about your enemies? Would they receive more mercy from Christ's heart than from yours?

And you? How would you feel? What alterations would this transplant have on your stress level? Your mood swings? Your temper? Would you sleep better? Would you see sunsets differently? Death differently? Taxes differently? Any chance you'd need fewer aspirin or sedatives? How about your reaction to traffic delays? (Ouch, that touched a nerve.) Would you still dread what you are dreading? Better yet, would you still do what you are doing?

Would you still do what you had planned to do for the next twenty-four hours?

Pause and think about your schedule. Obligations. Engagements. Outings. Appointments. With Jesus taking over your heart, would anything change?

Keep working on this for a moment. Adjust the lens of your imagination until you have a clear picture of Jesus leading your life, then snap the shutter and frame the image. What you see is what God wants. He wants you to "think and act like Christ Jesus" (Philippians 2:5).

God's plan for you is nothing short of a new heart.

"You were taught to be made new in your hearts, to become a new person. That new person is made to be like God – made to be truly good and holy" (Ephesians 4:23-24).

God wants you to be just like Jesus. He wants you to have a heart like His.

I'm going to risk something here. It's dangerous to sum up grand truths in one statement, but I'm going to try. If a sentence or two could capture God's desire for each of us, it might read like this:

God loves you just the way you are, but he refuses to leave you that way. He wants you to be just like Jesus.

If you think His love for you would be stronger if your faith were, you are wrong. If you think His love would be deeper if your thoughts were, wrong again. Don't confuse God's love with the love of people. The love of people often increases with performance and decreases with mistakes. Not so with God's love. He loves you right where you are. To quote my wife's favorite author:

God's love never ceases. Never. Though we spurn Him. Ignore Him. Reject Him. Despise Him. Disobey Him. He will not change.

Our evil cannot diminish His love. Our goodness cannot increase it. Our faith does not earn it any more than our stupidity jeopardizes it. God doesn't love us less if we fail or more if we succeed.

When my daughter Parris was a toddler, I used to take her to a park not far from our home. One day as she was playing in a sandbox, an ice-cream salesman approached us. I purchased her a treat, and when I turned to give it to her, I saw her mouth was full of sand. Where I intended to put a delicacy, she had put dirt.

Did I love her with dirt in her mouth? Absolutely. Was she any less my daughter with dirt in her mouth? Of course not. Was I going to allow her to keep the dirt in her mouth? No way. I loved her right where she was, but I refused to leave her there. I carried her over to the water fountain and washed out her mouth. Why? Because I love her.

God does the same for us. He holds us over the fountain. "Spit out the dirt, honey," our Father urges. "I've got something better for you." And so He cleanses us of filth: immorality, dishonesty, prejudice, bitterness, greed. We don't enjoy the cleansing; sometimes we even opt for the dirt over the ice cream. "I can eat dirt if I want to!" we pout and proclaim. Which is true – we can. But if we do, the loss is ours. God has a better offer. He wants us to be just like Jesus.

Isn't that good news? You aren't stuck with today's personality. You aren't condemned to "grumpydom." You are tweakable. Even if you've worried each day of your life, you needn't worry the rest of your life. So what if you were born a bigot? You don't have to die one.

Where did we get the idea we can't change? Jesus can change our hearts. He wants us to have a heart like his. Can you imagine a better offer?

The Heart of Christ

The heart of Jesus was pure. The Savior was adored by thousands, yet content to live a simple life. He was cared for by women (Luke 8:1-3) yet never accused of lustful thoughts, scorned by His own creation but willing to forgive them before they even requested His mercy. Peter, who traveled with Jesus for three and a half years, described Him as a "lamb unblemished and spotless" (1 Peter 1:19). After spending the same amount of time with Jesus, John concluded, "And in Him is no sin" (1 John 3:5).

Jesus' heart was peaceful. The disciples fretted over the need to feed the thousands, but not Jesus. He thanked God for the problem. The disciples shouted for fear in the storm, but not Jesus. He slept through it. Peter drew his sword to fight the soldiers, but not Jesus. He lifted His hand to heal. His heart was at peace. When His disciples abandoned Him, did He pout and go home? When Peter denied Him, did Jesus lose His temper? When the soldiers spit in His face, did He breathe fire in theirs? Far from it. He was at peace. He forgave them. He refused to be guided by vengeance.

He also refused to be guided by anything other than His high call. His heart was purposeful. Most lives aim at nothing in particular and achieve it. Jesus aimed at one goal – to save humanity from its sin. He could summarize His life with one sentence: "The Son of man came to seek and to save the lost" (Luke 19:10).

Jesus was so focused on His task that he knew when to say, "My time has not yet come" (John 2:4) and when to say, "It is finished" (John 19:30). But he was not so focused on his goal that he was unpleasant.

Quite the contrary. How pleasant were His thoughts! Children couldn't resist Jesus. He could find beauty in lilies, joy in worship, and possibilities in problems. He would spend days with multitudes of sick people and still feel sorry for them. He spent more than three decades wading through the muck and mire of our sin yet still saw enough beauty in us to die for our mistakes.

But the crowning attribute of Christ was this: His heart was spiritual. His thoughts reflected His intimate relationship with the Father. "I am in the Father and the Father is in Me," he stated (John 14:11). His first recorded sermon begins with the words, "The Spirit of the Lord is upon Me" (Luke 4:18). He was "led by the Spirit" (Matthew 4:1) and "full of the Holy Spirit" (Luke 4:1). He returned from the desert "in the power of the Spirit" (Luke 4:14).

Jesus took his instructions from God. It was His habit to go to worship (Luke 4:16). It was His practice to memorize scripture (Luke 4:4). Luke says Jesus "often slipped away to be alone so He could pray" (Luke 5:16). His times of prayer guided Him. He once returned from prayer and announced it was time to move to another city (Mark 1:38). Another time of prayer resulted in the selection of the disciples (Luke 6:12-13). Jesus was led by an unseen hand: "The Son does whatever the Father does" (John 5:19). In the same chapter He stated, "I can do nothing alone. I judge only the way I am told" (John 5:30).

The Heart of Humanity

Our hearts seem so far from His. He is pure; we are greedy. He is peaceful; we are hassled. He is purposeful; we are distracted. He is pleasant; we are cranky. He is spiritual; we are earthbound. The distance between our hearts and His seems so immense. How could we ever hope to have the heart of Jesus?

Ready for a surprise? You already do. You already have the heart of Christ. Why are you looking at me that way? Would I kid you? If you are in Christ, you already have the heart of Christ.

One of the supreme yet unrealized promises of God is simply this: if you have given your life to Jesus, Jesus has given Himself to you. He has made your heart His home. It would be hard to say it more succinctly than Paul did: "Christ lives in me" (Galatians 2:20).

He has moved in and unpacked His bags and is ready to change you "into his likeness from one degree of glory to another" (2 Corinthians 3:18). Paul explained it with these words: "Strange as it seems, we Christians actually do have within us a portion of the very thoughts and mind of Christ" (1 Corinthians 2:16).

If I have the mind of Jesus, why do I still think so much like me?

Part of the answer is illustrated in a story about a lady who had a small house on the seashore of Ireland at the turn of the twentieth century. She was quite wealthy but also quite frugal.

The people were surprised, then, when she decided to be among the first to have electricity in her home.

Several weeks after the installation, a meter reader appeared at her door. He asked if her electricity was working well, and she assured him it was. "I'm wondering if you can explain something to me," he said. "Your meter shows scarcely any usage. Are you using your power?"

"Certainly," she answered. "Each evening when the sun sets, I turn on my lights just long enough to light my candles; then I turn them off."

She's tapped in to the power but doesn't use it. Her house is connected but not altered. Don't we make the same mistake? We, too – with our souls saved but our hearts unchanged – are connected but not altered. Trusting Christ for salvation but resisting transformation. We occasionally flip the switch, but most of the time we settle for shadows.

What would happen if we left the light on? What would happen if we not only flipped the switch but lived in the light? What changes would occur if we set about the task of dwelling in the radiance of Christ?

No doubt about it: God has ambitious plans for us. The same one who saved your soul longs to remake your heart. His plan is nothing short of a total transformation:

He decided from the outset to shape the lives of those who love Him along the same lines as the life of His Son. – Romans 8:29

You have begun to live the new life, in which you are being made new and are becoming like the One who made you. This new life brings you the true knowledge of God. –Colossians 3:10

God is willing to change us into the likeness of the Savior.

Shall we accept His offer?

* * *

Your Turn

What about you? Are you willing to let God have His way in changing you from the inside out into the likeness of His Son, Jesus Christ? Come join the conversation on our blog! We would love to hear from you about gaining a heart like Jesus'! ~ Devotionals Daily-Are you a tabernacle?-click to view…
I like to distinguish between a "goal mindset" and a "growth mindset." A church leader with a "goal mindset" has very tangible, numerical goals to achieve over a specific period of time. Nothing is wrong with clearly defined goals, but there's a better way of thinking that I call a "growth mindset." A growth mindset recognizes goals on the journey, but only as part of a process—not as the end results.
Leaders of successful churches are tempted to stop working on themselves, but when the pastor doesn't grow, the people don't grow. It's the Law of the Lid: a stagnant church leader stunts the growth of the church. I hope these thoughts on leadership will inspire you to maintain this "growth mindset," for your personal benefit and for the benefit of those you lead.
A Function, Not a Title
Elders, deacons, pastors and even evangelists, prophets and apostles were all meant to be functions within the church, whether they are performed in an official capacity or not. They were never intended to be titles. Yes, some of the early apostles did travel between the early churches and ordained elders (Tit 1:5), yet the function of those who lead or govern within the church is listed as a gift in the Bible:
And God hath set some in the church, first apostles, secondarily prophets, thirdly teachers, after that miracles, then gifts of healings, helps, governments, diversities of tongues. (1 Cor 12:28-emphasis added). This means that leadership is just as much a gift of the Spirit as healing. Conversely in the modern day church however, most people become leaders after completing some Bible College course or after they have jumped through their institution's hoops long enough.
Having failed at being a church leader before I am focused on my calling more than ever before. Intimacy with Christ even while life was closing in on me as a leader in the work place was paramount. My position in life has gotten more demanding although my way of living has gotten simpler and less demanding physically.
Information Transfer versus Relational leadership development
Churches need a unified vision of what a small group is
Churches need to define what a healthy group looks like
First step to get groups off the ground: start your own at your home
Jesus took risks on leaders the church wouldn't invite into leadership
As a profession, is the pastorate marked by a high rate of turnover? Some observers would respond with a resounding "yes!" And the statistics would bear them out: studies indicate that, at certain points in recent history, the average length of stay for people involved in church ministry was only about two years!
There seem to have been a variety of reasons for this. In some instances the pastors in question weren't equipped to deal with conflict situations. In others they were simply looking to better their standard of living and move on to a position with more influence and recognition. It's not hard to understand this latter point of view. After all, if a person enters a ministry situation saddled with a burden of educational debt and then begins to grow a family, it stands to reason that he or she will eventually start looking for a position that provides sufficient remuneration to meet those monetary obligations.
What are we to make of this? Should the phenomenon of pastoral turnover be regarded as good, bad, or indifferent? As you might expect, there are at least a couple of different ways of looking at it.
On the one hand, I've read several articles urging people in ministry to resist the idea of moving to a new place of ministry. The authors reason that when God places a man or woman in a certain position, it's up to Him to provide what's needed to make that position tenable. If and when it's time to leave, He will release you with clear signs and signals. He will open the door to new opportunities at the appropriate moment. Until then, the minister needs to realize that the Lord is more interested in developing our character than in making us successful or enabling us to feel comfortable in a particular location.
There's some good sense in what these writers have to say. As pastors, we should not be looking for new places of ministry simply as a way of avoiding problems, particularly if the problem is yourself, your sin, your blind spots, or your lack of experience. Those issues need to be faced squarely and resolved with the help and guidance of trusted counselors and friends. And yet, as I've already suggested, there is another perspective that deserves serious consideration. Personally, I believe there are occasions when it's entirely appropriate for people in church ministry to start looking for other opportunities—times when seeking out a new situation is a valid thing to do. Let's examine three of them.
First, it might be time to move on if the leaders at your church are unwilling to negotiate on important issues. Perhaps we can agree that the most important issue in church ministry is the freedom to preach and teach the Scriptures with integrity. Equally important from my point of view is the need for pastors to be in relationship with as many people in their congregation as possible. Sometimes we are adamant about the freedom to preach but less insistent upon importance of consistent pastoral care. Both are vital. Most other aspects of ministry are not going to be scrutinized by the church leadership, so we must decide whether the congregation's relational expectations are realistic.
Second, pastors should consider carefully how conditions in their place of ministry are affecting their family dynamics. Some churches make intrusive and unrealistic demands upon a minister's spouse and children. As pastors we should challenge some of those expectations, ask for respect, and require that appropriate boundaries be maintained. If abusive and demanding behaviors continue after several confrontations, a pastor is more than justified in looking for more accommodating places of ministry.
Third, I believe it is also reasonable to start searching for a new place of ministry if, after a year or so of faithfully representing your financial needs to the staff and leadership of the church, you discover that they simply cannot do a better job of providing an adequate income for you and your family. There have been situations in recent years in which the economy in various parts of the country has declined, eliminating jobs and forcing families to relocate. When this happens, the local church can be left struggling to survive. As pastors we must be courageous in preaching about biblical stewardship, but there are also times when we have to make difficult choices for the sake of our own families. Sometimes searching for a new place of ministry is the only way to take care of debt, health care, and other pressing household needs.
Character
It's true that charisma can make a person stand out for a moment, but character sets a person apart for a lifetime.
You build trust with others each time you choose integrity over image, truth over convenience, or honor over personal gain.
Character makes trust possible, and trust is the foundation of leadership.
Character creates consistency, and if your people know what they can expect from you, they will continue to look to you for leadership.
Over time, is it easier or harder to sustain your influence within your organization?  With charisma alone, influence becomes increasingly more difficult to sustain. With character, as time passes, influence builds and requires less work to sustain.
Communication
Great communication depends on two simple skills—context, which attunes a leader to the same frequency as his or her audience, and delivery, which allows a leader to phrase messages in a language the audience can understand.
Earn the right to be heard by listening to others. Seek to understand a situation before making judgments about it.
Take the emotional temperature of those listening to you. Facial expressions, voice inflection and posture give clues to a person's mood and attitude.
Persuasive communication involves enthusiasm, animation, audience participation, authenticity and spontaneity.
Credibility
Credibility is a leader's currency. With it, he or she is solvent; without it, he or she is bankrupt.
Speak the truth. Transparency breeds legitimacy.
Don't hide bad news. With multiple information channels available, bad news always becomes known. Be candid right from the start.
A highly credible leader under-promises and over-delivers.
Diligent follow-up and follow-through will set you apart from the crowd and communicate excellence.
A trustworthy leader goes the extra mile to remedy strained relationships, even when it doesn't appear to be required.Failure
Failure
"Failing forward" is the ability to get back up after you've been knocked down, learn from your mistake, and move forward in a better direction.
Don't buy into the notion that mistakes can somehow be avoided. They can't be.
Failure is not a one-time event; it's how you deal with life along the way. Until you breathe your last breath, you're still in the process, and there is still time to turn things around for the better.
You are the only person who can label what you do a failure. Failure is subjective.
Don't allow the fire of adversity to make you a skeptic. Allow it to purify you.
Generally speaking, there are two kinds of learning: experience, which is gained from your own mistakes, and wisdom, which is learned from the mistakes of others.
Seek advice, but make sure it's from someone who has successfully handled mistakes or adversities.
When to quit: (1) Quit something you don't do well to start something you do well. (2)  Quit something you're not passionate about to do something that fills you with passion. (3) Quit something that doesn't make a difference to do something that does.
People change when they hurt enough that they have to, learn enough that they want to, or receive enough that they are able to.
Followership
More than anything else, followers want to believe that their leaders are ethical and honest.
When your people see that you are not only competent to lead but also have a track record of successes, they will have confidence in following you, even when they don't understand all the details.
As a leader, it's your job to get your people excited about what their work will accomplish; it's a natural motivator.